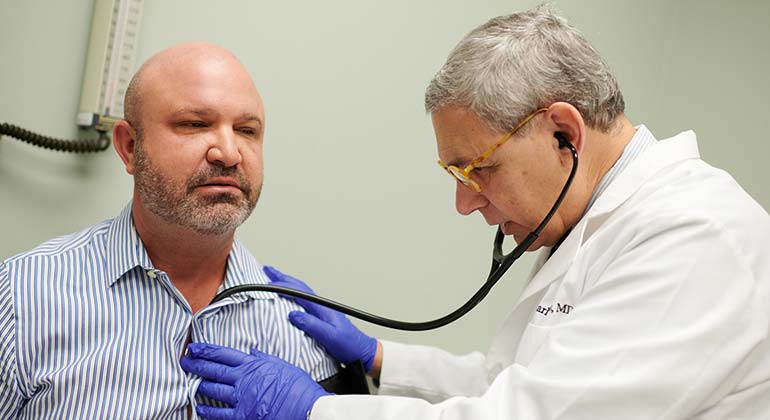 When you need a heart specialist, you want the best treatments delivered by skilled cardiologists who are experienced in personalizing the right care for you. That's why, as part of the Mount Sinai Health System in New York, Mount Sinai Doctors New York Florida has assembled teams of first-rate heart doctors equipped with the newest technologies at two convenient locations: Mount Sinai Doctors New York Palm Beach and Mount Sinai Heart New York in Palm Beach. In addition to superb medicine, we offer our patients convenient scheduling and personalized attention to ensure you're receiving the best possible care.
Cardiology Conditions We Treat
Our board certified heart doctors offer a range of diagnostic options and treatments for many cardiovascular conditions, from basic care such as cholesterol and hypertension management to more complex disorders, including coronary artery disease, peripheral vascular disease, valvular heart disease, heart rhythm disorders, and congestive heart failure.
Communication is key to our treatment approach. During your visit, our staff listens to you and answers all your questions. If testing is required, we promptly schedule an appointment with you to discuss results and next steps. We also keep in close touch with your primary or referring doctor. If you spend part of the year in the Northeast, we maintain contact with your Mount Sinai doctors in New York to ensure continuity of care.
Cardiology Services We Offer
The right treatment starts with the right diagnosis. We offer the best available testing, including echocardiograms, electrocardiograms, and monitoring devices such as loop recorders.
We understand that each patient is different. Our heart doctors are skilled in customizing the right treatment plan for your needs. We draw on the newest technologies to offer a wide range of medical treatments and specialized procedures, offering expert services in preventive cardiology, echocardiography, nuclear cardiology, interventional cardiology, and electrophysiology. In addition, we offer personalized device therapy, which includes not only the placement of pacemakers and defibrillators, but also careful, ongoing maintenance and optimization. We also determine whether patients may be candidates for hospital procedures such as angioplasty, stenting, or transcatheter aortic valve replacement (TAVR).
Why Choose Mount Sinai Doctors New York Florida
By choosing our cardiology practices, you're getting the benefit of Mount Sinai's unparalleled medical expertise right here in downtown West Palm Beach. Through this combination of superb medicine, convenience, and personalized attention, we are committed to preventing and effectively treating cardiovascular disease so you can get back to enjoying the life you love.
Preparing for Your Nuclear Stress Test
Before your nuclear stress test—which takes at least three hours to complete—please review the following in order to help our staff provide the best possible care:
On the evening before and on the day of your test please do not take the following medications: Atenolol, Toprol XL, Metoprolol, Tenormin, Coreg, Systolic, Inderal, Nadalol, and Sotalol.
If you are having fasting blood work the same day, do not eat or drink after 12 midnight the night before the test.
No caffeinated or decaffeinated beverages 24 hours before your test.
No food or beverages, except water, for two hours prior to your appointment.
Please bring a snack. As part of the test, you will be instructed to eat it at a designated time.
Please inform the staff if you have a history of asthma, bronchitis, or COPD. Use of your inhaler is prohibited on the day of the test, but please bring it with you, unless instructed otherwise.
Wear comfortable clothing and walking shoes, no sandals. Women should wear separates. You may also want to bring a sweater.
When you arrive, a small intravenous catheter will be placed in your arm and will remain intact for the duration of your study.
If for any reason you are unable to keep this appointment, please call the office 24 hours in advance. If you fail to appear for the test or to provide a sufficient notice of cancellation, a charge of $100.00 will be applied to your account, as a no-show fee. This charge is not covered by your insurance company and will be your responsibility. If you need to cancel your appointment within the 24-hour period, please call (561) 627-2210, ext. 221. All other calls should go directly to your doctor.
It is recommended that you contact your physician's biller at least three business days before the day of your appointment to confirm the co-payment, deductible or the fee for self-pay patients that is due prior to your test.
For Emergencies
If you are experiencing chest pain or symptoms associated with heart attacks, dial 911 or immediately go to the nearest emergency department. Symptoms may include pain or pressure in the chest, shortness of breath, nausea or vomiting, sweating, clammy skin, dizziness, fainting, palpitations, irregular pulse or unexplained weakness.
Our Team
Emilio L Garcia, MD
Burton H Greenburg, MD
Gonzalo J Loveday, MD
Utpal N Sagar, MD
Gary S Shifrin, MD