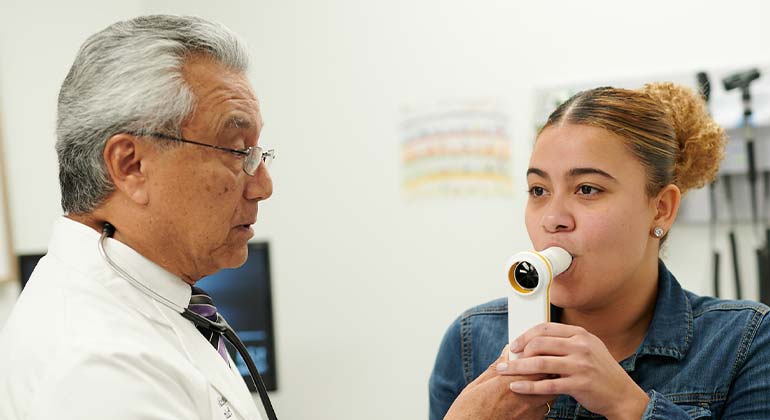 At Mount Sinai Doctors New York-Florida, we bring the superb pulmonology care of the Mount Sinai Health System in New York home to our local community. We offer complete services for a range of lung conditions. We are committed to keeping our patients healthy by preventing disease, making diagnoses early, and providing the most advanced treatments available.
Pulmonology Conditions We Treat
We strive to make your visit as pleasant and productive as possible by shortening your time in the waiting room and maximizing your time with the doctor, to make sure you understand your condition and all treatment options. Our specialists are skilled in a range of lung conditions, including chronic obstructive pulmonary disease, asthma, pulmonary hypertension, interstitial lung disease, lung cancer, and sarcoidosis.
Pulmonology Treatments We Provide
In the convenience of our office, we provide patients with services including consultations, complete pulmonary function testing, continuous positive airway pressure therapy for sleep apnea, and emergency bronchodilator treatments. Our team also offers a range of procedures at nearby hospitals, such as navigational bronchoscopy, endobronchial ultrasound, bronchothermoplasty, bronchial stents, and YAG (a type of crystal) laser treatments. Should it become necessary, we can refer our patients to convenient facilities for state-of-the-art cyberknife technologies and robotic thoracic surgery.
Why Choose Mount Sinai Doctors New York-Florida
Our practice provides the level of pulmonology care typically found at academic medical centers in the convenience of our downtown office. If your condition should require more advanced treatments, our close relationship with the Mount Sinai – National Jewish Health Respiratory Institute allows us to consult and make referrals to additional lung specialists.
What's more, Mount Sinai Doctors New York-Florida combines a number of other services under one roof—from primary care to cardiology—ensuring each of our patients has easy access to a full spectrum of health services.
Our Team