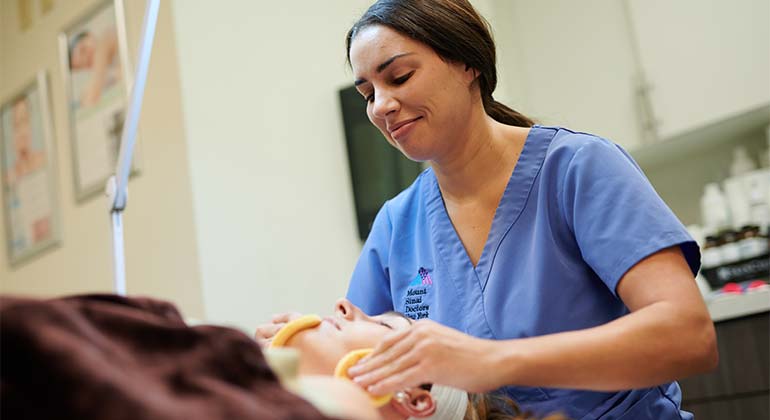 Mount Sinai Doctors New York Dermatology invites patients to relax and rejuvenate at our beautiful medi-spa in West Palm Beach, where we offer a full suite of the best available treatments. We also offer a range of top quality skin care products for purchase onsite, to help keep your skin healthy and beautiful between visits. Our specialized team has extensive experience providing the following menu of spa services.
Microdermabrasion Facial
This is a carefully chosen combination of our specialty, Pristine® diamond tip microdermabrasion, and a two percent lactic acid peel. Using genuine laser-cut diamond-tip applicators, Pristine® exfoliates the skin surface while a gentle suction removes skin impurities. The benefits of lactic acid peel include exfoliating, deep pore cleansing, lightening the pigment, improving the appearance of fine lines, and stimulating natural collagen production. This refreshing treatment is recommended for those with acne scarring, fine lines, and photo-damaged skin. It is also available for the neck, décolleté, back, and other areas upon request.
Just one treatment yields a noticeably healthier and radiant complexion.
Deep Pore Cleansing Facial
This treatment is ideal for those with oily, acne-prone skin and enlarged pores in need of a deep cleanse. It is also an effective aid in the regimen of care for mild acne, so it is recommended for teens and adults struggling with acne and congested pores.
The ingredients of this facial help clean and brighten the skin while reducing oil and supplying invigorating hydration. SkinCeuticals®Clarifying Clay Masque draws out impurities and oils while the botanicals in SkinCeuticals® Phyto Corrective Gel help to heal the acne.
Regenerating Facial
This facial helps to reset the balance for skin dulled by stress, illness, environment, medications, or travel. The key components and procedures of this facial aim to stimulate cellular turnaround and speed up renewal, leading to an improved complexion, and healthier, younger looking skin.
iS Clinical® Fire and Ice Facial
This rejuvenating treatment bridges the gap between a mild facial and an invasive peel, with no downtime. It is designed to rapidly and safely resurface the skin, diminishing the appearance of fine lines and wrinkles while smoothing, softening, and encouraging overall skin rejuvenation. Suited for all skin types, this facial results in a complexion that is dramatically refined, with no peeling or other negative side effects.
Chemical Peel Treatment with a Customized Facial
This unique, self-neutralizing treatment of chemical exfoliation is formulated with a combination of salicylic and glycolic acid. It is designed to minimize the appearance of surface lines, smooth out rough texture, aid in clearing acne, and refine pores. A pigment balancing masque fades hyperpigmentation and helps to correct environmental skin damage.
Vitamin C Firming Facial
This treatment employs the properties of the SkinCeuticals® compounds to produce a hydrated and noticeably younger appearance. A key ingredient of this facial—Vitamin C firming masque—brightens and firms the skin by stimulating cellular renewal. It is designed to help revive dehydrated, aging, and environmentally damaged skin. This facial can be done as a series or single treatment.
Delicate Skin Repair and Strengthening Treatment
This remedy soothes and strengthens irritated, sensitive, and rosacea-prone skin. This gentle, yet powerful treatment employs the combined qualities of SkinCeuticals® Vitamin C Firming Masque and the botanicals of SkinCeuticals® Phyto Corrective Gel to rehydrate the skin without leaving it oily, while its antibacterial and antiseptic properties help heal and calm sensitive and irritated skin.
Back Facial
This advanced retexturing treatment combines chemical exfoliation, signature manipulation, and SkinCeuticals® products to target dull, rough skin on the back. Done in a series or as a single treatment, the back facial provides simultaneous hydration and exfoliation. Extractions are included, if necessary, followed by a customized masque and massage.
Chemical Peels
For age spots, discoloration, wrinkles, or mild scarring, chemical peels can be an effective technique for restoring a rejuvenated, youthful appearance. Administered by our experienced staff, chemical peels involve a solution being applied to the patient's face. In the following days, the top layers of skin will peel off, revealing the younger, smoother looking skin beneath.
Peels may be deep, medium, or light, and our skilled practitioners will assess your skin type to determine which approach will work best for you.
VI Peel®
The VI Peel® represents the next generation of chemical exfoliants. Suitable for all skin types, it provides dramatic results with no skin preparation and minimal downtime. The synergic blends of its active ingredients are formulated to improve the texture and clarity of the skin, diminish the appearance of hyperpigmentation, soften fine lines and wrinkles, and stimulate fibroblast activity increasing collagen and elastin production.
The VI Peel® With Precision Booster delivers a higher concentration of the key components of the original VI Peel, making it an effective addition for addressing fine lines and stubborn hyperpigmentation, including age spots on the arms, hands, and chest.
The Precision Plus Dual Booster System is a significant advancement in the fight against moderate to severe pigmentation by helping reverse skin damage while brightening and smoothing out the skin texture.
VI Peel® Purify is a revolutionary peel formula that works to eradicate active acne and rapidly repair pigment and textural damage caused by acne marks and scars.
Dermaplaning
Dermaplaning is an exfoliative treatment performed using a modified surgical blade and a delicate stroking technique to abrade the outermost layers of the skin. Along with exfoliating, dermaplaning also removes the unwanted "peach fuzz" hair from the face. It is a safe and painless procedure that clears dead outer skin cells, resulting in a more refined, smooth, and glowing appearance.
Dermaplaning is recommended for those with rough, dry skin, superficial hyperpigmentation, mild acne scarring, or fine lines and wrinkles. Removing the top epidermal skin layer increases the rate of absorption of pharmaceuticals and skincare products into the deeper layers. Dermaplaning is beneficial in preparation for superficial chemical peels or cleansing facials.
Pristine® Diamond-Peel Microdermabrasion
Using genuine laser-cut diamond-tip applicators, Pristine® exfoliates the skin surface while a gentle suction removes skin impurities. Removing dead skin cells uncovers fresh, clear, rejuvenated skin. Safe and effective for face and body, this treatment is nearly painless and has minimal to no downtime. You will see results after your very first treatment. A series of four to six sessions spaced two to three weeks apart will provide the best overall results.
Rejuvenating Hand Treatment
Hands are one of the first places where the telltale signs of aging become apparent. Even if you have taken steps to keep your face and neck looking youthful, sun-damaged, thinned-out, and dehydrated skin on your hands can make you look older than you are. This treatment combines signature manipulation and SkinCeuticals® products to target age spots and crepey skin in overexposed and neglected areas. It helps brighten and re-densify your skin, leaving it smooth and re-hydrated.