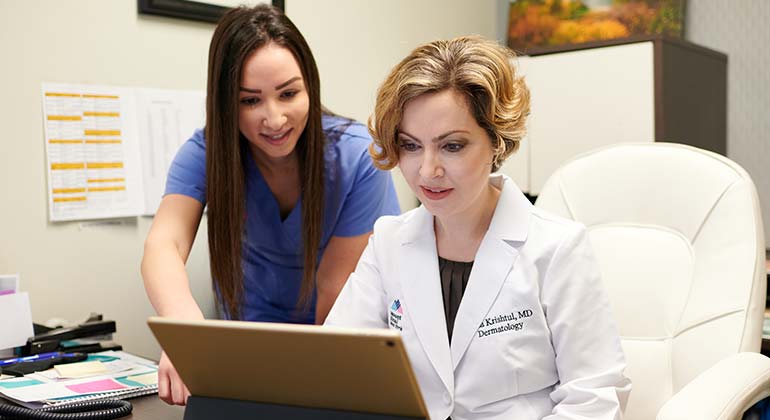 As we age, we wear the effects of sun, stress, and life experiences on our faces, bodies, and skin. At Mount Sinai Doctors New York-Florida, we can help you reverse that trend and improve your appearance and confidence. Our highly skilled team offers customized rejuvenating treatments designed to meet your individual needs. The minimally invasive cosmetic procedures we perform include injectable neuromodulators, injectable fillers, lip augmentation, microneedling and injections with platelet-rich plasma, and double chin reduction, as well as laser treatments for hair reduction, brown sunspots, facial broken blood vessels, and redness. Our Medi-Spa offers a full array of services, including customized facials, microdermabrasion, dermaplaning, chemical peels, and professional grade skin care.
We begin with an in-depth cosmetic consultation, during which we discuss your aesthetic goals and design a personalized treatment plan.
Cosmetic Injectable Treatments
While many patients are interested in reducing the signs of aging, surgery can feel like a big step. That's why the dermatology specialists at Mount Sinai Doctors New York-Florida are skilled in a wide variety of other solutions that can help. Cosmetic injectables are in-office treatments that can restore fullness to your face, plump lips, soften creases and wrinkles, and lessen the appearance of scars. We are pleased to offer a range of cosmetic injectables, including the following:
Injectable Neuromodulators
Our practice is highly skilled in using botulinum toxin (Botox®) injections to reduce lines and wrinkles on the face and neck, achieving a natural, youthful appearance. Called an "injectable neuromodulator," this U.S. Food and Drug Administration (FDA)-approved treatment works by relaxing overactive muscles, particularly around the forehead and eyebrows. It is also used around the eyes, mouth, and nose, and can be helpful in smoothing the neck and chin.
Because Botox® is injected using very small needles most patients feel little or no pain. Side effects are uncommon, though you might notice bruising for up to a week. You should expect to see improvement as soon as one week, and results typically last three to four months. Our practice recommends a follow-up visit at two weeks to evaluate the results and, if needed, "fine tune" any possible asymmetry.
Please let us know if you are pregnant or nursing, allergic to eggs, or have certain neurological conditions, because they may impact treatment.
Injectable Fillers
If you're looking to soften deep lines and give your face a more youthful appearance, FDA-approved injectable fillers offer a wide range of benefits. Administered with small needles, these substances draw and hold water in order to restore balance and volume, helping you achieve a refreshed, natural appearance. Side effects are rare, however you may experience some swelling (which could last a few days) or bruising (which could last up to two weeks). Please let us know if you have a history of cold sores so that we can prescribe prophylactic anti-viral medication. Our practice always recommends a follow-up visit at two to three weeks to evaluate the results, and if needed, "fine tune" any possible asymmetry. The injectable fillers we use include the following.
Hyaluronic Acid Fillers
A natural substance produced by the human body, hyaluronic acid helps skin to look younger by restoring its natural bounce and firmness. Our practice uses these substances for treating volume depletion in the cheeks, temples, and lips, as well as prominent facial lines around the cheeks, nose, mouth, and eyes. Depending on the type of filler used, the results usually last 6-18 months. Hyaluronic acid fillers are the most common type of injectable fillers, and we use the following products:
Juvederm Ultra®
Juvederm Ultra Plus®
Juvederm Vollure®
Juvederm Volbella®
Juvederm Voluma®
Belotero®
Radiesse®
This product is most effective when used under the skin in order to restore volume. Radiesse® works by stimulating your own body to produce hyaluronic acid and collagen, which makes your temples, cheeks, and other facial contours look fuller. The results can last as long as 12 months.
Lip Augmentation
Many of us may notice that our lips thin as we age. Our practice can help by using a wide range of hyaluronic acid based fillers to restore the lip contour, promote fullness, and lessen wrinkles around the lips. The results should be immediate and last for 6-12 months.
Double Chin Reduction
For patients who would like to reduce the appearance of a double chin, our practice is pleased to offer an effective treatment. A prescription medicine that is injected below the skin, Kybella® works by dissolving and removing the excess fat that forms a double chin. While you will see some results after the first treatment, we recommend two to five treatments for the best outcome. Common side effects include swelling, tenderness, and transient diminished sensation in the treated area.
Skin and Hair Rejuvenation
For patients with a range of concerns—from sunspots and scarring to unwanted facial hair—Mount Sinai Doctors New York-Florida is pleased to offer a wide variety of solutions. Our practice is skilled in a spectrum of treatments for rejuvenating skin and hair, including the following:
Microneedling and Injections with PRP
In order to minimize aging and restore a naturally youthful look, many of our patients have enjoyed positive results through microneedling with platelet rich plasma (PRP). In addition to reducing the appearance of fine lines and improving overall skin texture, this treatment can be used to address acne scarring, surgical scars, and more. We treat multiple areas, including face, neck, and décolletage. We recommend starting with a series of four treatments, spaced about one month apart, followed by maintenance sessions every 6-12 months, if desired. Typical downtime consists of two to three days of redness and possible minimal bruising, which can easily be covered with make up after 12 hours.
The microneedling procedure uses a motor powered instrument with multiple tiny needles to prick the skin, thus producing controlled tissue injury. Your skin is prompted to "heal" itself by boosting its collagen and elastin production and manufacturing new cells. To minimize discomfort, we use a topical numbing cream prior to the procedure.
In order to further promote the healing process, this procedure could be performed in conjunction with platelet-rich plasma (PRP). This technique involves drawing a sample of the patient's blood and running it through a machine that concentrates the platelets and growth factors in your plasma. PRP is then applied to the skin throughout the microneedling procedure to further enhance natural wound healing and promote cell growth.
PRP can also be injected with a fine gauge needle directly into the skin to address particularly problematic areas and to help with hair thinning.
Laser and Light-Based Procedures
Our practice uses lasers to treat a wide variety of cosmetic skin conditions. Lasers create an intense, bright light that produces heat. When we direct this laser at your skin, it precisely removes lesions, hair, and other blemishes from the surface. We use lasers most often in the following areas.
Laser Hair Reduction
We use the Palomar Vectus® laser to destroy the hair follicles within the skin in order to inhibit hair growth. This procedure is most effective in reducing dark, coarse hair and does not work on blond or gray hair or fine "peach fuzz." Typically, we recommend 6-10 sessions to achieve the desired outcome. After the procedure, your skin will look a little red and irritated. For the best results, we need to catch the hair in its growth phase.
The following areas are commonly treated:
Facial hair removal: Every three to four weeks
Underarm hair removal: Every four to six weeks
Bikini line hair removal: Every four to six weeks
Arm hair removal: Every six to eight weeks
Leg hair removal: Every six to eight weeks
Torso (back/stomach/chest) hair removal: Every six weeks
Intense Pulsed Light (IPL)
For patients who are concerned about sunspots, broken blood vessels, or facial redness/rosacea, we offer intense pulsed light, or IPL. This procedure gently rejuvenates the complexion by delivering brief pulses of broad spectrum light to the skin. We use it most often on the face, neck, chest, and hands. Typically, we recommend a series of three to four treatments for optimal results. This is a safe and effective treatment for a variety of skin types with minimal downtime.