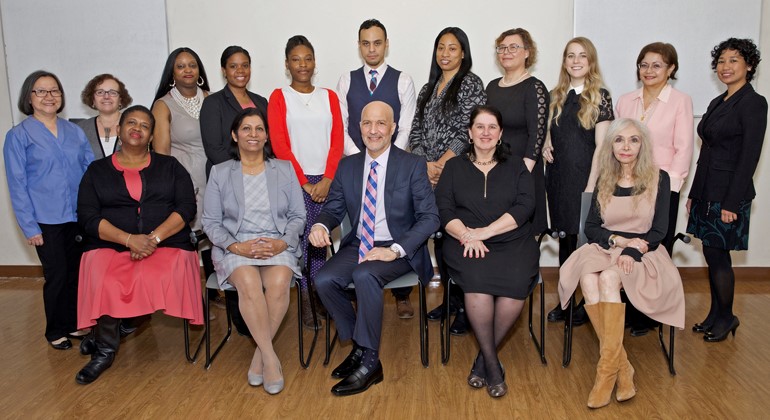 Administration, Faculty, and Staff
Todd F. Ambrosia, DNP, MSN, APRN, FNP-BC, FNAP, Dean
Dr. Todd F. Ambrosia is the Dean of Phillips School of Nursing. Prior to joining PSON, Dr. Ambrosia was the Associate Dean for Graduate Programs at the University of Miami School Of Nursing and Health Studies, as well as the Director of the Division of Family Primary Care at the University Of Maryland School Of Nursing. He is deeply involved with several national and international health organizations, and travels abroad annually to speak and volunteer his clinical expertise. Dr. Ambrosia is a Board Certified Family Nurse Practitioner, with a clinical focus on Adolescent and Young Adult Health. His scholarly interests include technology enhanced curriculum development, reducing caregiver burden, and initiatives aimed at reducing health risk in young men. Dr. Ambrosia is a Distinguished Fellow of the National Academies of Practice, an Ambassador of the United States National Health Service Corps, and a Bravewell Fellow in Integrative Medicine. He was selected as the 2017 AACN-Wharton Executive Leadership Fellow for Nursing by the American Association of Colleges of Nursing and The Wharton School, University of Pennsylvania. Dr. Ambrosia is a member of several nursing organizations, most notably, the Advanced Practice and Education Committees of the International Council of Nurses, and the American Academy of Nurse Practitioners.
Laly Joseph, DVM, DNP, CNE, RN-C, MSN, APRN, ANP-BC, Senior Associate Dean and Professor
Dr. Laly Joseph joined the School in January 2019 as Senior Associate Dean & Professor. Prior to joining PSON, she served as an Assistant Professor of Clinical at the University of Miami from 2014 to 2018 and was an Assistant Professor and RN-BSN-MSN Program Director at Fairleigh Dickinson University from 2002-2014. Dr. Joseph's academic and clinical background specialty areas include management, adult health, oncology, mobile gerontology, palliative, and hospice nursing. Dr. Joseph has presented nationally and internationally and published on topics such as yoga and its benefits on chronic back pain, use of mobile technology to reduce medication errors, caring behaviors of nurses, exploring the boundaries of palliative and hospice care, virtual simulation, and integration of palliative and end-of-life care in the undergraduate nursing curriculum. She holds Critical Care & Oncology certifications, End of Life Nursing Consortium certification on palliative and end-of-life care, ANCC board certification in Medical-Surgical Nursing & Advanced Practice Nursing as an ANP. She is also a Certified Nurse Educator by the NLN. She is currently a scholar at the Experienced Nurse Faculty Leadership Academy with Sigma.
Carleen Graham, MSN, RN, NY-SAFE, PhD(c), Assistant Dean, Baccalaureate Programs & Associate Professor
Carleen Graham is Assistant Dean for Baccalaureate Programs. Prior to becoming Assistant Dean, Ms. Graham was an Associate Professor and Program Coordinator for the Baccalaureate Programs at the school. She has over 25 years of professional clinical experience and her clinical specialties are mental health and emergency nursing. Ms. Graham serves as the Project Director for a HRSA Nursing Workforce Diversity grant (2018 to 2021). She has presented multiple poster presentations with Sigma Thera Tau International Nursing Congress, the 2nd Annual Tristate Regional Simulation Symposium at Mount Sinai West, and the 2019 International Meeting on Simulations in Healthcare. She is a past recipient of the Jonas Center for Nursing Excellence Scholarship. Ms. Graham is certified as a New York State Sexual Assault Forensic Examiner. She is currently pursuing her doctorate in nursing at Capella University.
Bernice Pass-Stern, MS, MEd, BA, Assistant Dean, Student Services and Institutional Effectiveness
Bernice Pass-Stern is Assistant Dean, Student Services and Institutional Effectiveness. She has worked at the School for over 30 years and, prior to that, worked as an administrator for the nursing department at Mount Sinai Beth Israel. Dean Pass-Stern is a member of Phi Beta Kappa, Rho of New York chapter. She holds two masters degrees: one in education and one in training. She is a Program Reviewer for the New York State Board of Regents, visiting other colleges as part of a site team, to ensure compliance with Regents standards. She is also very active in community service: she serves as Regional Faculty in Basic Life Support for the American Heart Association, currently responsible for mentoring and overseeing the BLS CPR Program at New York Presbyterian Hospital. Dean Pass-Stern is also the Director of Medical Training for the New York City Auxiliary Police Program, providing First Aid and CPR classes to the auxiliary police volunteers on a bi-weekly basis.
Lorraine McGrath, MA, RN-BC, Senior Director of Clinical Affairs and Associate Professor
Lorraine McGrath is Senior Director of Clinical Affairs and Professor. Ms. McGrath became Board Certified in Medical-Surgical Nursing in 2012. She began her teaching career at PBISN in 1982. From 1988-1991, she worked as an Adjunct Clinical Instructor, as well for both the Borough of Manhattan Community College and Hunter-Bellevue School of Nursing. Assistant Dean McGrath was instrumental in the process that led to the school's designation as a National League of Nursing Center of Excellence from 2014-2018.
Joana Velasquez, MS, RN, CNOR, AAS Program Director and Associate Professor
Joana Velasquez is AAS Program Director and Associate Professor for the AAS and ABSN programs. Prior to joining PSON, she was the nurse educator at Mt. Sinai Beth Israel's Perioperative Services Department. Ms. Velasquez holds a post-graduate certification in nursing administration and is a certified operating room nurse. She also coordinates the continuing education course, An Introduction to Perioperative Nursing. In 2015, she presented the poster board presentation "A School's Journey to Excellence" at the International Council of Nurses in Seoul, South Korea.
Natalie Cline, BA, Director, Business Operations
Natalie Cline is Director, Business Operations where she is responsible for departmental budget, human resources, security, facility management, independent contractors, accounts payable and payroll. Mrs. Cline also manages IT/Desktop Support as well as the administrative staff. The Director, Business Operations collaborates with the Deans to assure the smooth operation of financial and administrative functions for the School. Mrs. Cline began working for the school in 1992 as an Administrative Assistant, and in 2011 was promoted to Office Manager. Prior to her employment at the school, she worked as a Legal Assistant for a real estate/law office in New York City where she was responsible for accounts payables, payroll and other expenses pertaining to 40+ real estate properties. Mrs. Cline holds a Bachelors of Arts in Social Science from the College of New Rochelle, New York.
Linda Fabrizio, BBA, Director, Development and Communications
Linda Fabrizio is Director, Development and Communications where she is responsible for foundation/corporate and government grant funding requests and stewardship, and marketing to increase visibility for PSON's mission, vision, and programs. She also oversees the School's Center for Continuing Education. Prior to joining the school, she was an Assistant Director for Development, Institutional Giving at Mount Sinai Beth Israel. Her interest in healthcare administration was sparked by her early work in the pharmaceutical advertising industry. Ms. Fabrizio holds a Bachelors of Business Administration from Baruch College, CUNY.
Maria Gallo, BBA, Manager, Enrollment Services
Maria Gallo is Manager, Enrollment Services where she provides front-line services associated with enrollment management which include the areas of Admissions and Registrar. She is responsible for answering queries by phone and email, meeting with prospective applicants, and evaluating past coursework for transfer credits. She began her career at the school as an Educational Assistant in 2002. Prior to joining the school, she was an Assistant Editor at a not-for-profit organization in Makati City, Philippines. Mrs. Gallo holds a Bachelors of Business Administration from Aquinas University, Philippines.
Joel LeGurre, BS, Program Manager, Financial Aid
Joel LeGurre is the Program Manager for Office of Financial Aid. Ms. LeGurre is responsible for assisting students with attaining the financial resources necessary to successfully achieve their nursing education. She has fifteen years of experience in student financial aid and loan processing. She holds a Bachelor's of Science from Touro College.
Pablo Obando, BFA, MFA, Assistant Director, Academic Technology and Media
Pablo Obando is the Assistant Director for Academic Technology and Media where he oversees the implementation and maintenance of new software and equipment. He also works alongside the communications department to help create campaigns, new programs, and visual materials to promote the School. After attaining his Bachelors of Fine Arts in 3D Computer Animation, Mr. Obando shifted his focus and worked for a number of years as a graphic designer in Miami, Florida. Being an ever-evolving illustrator and creative with a passion for technology, he pursued a Masters of Fine Arts in Interactive Media at the University Of Miami School Of Communications. Upon completion he increased his skill set to include Web Design, UX, Game Design, Data Visualization, and Project Management.
Faculty
Dayna Dixon, MSN, RN, EdD(c), Associate Professor
Dayna Dixon is an Associate Professor at the Phillips School of Nursing. Her specialty is, Nursing Administrative Leadership, Medical Surgical Nursing and Women's Health and Obstetrics. Ms. Dixon has over 13 years of experience as a registered nurse and is an alumna of the school's Associate in Applied Science in Nursing program. She went on to obtain her Bachelor of Science in Nursing and her Master's in Professorial Studies in Nursing Education from Teacher's College of Columbia University. She is currently working on her Doctoral Dissertation conducting research that examines the relationship between RN workforce engagement and healthcare quality.
Jay R. Horton, PhD, ACHPN, FNP-BC, CENP, Senior Faculty
Jay Horton is a senior faculty member at Phillips School of Nursing. Dr. Horton holds a joint position as Senior Director of Palliative Care Nursing for the Department of Geriatrics and Palliative Medicine for Mount Sinai Downtown. Previously, he was the Director of Safety, Quality, and Performance Improvement for the Department of Nursing at Mount Sinai Hospital. Dr. Horton initially joined Mount Sinai Hospital in 2005 as a Palliative Care Nurse Practitioner. He was promoted to Clinical Program Manager in 2009 and to Director of the Palliative Care Consult Service in 2012. Dr. Horton has published in numerous peer-reviewed journals and received funding as a principal investigator and co-investigator for symptom management and palliative care studies.
Dafina Naydenova MSN, RN-BC, AGPCNP-BC, Instructor
Dafina Naydenova is an Instructor in Nursing at Phillips School of Nursing. Ms. Naydenova started teaching at the school as an Adjunct Clinical Instructor for the Associate Degree program. Currently, she teaches Basic Nursing Skills for the ABSN program and is a Clinical Instructor for the Mental Health Nursing course. Her clinical background includes medical/surgical, orthopedics, neurology, and surgical step-down. Ms. Naydenova became Board Certified in Medical-Surgical Nursing in 2013 and Adult-Gerontology Primary Care Nurse Practitioner in 2015 by the ANCC.
Zelda Suzan EdD, MA, RN-CNE, Associate Professor
Dr. Suzan is an Associate Professor at the Phillips School of Nursing where she is a course coordinator for Level II nursing courses and teaches the pediatric portion. She also teaches in the Pathways to Practice course. Professor Suzan has a Certification as a Nurse Educator by the National League for Nursing. She is the co-editor of the book, Issues of Cancer Survivorship: An Interdisciplinary Team Approach to Care. Past courses she has taught at the school include Nursing Fundamentals, Nursing of Common Health Problems of Adults, Nursing of Complex Health Problems of Adults and Mental Health Nursing. Since 1978, she has been actively involved in community service with the American Cancer Society.
Aliza B. Ben-Zacharia, DNP, ANP-BC, PhD(c), Associate Professor
Aliza Ben-Zacharia is an Associate Professor for the ABSN programs. Dr. Ben-Zacharia practices as an Adult and Acute Nurse Practitioner at The Corinne Goldsmith Dickinson Center for Multiple Sclerosis (MS), and as an Assistant Professor in Department of Neurology at the Icahn School of Medicine, the Mount Sinai Hospital. She is board certified ANP by the Academy of Nurse Practitioners (AANP) and board-certified acute care NP by ANCC. In 2018, she was appointed the Associate Director of the Center of Nursing Research and Innovation (CNRI) at Mount Sinai Hospital. Dr. Ben-Zacharia holds faculty teaching positions at Simmons College School of Nursing in Boston, MA; Monmouth University College of Nursing, NJ; and at Rory Meyers, College of Nursing, New York University, New York, NY. She is a certified MS Nurse, President of the International Organization of Multiple Sclerosis Nurses (IOMSN), and is on the Advisory Board of MS Perspectives (a quarterly magazine for patients with MS and their families). She has won awards for her excellence in rehabilitation and Neurology/MS from Mount Sinai Hospital, recognition of her educational role by the hall of Fame, the National Multiple Sclerosis Society, and won the 2015 Research Award from the IOMSN. She developed a wellness website for patients with MS that provides up-to-date nutritional principles and physical activity guidelines (URL: www.diet-your-MS.info). Dr. Ben-Zacharia is the Principal Investigator of multiple research studies on MS related topics including palliative care, screening for depression, BMI and symptomatic care. Dr. Ben-Zacharia was inducted as a fellow into the NY Academy of Medicine in 2017.
Staff
Sandra Howard-Foster, MHA, Administrative Assistant to the Dean
Sandra Howard-Foster is the Administrative Assistant to the Dean. Ms. Howard-Foster has been with the hospital system for more than twenty years. Prior to joining the school, she worked in Nursing Education where she served as the department's secretary, was responsible for coordinating clinical placements, overseeing CPR certifications, and preparing various analytical reports. Ms. Howard-Foster holds a Master's degree in Healthcare Administration from the University of Phoenix.
Tuan Le, BS, Communications and Marketing Assistant
Tuan Le joined the school in March 2019 as the Communications and Marketing Assistant. Tuan previously worked in Public Relations at the Society Management and MYN North America. Tuan graduated from Keuka College, NY with a Bachelor of Science in Management, International Business and is fluent in Vietnamese.
Chelsea Rein, MLIS, BLS, Reference and Instruction Librarian
Chelsea Rein joined the school in January 2019 as the Reference and Instruction Librarian. She is responsible for consultations, instruction services, and reference services for students and faculty. Previously, she worked in public schools as a library assistant and interned at the Shire Pharmaceuticals Library in Cambridge, MA, which is where she became interested in medical librarianship. Before becoming a Librarian, Ms. Rein worked in public relations and in digital publishing. She received her Master's in Library and Information Science from Simmons University and her Bachelor's of Science in Integrated Marketing Communications from Ithaca College. Ms. Rein is a member of the Special Libraries Association.
Blondine Deprinvil, BA, Coordinator of Student Accounts
Blondine joined the School in July 2018 as the Coordinator of Student Accounts. She graduated from SUNY Cortland earlier in 2018 with a bachelor's degree in Business Economics. At Cortland, she was very active in recreational sports activities, both as manager of the football team (organizing events for the team and coaches, conducting tours and recording/editing videos of games) and as general office assistant for all sports. She is proficient in Creole.
Omar Tunnell, Lab Instructor Assistant
Omar Tunnell joined the school in July of 2018 as the Lab Instructor Assistant. Previously, he worked as a HAZMAT & Shipping Specialist at Leki Aviation.
Kurt Villcheck, IT Special/Simulation Assistant
Kurt Villcheck is the IT Specialist/Simulation Assistant for the School. Mr. Villcheck is responsible for oversight of student IT issues, assists with online course publishing, and works closely with instructors to implement new technologies. He also oversees the School's Center for Continuing Education. Before joining the school, he did PC building/repair, and freelance 3D graphic design. His custom built computers have been featured in college textbooks and PC magazines.