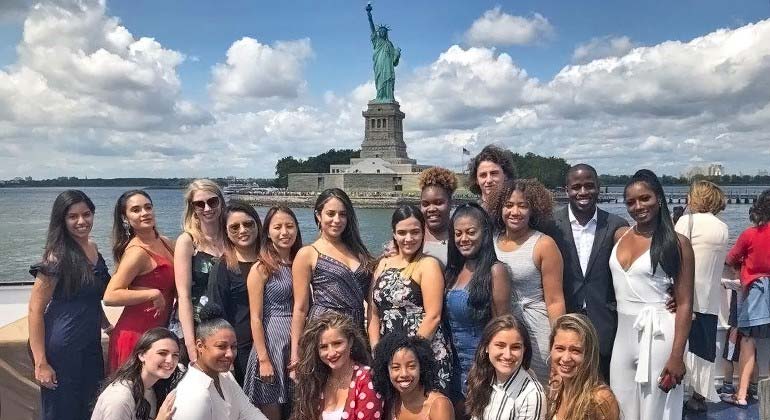 Student Engagement
Students at the Phillips School of Nursing have the opportunity to take part in services and training programs that enrich their educational experience.
Some of the ways that our students have the opportunity to engage with each other and the community include:
Student Government Activities: All students are members; officers are elected from each program and faculty members serve as Student Organization advisors. Students have input into policies of the School through their student representatives. Students are asked to volunteer for designated Faculty Organization committees. The Student Organization also plans social activities and organizes subcommittees for special projects, such as health drives, fundraising events, and holiday socials. All ABSN students are encouraged to become members of the National Student Nurses Organization (NSNA).
Social Justice Taskforce: In June 2020, the students, along with faculty, administration and staff, established a Social Justice Taskforce. The purpose of the Taskforce is to provide a unified stance of solidarity and take part in helping to resolve disparate outcomes, reverse unequal trends, and aim for meaningful and lasting change. The Taskforce is charged with organizing initiatives, activities, and suggestions for donations.
We encourage and support students who wish to develop programs, ideas, and concepts that inspire them.
Science Laboratory
The Science Lab has bench space for 20 students. It is well equipped with sufficient materials for anatomy and physiology and microbiology labs. Dissection materials (animal organs and animal cadavers) are also used as part of the anatomy and physiology labs. For microbiology, microscopes, slides, and media are available for student labs providing students with experiential knowledge of the subject matter.
The Hillman Nursing Skills Center
The Orkin Nursing Skills Lab replicates a hospital unit and has seven patient beds, an O.R. stretcher, delivery bed and neonatal warmer, High-fidelity adult, child and infant programmable mannequins are available in addition to several low-fidelity mannequins.
The Nerken Simulation Center offers two simulation (sim) labs. The sim labs are multi-functional and equipped with simulation equipment used in critical care, emergency and perioperative settings. The audiovisual features of the lab allow remote access viewing of live and recorded simulations
Learning Resource Center (LRC)
The LRC is equipped with 46 computer workstations with computer assisted learning programs, word-processing software, and high-speed Internet access. The LRC holds a substantial collection of print, audiovisual, and online programs to support students in their studies.
Meditation Space – STARS (Sam's Tranquil and Relaxation Space)
A room for meditation, stress-relief, prayer or private reflection. Established with a gift from a generous benefactor, the room is available for use by all students.
Internet Access - Wi-Fi connectivity is available in student areas.