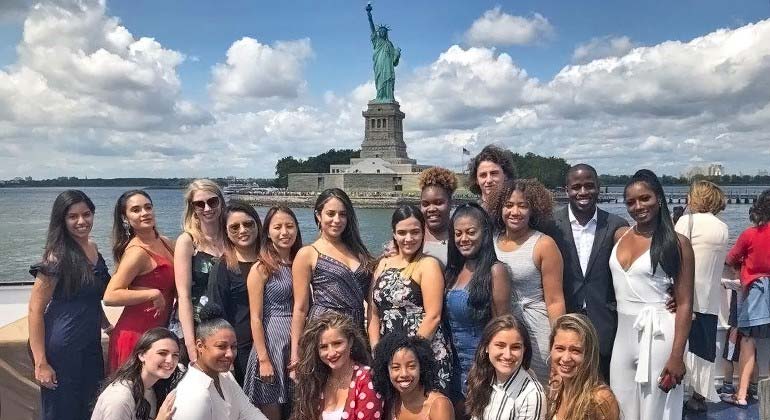 Student Life
Students plan social activities and organize subcommittees for special projects throughout the school year. The principal governing body for students is the Student Organization.
Student Government Activities
All students are members; officers are elected from each program and faculty members serve as Student Organization advisors. Students have input into policies of the School through their student representatives. Students are asked to volunteer for designated Faculty Organization committees.
The Student Organization also plans social activities and organizes subcommittees for special projects. These include health drives, fundraising events, and holiday socials. All AAS and ABSN students are encouraged to become members of the National Student Nurses Organization (NSNA). Students are also encouraged to become actively involved in NSNA activities on the State level and attend conventions. Our students have often held high offices in the state organization.
Peer Advisement
The School offers a peer advisement program to assist new AAS and ABSN students. Incoming students are introduced to a panel of peer advisors who are senior students and resource persons, available to answer questions and make appropriate referrals within the School. The student advisors have experienced the nursing program firsthand and, therefore, are able to provide the support and insight necessary to assist the first level student in successfully adjusting to the nursing curriculum.
Science Laboratory
The Science Lab has bench space for 20 students. It is well equipped with sufficient materials for anatomy and physiology and microbiology labs. Dissection materials (animal organs and animal cadavers) are also used as part of the anatomy and physiology labs. For microbiology, microscopes, slides, and media are available for student labs providing students with experiential knowledge of the subject matter.
The Hillman Nursing Skills Center
The Orkin Nursing Skills Lab replicates a hospital unit and has seven patient beds, an O.R. stretcher, delivery bed and neonatal warmer, High-fidelity adult, child and infant programmable mannequins are available in addition to several low-fidelity mannequins.
The Nerken Simulation Center offers two simulation (sim) labs. The sim labs are multi-functional and equipped with simulation equipment used in critical care, emergency and perioperative settings. The audiovisual features of the lab allow remote access viewing of live and recorded simulations
Learning Resource Center (LRC)
The LRC is equipped with 46 computer workstations with computer assisted learning programs, word-processing software, and high-speed Internet access. The LRC holds a substantial collection of print, audiovisual, and online programs to support students in their studies.
Meditation Space – STARS (Sam's Tranquil and Relaxation Space)
A room for meditation, stress-relief, prayer or private reflection. Established with a gift from a generous benefactor, the room is available for use by all students.
Internet Access - Wi-Fi connectivity is available in student areas.