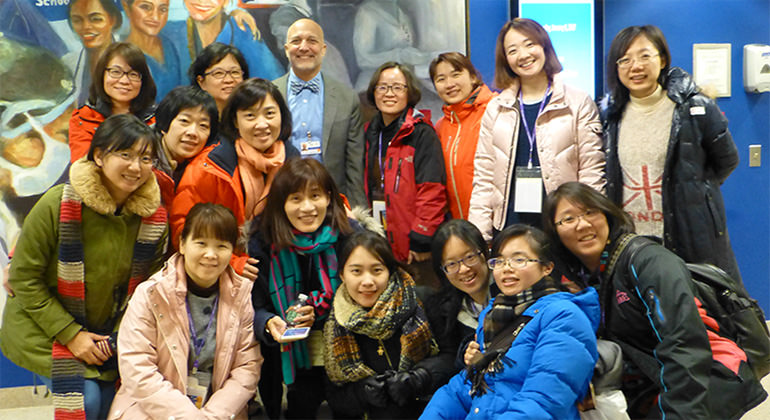 International Exchange Programs
Today's rapidly changing and increasingly global, multicultural world requires that nurses be prepared to provide care to diverse patient populations. Our School offers international learning experience to enable cross- cross-cultural awareness, understanding and competence.
Taipei, Taiwan
Phillips School of Nursing and the National Taipei University of Nursing and Health Sciences located in Taipei, Taiwan have an Institutional Affiliation Agreement that establishes the institutions as sister schools.
The School's bi-directional agreement allows for student and faculty exchanges and joint endeavors related to education, research, and scholarship. Participants take part in classroom instruction, simulation scenarios, and clinical rotations in the Mount Sinai Health System (MSHS) where they can observe patient care first-hand.
Each July, a two-week Complementary Therapy Summer Program in Taipei is open to PSON students and provides them with elective credits. While visiting Taipei, they learn about traditional Chinese medicine and complementary therapies through lectures, hands-on practices, and hospital visits. They also have time to tour the city and learn about its history and culture.
Each January, student nurse practitioners and faculty from the National Taipei University of Nursing and Health Sciences visit for two weeks. The guests are able to attend classes at PSON, visit MSHS clinical areas, and tour New York City. Student nurse practitioners are assigned to individual nurse preceptor at MSHS in clinical areas that include Internal Medicine, Pulmonary Services, Interventional Cardiology, and Perioperative Surgical Services.
Haiti
During Spring intersession, nursing students have an opportunity to travel to Haiti as part of a Cultural Humility course. These trips are open to students from all nursing programs. Haiti has struggled for years with a severe lack of even routine health care. On past trips, students have had the opportunity to provide basic medical care and patient education to women at a clinic in Port-au-Price and on a mobile unit in in the Central Plateau. The trip is coordinated by Diaspora Community Services, a non-profit agency that serves low income children and adults in Brooklyn, New York and at a community health center in Haiti. Carleen Graham, RN, MSN, SAFE-NY, Program Coordinator, BSN Programs has led the trip for the past four years.