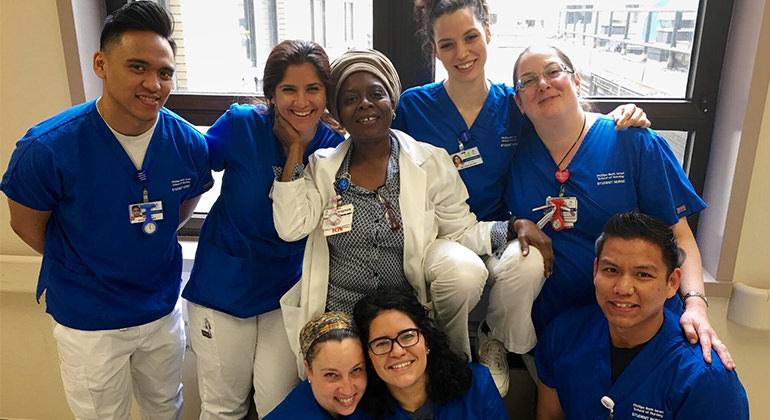 Mission
The mission of Phillips School of Nursing, as a single-purpose institution, is to provide optimal academic and clinical experiences at the Associate and Baccalaureate levels in nursing.
The Associate in Applied Science and Accelerated Bachelor of Science Degrees lead to eligibility for licensure as a Registered Professional Nurse. The Baccalaureate degree program prepares nurses to assume advanced roles in the profession. The School is committed to serving a diverse student body with both students new to the college experience and adult learners returning to college for a degree in nursing. The education program prepares graduates to utilize the knowledge and skills necessary to problem-solve, think critically and collaborate with health care providers to manage the care of patients. The education program is also designed to prepare graduates for entry into advanced degree programs in nursing. Graduates will demonstrate a commitment to lifelong learning through their own personal and professional growth.
The aim is to graduate nurses who will provide high quality, culturally sensitive and compassionate care in a variety of health care settings. The program prepares graduates to be flexible, accountable and maintain the highest moral and ethical standards of the profession.
The mission of the School has been established in cognizance of society's ongoing need for nurses who are able to provide care to diverse populations, and to meet the challenges of a complex health care system. To achieve our mission, the faculty and the leadership of the School provide an educational program that is responsive to societal changes and prepares graduates to practice in a changing world. The curriculum provides a foundation upon which graduates can build leadership, educational and clinical expertise. The strong emphasis on critical thinking abilities and community service prepares graduates to become knowledgeable and involved global citizens.
Vision
To actively respond to society's need for caring, knowledgeable, and skilled nursing professionals.
To use and develop evidence-based research as the foundation for contemporary education and clinical practice.
To be a leader in associate and baccalaureate nursing education.
The philosophy of Phillips School of Nursing reflects the beliefs of the faculty regarding individuals, society, nursing, education and the role of the nurse within the health illness continuum.
The faculty's belief is embodied in the recognition that human beings possess physical, social, psychological, spiritual and cultural qualities. Inherent in this belief is that human beings are endowed with self-worth and dignity and have a right to have their basic needs met. The human experience is dynamic throughout the life cycle and an individual's behavior reflects continuous interaction with the total environment.
Society is comprised of individuals, diverse in their cultures, customs and behaviors, whose interactions occur through membership in family and community groups. The School of Nursing, as part of the community, prepares graduates to make vital contributions to society. This is achieved through provision of care to individuals and groups of individuals in varied health care settings and by participation in health-related community activities.
Health is a dynamic state with levels of wellness existing along a continuum. Optimal health is a state of physical, mental and social well-being and not merely the absence of illness. Illness is manifested by compromised functioning and diminished capacity to meet one's needs.
Nursing is a dynamic, interactive process between the nurse, patient, family and significant others whereby goals are mutually established in order to meet compromised patient needs. Nursing practice is caring and humanistic, aimed at assisting patients to achieve their highest level of functioning.
Adult education is an interdependent process between teacher and learner. The educator functions as a facilitator, resource person and role model who encourages students to develop the knowledge and critical thinking skills necessary to deal with challenges. The learner is a motivated individual who internalizes and applies new principles, concepts and skills as evidenced by modification of attitude, ideas and behavior. Inherent in this process is the development of the learner's self-awareness, independent decision-making and accountability. Optimal learning occurs in an interactive environment where mutual respect and freedom of inquiry are fostered.
Nursing education provides the graduate with the competencies necessary to implement nursing care based upon current knowledge and concepts of the biological, social and behavioral sciences, nursing concepts, current technology and health care trends. The ultimate goal is to graduate nurses who deliver competent and compassionate health care, both locally and globally, and who participate in professional activities and demonstrate a commitment to lifelong learning.
Graduates are prepared to function in a collaborative role with other health care practitioners when providing and managing preventative, restorative and supportive care to individuals. They practice in a variety of health care settings utilizing established protocols within an ethical and legal framework.
Goals
Objectives

Teaching

To build capacity in pedagogy, becoming leaders in nursing education and enhancing student's competency to practice. This involves moving from a lecturer and teacher paradigm to a more student-centered paradigm.

Evaluate the curriculum for currency and relevance; revise to include ambulatory and home care content.
Implement new leading edge academic and continuing education programs; enhance faculty mentoring program
Increase exposure of students to the interdisciplinary team through simulation and clinical experiences in the hospital/community settings; increase opportunities for student and graduates to contribute in the local and global communities.
Maximize opportunities within the Mount Sinai Health System.

Scholarship

To advance the scholarship capacity of PSON to become a nationally recognized institution on the leading edge of nursing education.

Develop scholarly initiatives around present and future academic endeavors and outcomes.
Enhance our programs of research by integrating new methodologies and building community academic partnerships.

Service

To be a leader in the local, national and global communities by educating top quality nursing students and by collaborating with and within these communities to foster the health and well-being of the various populations.

Develop a database of local community agencies and potential partners as well as professional groups and academic committees, with the goal of identifying key opportunities in both areas.
Solidify relationships with selected community partners and agencies by emphasizing our commitment to patient-centered care and clinical practice.
Promote leadership, entrepreneurship and professional development of faculty and staff by increasing support, training and resources.
Program Outcome 1: 75% of students will complete the RN-BSN program within four years of enrollment.
| | |
| --- | --- |
| Year of Entry | % Students Graduated within 4 years |
| 2014 | 80% (within 3 years) |
Program Outcome 2: 95% of graduates will state that the program provided them with the knowledge for evidence-based, clinically competent professional practice in the care of individuals, groups and families in a specialty practice setting.
| | |
| --- | --- |
| Year | % Satisfied |
| 2017 | 95% |
| 2016 | 100% |
Program Outcome 3: 95% of graduates will evaluate the leadership and management opportunities as positive learning experiences.
| | |
| --- | --- |
| Year | % Satisfied |
| 2017 | 100% |
| 2016 | 100% |
Program Outcome 4: 95% graduates will rate the opportunities for interprofessional activities positively.
| | |
| --- | --- |
| Year | % Satisfied |
| 2017 | 100% |
| 2016 | 100% |
Program Outcome 5: 30% of graduates will continue their education at the masters level within 5 years.
Unable to ascertain; first cohort group graduated June, 2016.
Program Outcome 6: 10% of graduates will continue their education at the doctoral level within 10 years.
Unable to ascertain; first cohort group graduated June, 2016.