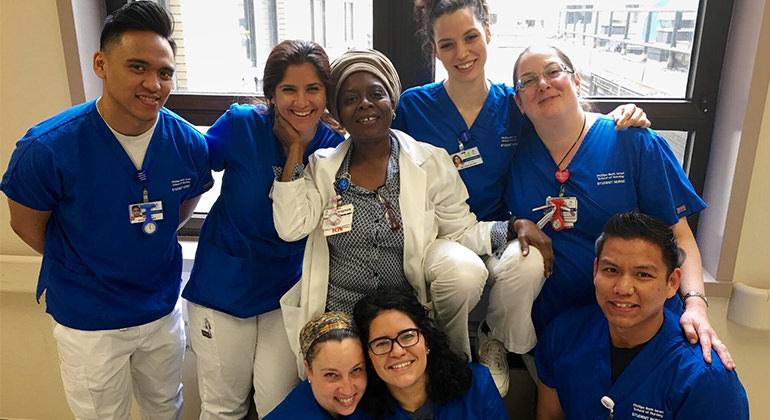 Mission
The mission of Phillips School of Nursing, as a single-purpose institution, is to provide optimal academic and clinical experiences at the Associate and Baccalaureate levels in nursing.
The Associate in Applied Science and Accelerated Bachelor of Science Degrees lead to eligibility for licensure as a Registered Professional Nurse. The Baccalaureate degree program prepares nurses to assume advanced roles in the profession. The School is committed to serving a diverse student body with both students new to the college experience and adult learners returning to college for a degree in nursing. The education program prepares graduates to utilize the knowledge and skills necessary to problem-solve, think critically and collaborate with health care providers to manage the care of patients. The education program is also designed to prepare graduates for entry into advanced degree programs in nursing. Graduates will demonstrate a commitment to lifelong learning through their own personal and professional growth.
The aim is to graduate nurses who will provide high quality, culturally sensitive and compassionate care in a variety of health care settings. The program prepares graduates to be flexible, accountable and maintain the highest moral and ethical standards of the profession.
The mission of the School has been established in cognizance of society's ongoing need for nurses who are able to provide care to diverse populations, and to meet the challenges of a complex health care system. To achieve our mission, the faculty and the leadership of the School provide an educational program that is responsive to societal changes and prepares graduates to practice in a changing world. The curriculum provides a foundation upon which graduates can build leadership, educational and clinical expertise. The strong emphasis on critical thinking abilities and community service prepares graduates to become knowledgeable and involved global citizens.
Vision
To actively respond to society's need for caring, knowledgeable, and skilled nursing professionals.
To use and develop evidence-based research as the foundation for contemporary education and clinical practice.
To be a leader in associate and baccalaureate nursing education.