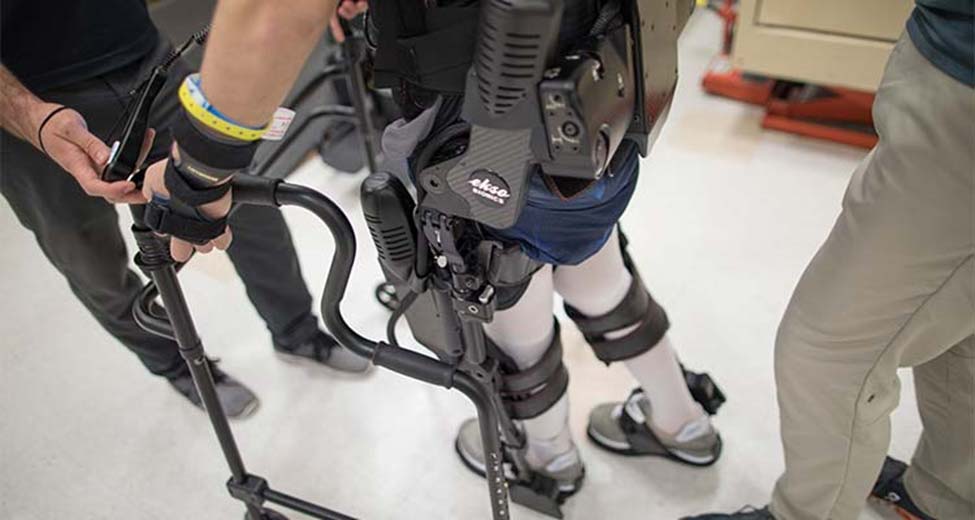 Exoskeleton Walking Program
At the exoskeleton walking program of the Abilities Research Center (ARC), our specialists evaluate and refine advanced technologies designed to help you improve your mobility and independence. These high-tech devices include lower-body robotics, upright mobile wheelchairs, powered exoskeletons for standing and walking, and leading-edge orthotics and prosthetics. Repetitive use of these technologies will help patients build muscle strength, boost muscle memory, and promote the neuroplasticity needed for regaining fine motor skills and movement.
Prior to training, patients undergo a clinical, functional, and neurophysiological evaluation, as well as a screening to determine if a caregiver is required to help the participant during therapy. Participation also requires a physician's approval.
Technologies
The following technologies promote independence by helping patients to stand and walk under the guidance of our ARC team.
Ekso NR
EKSO NR is the latest wearable bionic exoskeleton from Ekso Bionics. It is designed as a dynamic walking, standing, strengthening, and balance robot for people with lower extremity weakness or paralysis. EKSO NR is designed for patients of all physical abilities, including those who require full motor support to stand and walk and those who are able to initiate walking on their own. Innovative software and motor sensors work to monitor each step a patient takes. EKSO NR regulates leg movement to promote normalized walking patterns. This advanced, new exoskeleton promotes motor learning for walking in people with paralysis (i.e. stroke, spinal cord injury, traumatic brain injury).
Frequently Asked Questions
Our ARC experts are happy to provide the following insights and information in response to usual questions and concerns:
Who can benefit from this program?
Anyone with lower extremity weakness or paralysis caused by a neurological illness or injury may benefit.
Who cannot participate in this program?
Each device has exclusion criteria. Participants must weigh 220 pounds or less, be approximately between 5'0" and 6'4" tall, and have near normal range of motion in hips, knees, and ankles.
How long is this program?
We will evaluate you and tailor the program to meet your needs.
How long is each therapy session?
Treatment sessions usually take 1-1.5 hours.