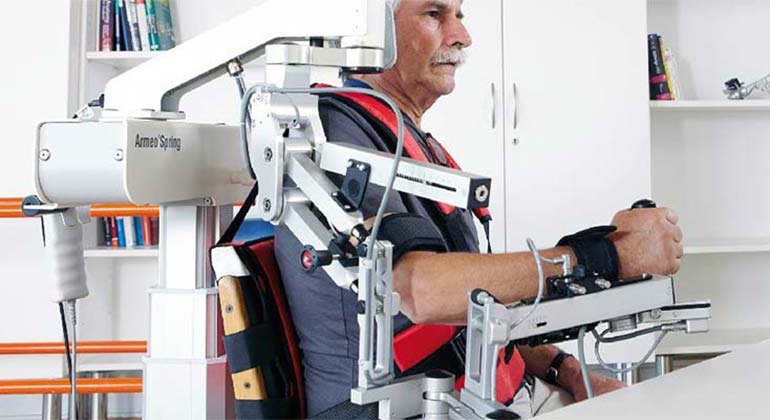 Upper Limb Robotic Training Program
Our upper limb robotic training program at the Abilities Research Center (ARC) focuses on restoring function in the shoulder, elbow, forearm, wrist, hand, and fingers. The therapies we design help our patients regain muscular strength, range of motion, joint control, flexibility, precision, and coordination. Through the use of repetition, robotic technologies aid in building muscle strength, improving muscle memory, and promoting the neuroplasticity needed for regaining fine motor skills and movement.
Prior to training, patients undergo a clinical, functional, and neurophysiological evaluation, as well as a screening to determine if a caregiver is required to assist the participant during therapy. Participation also requires a physician's approval.
Technologies
At the ARC, our specialists are skilled in helping patients through the use of the following advanced technologies:
Hocoma ArmeoSpring
This adjustable, ergonomic exoskeleton embraces the entire arm. During the therapy session, sensors record the patient's movements and joint angles, while specially designed exercises train movement patterns typically used in daily life to foster greater independence. The ArmeoSpring helps patients use any remaining motor function and achieve more reach and grasp movements. This repetitive training is based on the patient's own movements, which promotes faster results and improved long-term outcomes. Designed for people who are beginning to regain active movement of the arm and hand, this device is suitable for a wide range of patients, from those who are severely to moderately affected.
RAPAEL Smart Glove
The RAPAEL Smart Glove, by Neofect, is a high-tech stroke rehab device, and patients can train with it by putting on the glove, connecting to the RAPAELapp, and playing rehabilitation games. The glove assesses movement in the fingers, wrist, and forearm. The RAPAEL app provides a variety of training activities, from fishing to novel games in a virtual reality environment. The learning algorithm suggests the optimal tasks for each user based on their performance. It also fosters improvement in range of motion, timing, and coordination. This technology was developed for patients with neurological and musculoskeletal injuries, including stroke and spinal cord injury.
Frequently Asked Questions
We are pleased to provide the following insights and information in response to common questions and concerns about the Upper Limb Robotic Training Program:
Who can benefit from participating in this program?
Anyone with arm or hand weakness caused by a neurological illness or injury, particularly those whose progress has plateaued, may benefit. Individuals who are wheelchair bound may also participate in the upper limb program to benefit from maintaining or improving motor recovery, cardiovascular endurance, and muscular stamina.
Who cannot participate in this program?
You cannot participate in this program if you present the following: significant pain and cannot tolerate repetitive movement in the shoulder, elbow, wrist, or hand; fixed joint contracture at the shoulder, elbow, or wrist; inability to follow basic one or two step directions; or inability to see. If you have any concerns about your ability to participate, contact us for a consultation.
What benefits can I expect from participating in the program?
Overall benefits include, but are not limited to, the following:
Increased passive range of motion
Enlarged active range of motion
Enhanced muscle strength
Improved function
Reduced pain
Decreased stiffness
Improvement in dislocations or partial dislocations (subluxations)
Better visual/perceptual ability
Improved cognitive attention
Increased attention to the affected/weak limb
Development in language skills
Enhanced quality of life for participants and caregivers
How long is the program?
We will evaluate your needs and tailor the program to your needs.
How long is each training session?
Treatment sessions usually last one hour, depending on the type of robotic technology we are using and the severity of your upper limb impairment.
Do I have to pay in full?
If you wish to pay in full, you may pay by personal check or credit card prior to beginning the program. We also accept payment in installments. We only accept credit cards for installment payments. Half is due before treatment begins. You may then pay the remainder of the balance in accordance with your payment structure agreement.
Do you offer discounts for participating in more than one program?
Please ask the ARC professionals about any discounts.
Is this program covered by insurance?
We do not accept insurance. We will provide a bill and receipt that you can submit to your insurance provider.
Do you provide transportation?
No, we do not provide transportation.
Can I continue with my regular therapy while I am participating in the program?
Yes, we encourage you to continue your regular exercise routine and any other therapeutic programs that benefit you.
Can I get Botox treatment while I participate in this program?
If you receiving Botox before joining the program, you can often continue while you participate. The only exception is if you are part of a research study that has strict guidelines.
Will I experience any harm from participating in this type of robotic training?
Participants may experience sore muscles or aches similar to after effects of general exercise. However, you should consult your physician regarding the possible effects and only follow your doctor's recommendations, as individual results may vary.
How long after training ceases will my improvements last?
Current research has shown that robotic effects last for more than six months following the completion of our program. Participants who are active and continue with regular exercise programs usually show more improvement in time.
Should I expect more, less, or the same improvements compared to participating in standard therapy?
Repetition is imperative in motor recovery, which robotic technology delivers. It has been shown in prior research that robotic training benefits are comparable to standard therapy only if the standard therapy is intensive and repetitious for at least one hour per session.
Are there specific functional improvements I can expect?
Results vary between individuals based on factors such as your type of injury or illness, severity of impairments, other medical conditions, and/or medical complications that may impede function. You will receive an individual consultation regarding your personal needs and expectations.