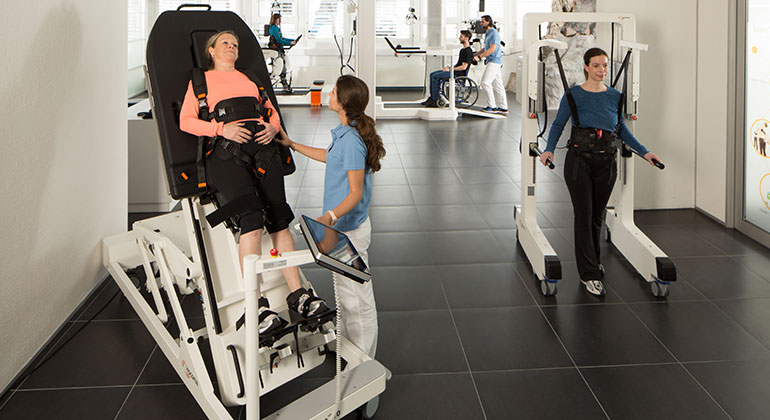 Our team specializes in providing a range of leading-edge therapies, including ErigoⓇ. Our ErigoⓇ therapy program is appropriate for individuals with a variety of neurological diagnoses, such as stroke, spinal cord injury, traumatic brain injury, whose therapy goals include graded activity, progressive mobilization, strength and endurance training.
Further our team utilizes this robotic tilt table in novel autonomic rehabilitation approaches including for those suffering from post-stroke fatigue, dysautonomia, postural orthostatic tachycardia syndrome (POTS), post-acute Covid-19 syndrome ("Long Covid"), and other similar diagnoses.
Technologies
At the ARC, our specialists are utilizing the latest tilt table technology offered by Hocoma. The advantages of using the Hocoma ErigoⓇ Pro include:
Early and Safe Mobilization - Mobilization and verticalization of patients with mobility limitations restricting their ability to interact can be very demanding and challenging. The Erigo combines gradual verticalization with robotic movement therapy to ensure the necessary safety for the stabilization of patients in an upright position. Due to the unique afferent stimulation provided by the Erigo and the flexible harness, patients can be trained intensively and safely already in a very early stage of rehabilitation.
Cardiovascular Stabilization - The robotic leg movement and the cyclic leg loading offered by the Erigo are critical afferent stimuli for the central nervous system. This leads to muscle activation, improved muscle pump function and venous return ultimately resulting in improved cardiovascular stability. Therefore, patients verticalized with the Erigo generally do not suffer a drop in blood pressure and associated symptoms. They tolerate the upright position better than patients treated on conventional tilt tables without a stepping function and cyclic leg loading.
Improved Orthostatic Tolerance Using the Erigo FES (Functional Electrical Stimulation ) - The Erigo FES further increases the afferent stimulation of patients and thereby their cardiovascular stability during early verticalization. The electrical activation of key leg muscles efficiently supports the increase of blood flow in the patients' lower extremities. This leads to improved venous return which helps to maintain stroke volume and blood pressure, therefore improving orthostatic tolerance. Furthermore, therapy with the Erigo FES improves cerebral blood flow and muscle strength in lower extremities promoting recovery of motor function. The Erigo FES is fully synchronized with the robotic leg movements. Up to eight FES channels can be operated easily by the therapist on the touchscreen of the Erigo and adjusted according to the patient's motor abilities.
Excellent Clinical Usability - The Erigo is highly mobile with wheels for easy transport between rooms. It can be adjusted for transfers. The Erigo offers safe training with direct patient contact and the possibility of constant interaction with patients. Hospital equipment such as patient monitoring systems can be safely attached to the standard rails that the Erigo features. Further benefits include an intuitive user interface on a touchscreen, electronic adjustment of leg length as well as the flexible one-size-fits-all patient harness system.
Increased Therapy Efficiency – The Erigo enables a single therapist to provide mobilization, verticalization, and sensorimotor stimulation at the same time, safely and efficiently.
Frequently Asked Questions
Our ARC experts are happy to provide the following insights and information in response to usual questions and concerns:
Who can benefit from this program?
Patients who have mobility limitations and/or reduced tolerance to exercise
Who cannot participate in this program?
Participants must weigh 300 pounds or less, be approximately between 5'0" and 6'4" tall (leg length 29-39 inches), and have near normal range of motion in hips, knees, and ankles. Bone instability (fractures, osteoporosis), skin lesions/open wounds, severe spasticity, vascular disorders or cardiac contraindications may preclude use of the device. FES is contraindicated in the following situations: cardiac pacemakers or other active electrical stimulators; implanted medication pumps; pregnancy.
How long is this program?
We will evaluate you and tailor the program to meet your needs.
How long is each therapy session?
Treatment sessions usually take 1-1.5 hours.
Do I need a prescription to enroll?
No, however we require a medical clearance form from your physician and encourage you to speak with your doctor as needed and disclose any pertinent medical conditions prior to participation in a program.
Do I need to pay in full before starting the program?
No. We offer installment payment options. If you wish to pay in full, you may pay by personal check or credit card before beginning the program. If you wish to pay in full, you may pay by personal check or credit card prior to beginning the program. We also accept payment in installments. We only accept credit cards for installment payments. Half is due before treatment begins. You may then pay the remainder of the balance in accordance with your payment structure agreement.
What benefits can I expect from participating in the program?
Overall benefits include, but are not limited to, the following:
Increased active and/or passive range of motion
Enhanced muscle strength and lower extremity weight-bearing
Improved circulation and upright tolerance
Reduced pain and stiffness
Functional gains
Increased attention to the affected/weak limb
Enhanced quality of life for participants and caregivers
Is this program covered by insurance?
We do not accept insurance. We will provide a bill and receipt that you can submit to your insurance provider.
Do you provide transportation?
No, we do not provide transportation.
Can I continue with my regular therapy while I am participating in the program?
Yes, we encourage you to continue your regular exercise routine and any other therapeutic programs that benefit you.
Will I experience any harm from participating in this type of robotic training?
Participants may experience sore muscles or aches similar to after effects of general exercise. Over-the-counter pain relievers or muscle relaxers usually alleviate the symptoms. However, you should consult your physician regarding the possible effects and only follow your doctor's recommendations, as individual results may vary.
Are there specific functional improvements I can expect?
Results vary between individuals based on factors such as your type of injury or illness, severity of impairments, other medical conditions, and/or medical complications that may impede function. You will receive an individual consultation regarding your personal needs and expectations.