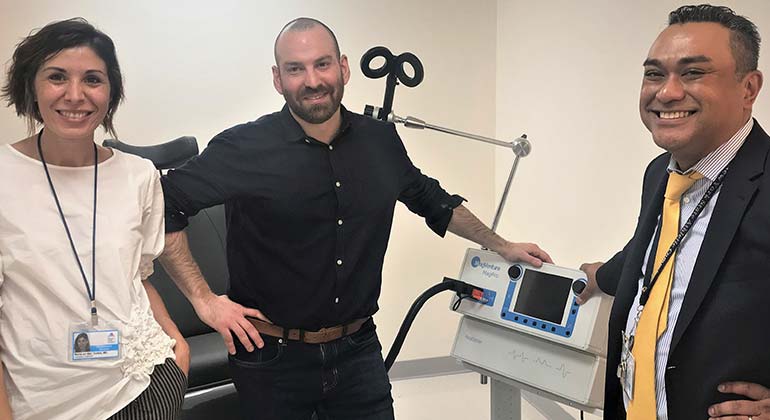 The Abilities Research Center (ARC) at Mount Sinai is dedicated to putting science to work for our patients, drawing on leading-edge lab advances to offer new rehabilitation options to those living with neurological disabilities. We specialize in customizing the technology and treatment plan needed to achieve maximum mobility and the independence that comes with it, whether a patient is experiencing the slow progression of multiple sclerosis or the sudden disability caused by a brain or spinal trauma.
Offering Game-Changing Treatments
Our patients are struggling daily with challenges caused by a range of conditions, including stroke, spinal cord injury, traumatic brain injury, multiple sclerosis, and Parkinson's disease. So our clinical team is working daily to provide them with the most advanced treatment options, from upper limb robotic training and exoskeleton walking training to noninvasive brain stimulation.
Understanding that each person and every condition is different, we take the time to develop a relationship with our patients, listen to their concerns and goals, and personalize the treatment plan that will allow them to achieve their best possible function.
Pursuing Leading-Edge Research
Our Center is fueled by the tireless work of our research program, which is committed to forging ever-better treatments in order to improve the lives of those living with neurological disabilities. In addition to investigating how disease and injury affect the body, our scientists are evaluating, implementing, and refining a range of advanced therapies, including upper-body and lower-body robotics, powered exoskeletons, and innovative mobile applications.
Thanks to this blend of clinical care and research advances, patients of the Abilities Research Center have access to the tools and technologies that will put them on the path toward regaining function and resuming activity.