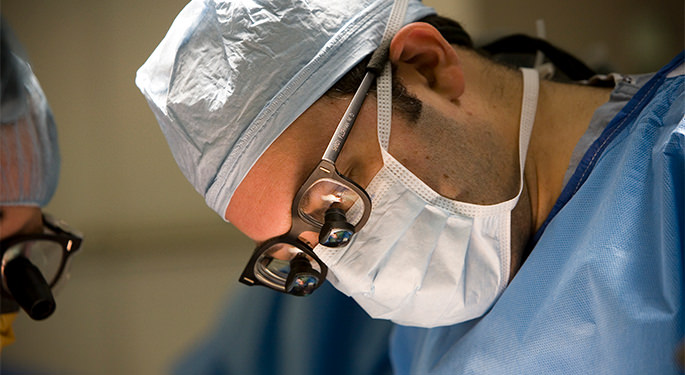 Liver, Bile Duct and Pancreas Surgery
The Recanati/Miller Transplantation Institute (RMTI) at Mount Sinai is a leader in providing minimally invasive surgical approaches to localized liver/bile duct (hepatobiliary) and pancreatic cancers. Surgery has long been the main treatment for these cancers, and highly skilled surgeons at Mount Sinai pioneered groundbreaking, safe surgical transplantation procedures decades ago. Mount Sinai surgeons are now at the forefront in providing alternative surgical options to transplantation such as surgical liver resection, which removes the affected parts of the liver rather than the entire organ.
Using the most advanced imaging techniques, we are able to detect tumors at their earliest, most curable stages. We offer a comprehensive, compassionate approach to the diagnosis and treatment of a wide range of liver cancers, including hepatocellular carcinoma, cholangiocarcinoma and pancreatic tumors, metastatic cancers of the liver and benign liver tumors, as well as pancreatic cancer and benign pancreatic cysts and tumors.
Our Innovative, Multidisciplinary Approach
Our goal is to comprehensively evaluate the needs of each patient and develop an individualized treatment plan. We do this by drawing on the expertise of our team of multiple specialists, including surgeons who specialize in liver/bile duct and pancreatic surgery, hepatologists, pathologists, and interventional radiologists, among others. Because we are embedded in one of the nation's leading hospitals and a highly-ranked medical school, we are able to draw on its vast resources including medical experts and researchers in a wide range of disciplines.
Liver Transplantation Services
For patients who are not candidates for minimally invasive surgery or other minimally invasive treatment modalities, we offer transplantation and the full spectrum of care associated with it – from diagnosis to pre-transplant treatment to the transplant itself to post-operative monitoring. One of the outstanding features of our program is the exceptional continuity of care we offer. Patients are tracked by the same team of providers pre- and post-transplant.
Through our Zweig Family Center for Living Donation we offer family members, friends, and others comprehensive evaluation services to determine their eligibility for live liver donor transplant. For patients in need of a liver transplant, living donation can alleviate the waiting period of a deceased organ donor. All prospective living donors must undergo a thorough medical evaluation, as must all candidates for a liver transplant.
If you would like more information or to schedule an appointment, please call: 212-241-8035. For information about the Zweig Family Center for Living Donation or to schedule an appointment, please call the Zweig Family Center for Living Donation at 212-659-8096.
Surgery for Liver/Bile Duct Cancer
Mount Sinai's Liver Cancer Program provides advanced treatments for a range of conditions, including hepatocellular carcinoma (HCC), cholangiocarcinoma (bile duct cancer), metastatic liver tumors, and gallbladder cancer. Our multidisciplinary team offers comprehensive and compassionate care tailored to the individual needs of each patient. We also work closely with the Liver Cancer Research Program to participate in leading-edge studies and clinical trials.
Surgery for Pancreatic Cancer
The Recanati/Miller Transplantation Institute (RMTI) offers comprehensive, state-of-the art care to patients with pancreatic diseases including confirmed or suspected pancreatic cancer. Our physicians are experts in evaluating, diagnosing, treating, and managing not only common pancreatic cancers but rarer forms and benign tumors of the pancreas as well. This includes pre-cancerous tumors (cystic tumors of the pancreas) and pancreatic pseudocysts.
Using a multidisciplinary approach, we employ the most advanced techniques to determine the appropriate diagnosis and then tailor a treatment plan to the unique needs of each individual. We do this by bringing together an extraordinary team of experts, who draw on years of experience in gastroenterology, surgical oncology, pathology, radiology, radiation oncology, critical care, and transplant immunology. These specialists meet together weekly to discuss the needs of each patient and most effective treatment options. Our emphasis is on caring for the whole person.
Among the full range of state-of-the-art services and treatment options we offer are:
Advanced screening and diagnostic techniques, including non-invasive abdominal computed tomography (CT) and magnetic resonance imaging (MRI) scans by radiologists who specialize in pancreatic cancer. We also evaluate and perform, as necessary, endoscopic ultrasounds (UES) and pancreatic biopsies.
Curative surgical therapies for cancer contained within the pancreas that has not spread to blood vessels, lymph nodes or other organs, including the Whipple procedure (pancreaticoduodenectomy) and distal pancreatectomy. Our surgeons are highly experienced in performing both of these procedures. With the Whipple procedure, enough of the pancreas is left intact so that the pancreas can continue to produce insulin and digestive juices. The distal pancreatectomy (surgery to remove the body and tail of the pancreas) is performed laparoscopically, which results in shorter a hospital stay, less post-operative pain, and minimal scarring.
As a leader in researching new treatments, we are often able to offer our patients access to innovative therapies through clinical trials before they are available anywhere else.