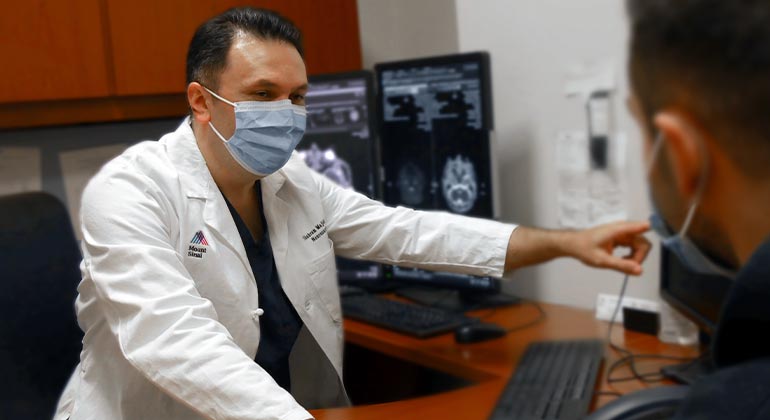 Mount Sinai Brooklyn offers sophisticated neuroendovascular surgeries, including minimally invasive procedures of the brain and spine, at our conveniently located hospital. Performed by our highly skilled staff from the Cerebrovascular Center, the neurosurgery program at The Mount Sinai Hospital is ranked number 12 by U.S News and World Report.
Our expert team of vascular neurologists, neuroendovascular surgeons, and neuroradiologists are available for consultations. We work together to accurately diagnose and surgically treat the full spectrum of cerebrovascular disorders of the brain and spine. Our cerebrovascular team can provide in-depth evaluation and management of cerebrovascular disorders right in your neighborhood.
Outpatient and Emergency Services
Using minimally invasive endovascular techniques, our cerebrovascular surgeons are available for consultations or emergency treatment. We treat the following conditions:
Back pain from acute compression fracture
Meet Our Team
Our experienced neurosurgery team at Mount Sinai Brooklyn is devoted to providing comprehensive care for our patients.
Maggie Yu, NP
Lyudmyla Melnyk, NP
Nick DiMarco, RT
Alan Au, RT