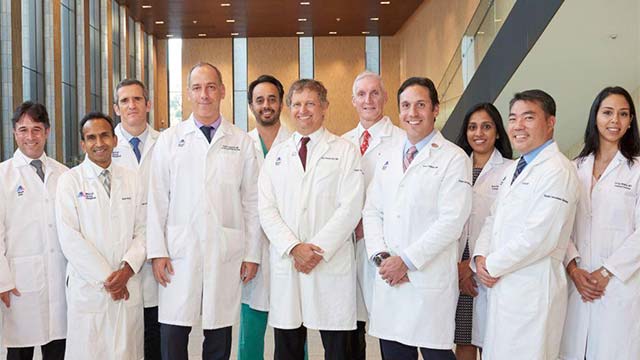 Led by Robert Lookstein, MD, the Division of Interventional Radiology at Mount Sinai is the growing subspecialty of radiology in which minimally invasive procedures are performed using image guidance. Advanced imaging technology provides high-resolution pictures, so interventional radiologists (board-certified physicians who specialize in minimally invasive, targeted treatments) can navigate tiny instruments such as catheters (small tubes) through blood vessels to reach certain parts of the body to treat various conditions non-surgically, including various cancers and liver disease. The Division is recognized as one of the top divisions in the country for image-guided procedures for a broad array of conditions and is also considered a leading training site in the field of image-guided therapy.
About Us
Founded by Harold Mitty, MD, FSIR, emeritus Division Chief, the Division of Interventional Radiology at Mount Sinai, was one of the first in the nation to perform diagnostic angiography, percutaneous nephrostomy, non-surgical treatment for uterine fibroids, and transarterial therapy for liver cancer.
Mount Sinai has been on the cutting edge of all new interventional radiology techniques and technology, and is one of few hospitals nationwide with a dedicated Fibroid Care Center where the full range of minimally invasive therapies is offered to women suffering from symptomatic uterine fibroids. We were also one of the first sites to employ drug-eluting (coated) stents for the treatment of peripheral arterial disease to restore circulation to the legs.
Today, our five full-time faculty members at the division perform more than 6,000 procedures each year. We use state-of-the-art technology to offer the safest minimally invasive treatment options for our patients who come from the New York metropolitan area and other parts of the country, as well as Canada, South America, and Europe for our unparalleled expertise.
Advanced Multidisciplinary Approach
Our physicians collaborate in a multidisciplinary approach, meaning across several clinical disciplines and specialties so patients can benefit from the insights of multiple experts. We are a multidisciplinary team with experts in the following areas:
Department of Medicine (Divisions of Cardiology, Liver Diseases, etc.)
Surgery (Plastic, Vascular, etc.)
Cardiothoracic Surgery
Transplantation (Liver and Kidney)
Obstetrics and Gynecology
Women's Health to treat vascular disease, cancer, venous conditions, and liver and kidney disease
Additionally, the Interventional Radiology Division participates in several research trials to evaluate the latest medical breakthroughs and expand the scope of future minimally invasive image-guided therapies.