Stage 4 Hepatic Carcinoma Liver Cancer Survivor
My name is Cheryl Matarazzo. I am 58 years old and I live in Lake Hopatcong, New Jersey. I was diagnosed with Stage 4 hepatic carcinoma (liver cancer).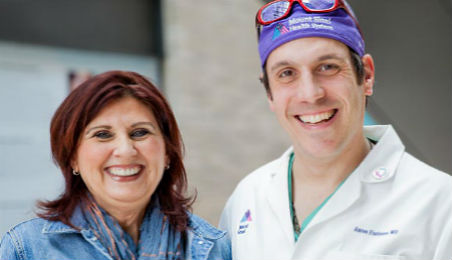 I woke up one morning with a sizable lump on the back of my head, thinking it was either a spider bite or possibly a hair follicle. I paid a visit to our family physician and was told it was neither and it would require a scan. The X-ray facility was closed for the day so I set it up for the following morning.
The next morning, I had a strange pain in my eye and my equilibrium was off. I contacted my doctor, who told me to go straight to emergency room in New Jersey, close to my home. Scans were done and I was visited by a neurologist who explained that I would not be going home as I had a suspicious lesion on the back of my head that would require a biopsy.
He asked me if he was able to remove the entire thing, would I be ok with that?
Sure I would, I told him. Why would I want to come back again?
Head surgery is no picnic. I spent 10 days in the hospital, head bandaged like a mummy. I was supposed to have a biopsy answer within five days, but it ended up taking five weeks before I had the information I went to have the staples removed and my surgeon said he had just received results of biopsy, which was sent out to Johns Hopkins. My surgeon thought the results were a mistake as he had never seen anything like this. The report said that there were liver cells in the tumor that was removed from my head. He said I would need to speak with my family physician.
Our family physician sent me to an oncologist in New Jersey.
Please understand that at this point I still had no clue what was wrong with me. The word oncologist didn't even ring a bell. I was examined; the oncologist went over the reports and said my case was quite unusual. He recommended I go to a New York City facility, preferably Mount Sinai, which deals with rare cases and may be able to help me.
I asked him if he could tell me what I had.
The oncologist was shocked that no one had mentioned the diagnosis to me. He told me I had Stage 4 liver cancer that had metastasized to my head. He said he was not aware of any other case where liver cancer showed up in this way.
The devastation I felt upon hearing those words "liver cancer" was beyond anything I could imagine. To me it was a death sentence. The oncologist made a few calls and set up an appointment with Dr. Max Sung.
Dr. Sung explained to me that Mount Sinai works with a team of doctors, all experts in their field, which meets twice a week to discuss patient cases. He suggested I meet with the interventional radiologist, Dr. Aaron Fischman. The day I visited Dr. Fischman, I was greeted by himself and his PA, Julie. They were very prepared and had all my scans and their discussion notes from their team meeting on what the best course of action was for my aggressively growing cancer. I cried through the whole meeting. My sister-in-law took notes for me to go over once I was able to accept and absorb all I heard that day.
Dr. Sung and Julie explained radio embolization and chemo embolization, which they referred to as TACE, and provided me with reading material information to read up on each of the procedures. They explained they would need to do a test run called a mapping wherein they use a dye and a small catheter to follow the path from my main artery to the infected portion of my liver. They explained that my cancer was wrapped around my left portal vein and, due to its location and aggressive potential, an operable was not an option. We scheduled the date for the mapping, but of course the entire day seemed like a blur to me and I was still hoping it was all just a bad dream.
On the day of the mapping, I was greeted by the staff, who were all very polite and came over to keep me calm and console me. As they were prepping me, Dr. Fischman came to see me to assure me all will be fine.
The procedure was performed and the results were not what I expected to hear. The mapping for the chemo embolization prep did not go well. The dye went into my lungs, which is not a good sign as that is the same path the real deal would follow. The doctors would not want to have the chemo enter a healthy set of lungs. I thought that was the end of the road for me but Dr. Fischman assured me we could still try radio embolization. He was not ready to give up on me and that is just what I needed to hear.
Dr. Fischman got me an appointment for the radio embolization. This is the same type of procedure as the mapping and chemo embolization, except that send radioactive beads directly to the bad liver side.
Again, was greeted by the staff with the utmost respect. At this time they all knew me by name and did everything to keep me comfortable. Something unusual happened that day. There was a very ill elderly patient who had liver cancer and was not in the best of shape. I began to have a panic attack and asked to see the doctor before going in for procedure.
The first words out of my mouth were "I don't want to die from this." I told him I was trusting my whole life in his hands. I have never had to deal with this before, I said, so how do I know if I'm doing the right thing? I asked Dr. Fischman, "Please don't treat me like a number or a patient, but talk to me as if I were a member of his family." I asked, "If I were your family what would you suggest?"
Dr. Fischman said he would tell them to have this procedure. He also explained that they could try again in a few months with a new mapping to see if I can get the chemo embolization that was first recommended. He explained sometimes when they try again, they can get a good mapping. He also told me each patient is different and try not to compare what is going on with someone else to what was going on with me. He put me at ease and made me feel he was truly looking out for what was best for me.
Eventually, I did have a successful mapping and then the chemo embolization. I must tell you every time I called Dr. Fischman for some concern I had, if he didn't get on the phone immediately, he called me back within five minutes. He always made me feel at ease. If I was truly concerned and wanted to see him in person, he found time in his busy schedule to see me and address my concerns.
I was pretty sick from that chemo. I spent three weeks with my head in a bucket, not hungry, not even wanting to get out of bed. But once the three weeks passed, I felt myself coming to life again. I had my follow-up visit, and to much of my surprise I responded extremely well. The left side of my liver was killed off. I had three small spots on my right side that needed monitoring and still do as well as a tumor on my rib and one on my sternum.
When the tumor on my rib and sternum became annoying and regular radiation did not alleviate the pain, Dr. Fischman performed a cryoablation on both of them (freezing the tumors), thus eliminating the discomfort. Throughout this process, I tried to remain positive and strong as I swore I would not let this get the better of me. I told Dr Fischman that I will build a home in Florida, I will see my 26-year-old son get engaged and married, and I will be a grandmother. With his care, I feel I will meet these goals.
I've also had the great opportunity to take the new drug Opdivo, which works with your immune system. Last week I went for my third scan since having the embolization (at the nine-month mark) and I got good news!!! No sign of activity where liver was killed off. The three spots are still there, but they cannot be identified as tumors as there has been no change in size. My rib and sternum tumors can be annoying, they are not life threatening. There are no new growths at all. My brain scan is normal. This goes to show you that with lots of prayers, strength, positive energy, and a team of the best doctors in the world, you can beat liver cancer and come out ahead. I have so much more life in me and I plan on living it to the fullest.
Julie and Dr. Fischman reminded me when they first met me how I was a basket case of tears. I was so afraid of the unknown. But now they look at me and I'm all smiles thanks to their expertise, knowledge, compassion, and true friendship. These days, when I come in for appointments, it feels more like family. I tell them, please keep up the great work you do.
I am a testimonial that liver cancer can be beat and I am the winner in this game. I will continue to defeat all odds. I will continue to get scans every three months, as per Dr. Fischman's orders. But if that is all I have to do for now it's worth it.
Thank you, Dr. Aaron Fischman and staff of the Interventional Radiology Department for taking such good care of me. I'm here after two years to talk about it. That's a plus.