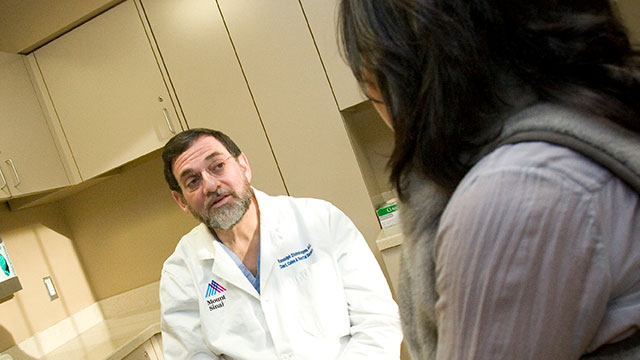 Colon and Rectal Cancer Services
The Tisch Cancer Institute takes a patient-centered approach to diagnosing and treating colon and rectal (colorectal) cancer. Our multidisciplinary team includes medical oncologists, surgeons, radiation oncologists, and researchers, as well as specialized nurses, dietitians, and social workers, who are dedicated to providing the best possible care. Our physicians have experience in all aspects of colon and rectal cancer, from screening and diagnosis to treatment and follow-up care, and collaborate as a team to take a comprehensive, individualized approach to each patient's needs.
One of the world's premier academic medical centers, Mount Sinai offers a superior level of experience and care in treating patients with colon and rectal cancers. We are engaged in a broad range of clinical and basic cancer research, which can lead to better prevention, detection, and treatment. We provide our patients with the latest advances in care, as well as access to the newest therapies through clinical trials. Our medical oncologists who see colon and rectal cancer patients are specialists in gastrointestinal (GI) cancers. We have extensive expertise with patients who have inflammatory bowel disease (IBD), including surgeons who have trained specifically in surgery for patients with IBD. We also have surgical oncologists who specialize in resection of colon tumors and metastatic disease in the liver. Our thoracic surgeons have expertise in operating on metastatic colon or rectal cancer that has spread to the lungs. Although most colon and rectal cancer patients are over the age of 50, we also see younger patients who need specialized, aggressive therapy.