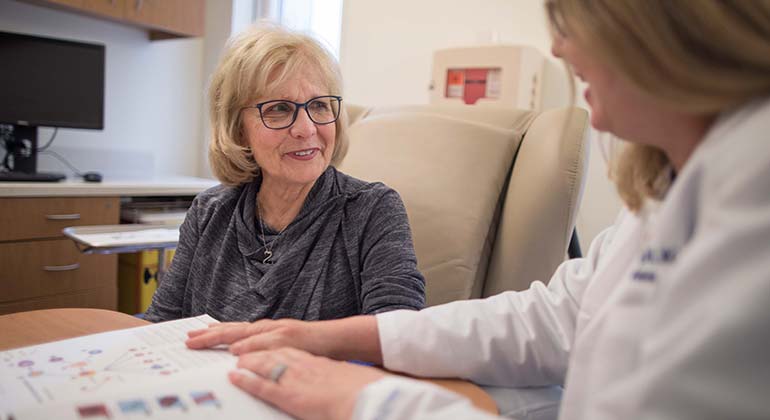 The expert team at Mount Sinai Doctors-Staten Island, Cancer, is skilled in providing the best available treatments, including chemotherapy infusion, immunotherapy, targeted therapy, and benign-hematology services such as immunoglobulin and iron infusion.
Hematology Services
Our physicians draw on the best available therapies to treat patients with various hematologic diagnoses, including anemia, immune thrombocytopenic purpura, lymphoma, leukemia, and other blood disorders.
We offer a number of hematology services, such as:
Bone marrow biopsies and aspirates
Common lab tests
Intravenous infusions of iron for patients with iron deficiency anemia
The monitoring of blood clotting for patients on anticoagulants
Infusion Center
Our New Jersey location provides a state-of-the-art infusion center, equipped with a GEMFREE flow hood and LYNX Mobile® chemotherapy inventory management system. Our most advanced treatment suite offers a separate media room, where loved ones can pass the time in comfort.
We provide several types of injections, including:
B12 Injections (cyanocobalamin)
Procrit® injections
Neupogen® injections
Iron infusion (Venofer®)
Solu-Medrol® infusion
Zomera® infusion
Reclast® infusion
Prolia® injections
XGEVA® injections
Lupron® injections
Boniva® injections
Testosterone injections
Sandostatin injections
The chemotherapy regimens for different types of neoplasm are mixed and administered onsite as needed.
In advance of your appointment for these infusion medications, we will verify your insurance benefits and determine if prior authorization, precertification, and/or co-payment are required. As a courtesy, we will enroll you in any co-pay assistance programs that may be available.
Understanding the importance of treating the whole patient, our team combines these therapies with psychosocial support, nutritional counseling, prompt management of side effects, and other services.
Breast Cancer Surgery
Our vastly experienced breast surgeon offers expert diagnosis and the latest options for surgical treatment of breast cancer and benign breast disease. Mount Sinai Doctors-Staten Island, Breast Surgery works closely with our hematology/oncology team to provide you comprehensive care for breast disease.