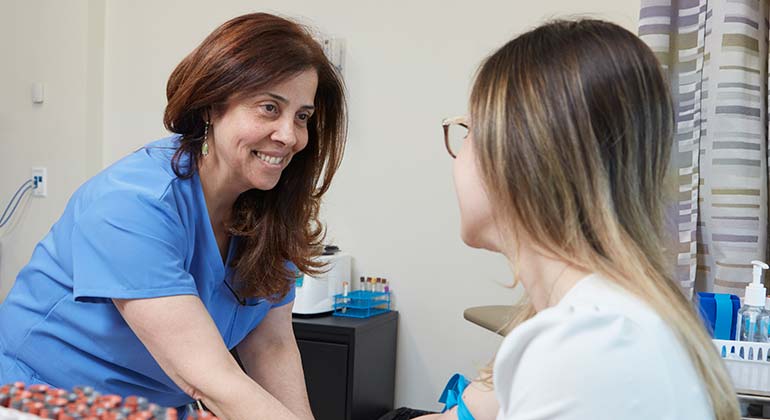 At Mount Sinai Doctors on Staten Island, our patients receive expert health care and personalized attention. Whether you're interested in building a long-term relationship with a family doctor, or need specialized care for a specific condition, our physicians rely on the newest diagnostics and treatments to make sure you receive the best possible care. As part of the Mount Sinai Health System, we are also able to give our patients direct access to the advanced therapies and research of a renowned medical center.
Our doctors have extensive experience providing diagnostic services and therapies in the following areas:
Breast Surgery: We care for patients with benign and high-risk breast conditions, and treat patients living with breast cancer. Our patients benefit from Mount Sinai Health System's resources while being able to access care at home on Staten Island.
Cancer Care: Our team specializes in solid tumors, hematological malignancies, non-malignant hematology conditions, and more by providing the newest available treatments, including chemotherapy, immunotherapy, and targeted therapy. We coordinate these therapies with psychosocial support, nutritional counseling, side effects management, and other services.
Cardiology: Our highly skilled heart doctors treat a range of conditions, including hypertension, coronary artery disease, valvular heart disease, and arrhythmias. We provide the newest diagnostics services (from treadmill and echo stress testing to vascular imaging studies) and treatments (from electrophysiology consultations to pre- and postoperative care).
Endocrinology: We have extensive experience caring for diseases of the endocrine system, including adrenal disorders, diabetes, hypothyroid and hyperthyroid disease, pituitary disorders, and more. Our services include consultations, medication management, patient education, and diabetes care (from nutritional support to blood sugar monitoring).
Gastroenterology: In addition to providing preventive care such as colorectal cancer screenings, our digestive disease experts are skilled in treating alcoholic liver disease, gallbladder disease, gastroesophageal reflux, inflammatory bowel disease, irritable bowel syndrome, and more. We provide a range of services that include upper GI endoscopy, polypectomy, and dilatation of esophageal strictures.
Podiatry: Our experienced podiatrist provides specialized care for bunions, corns, diabetes-related foot issues, ingrown or infected nails, heel and arch pain, fractures, sprains, and more.
Primary Care: Our team of family doctors is committed to providing the preventive care that will keep you healthy in the first place. The services we offer include annual checkups, coordination of care, disease prevention, evaluation and treatment of chronic and acute illness, patient education, and preoperative consultation.