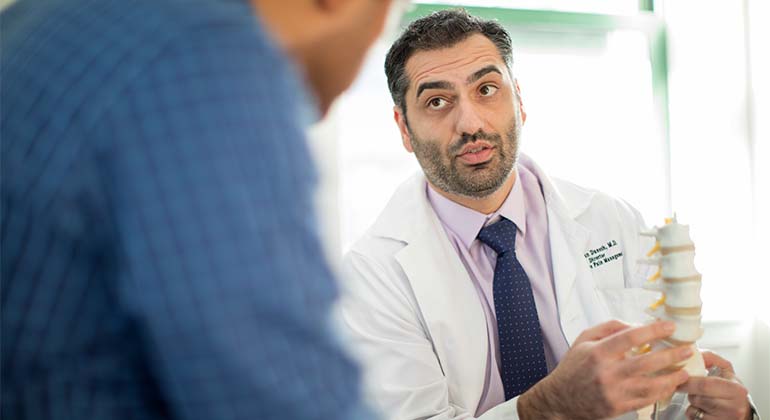 If chronic pain is making it hard for you to work, care for your family, or enjoy the activities important to you, the specialists at Mount Sinai Doctors – Pain Management and Wellness have the experience to help. With a convenient location on West 57th Street, and expertise in both cutting-edge and complementary therapies, we are skilled in personalizing the right treatment plan for your individual needs.
Pain Management Conditions We Treat
Our approach begins with listening to you in order to hear about your symptoms and address your questions. After determining the cause of your pain, we provide highly skilled care for discomfort in the back, head and neck, arms and hands, hips, knees, and legs. These issues may be caused by arthritis, headaches, sciatica, tendinitis, tennis elbow, or other conditions.
Pain Management Treatments We Provide
Because pain differs from person to person, we draw on a range of treatment options—from state-of-the-art therapies to ancient techniques—to achieve the best possible pain relief for you. Mount Sinai specialists are skilled in the following treatments and procedures:
In addition, Mount Sinai offers the Integrative Pain Management Program, which combines Eastern and Western treatment techniques to alleviate pain.
Through this blend of cutting-edge and complementary care, we are committed to helping our patients get the relief they deserve. Our goal is to help you move beyond pain so you are free to enjoy daily life to the fullest.