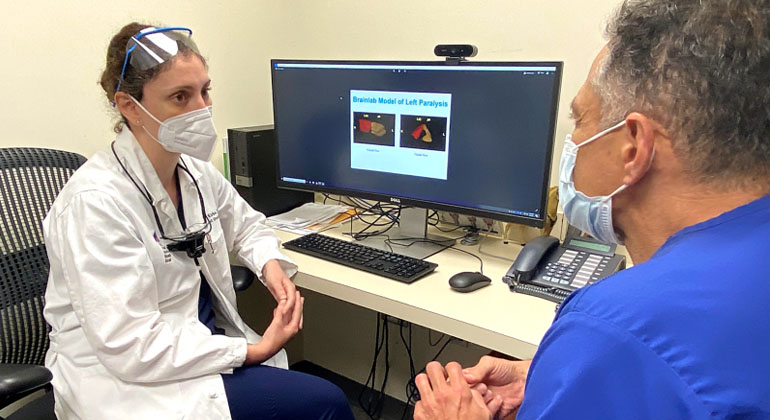 Grabscheid Voice and Swallowing Center Research
The Grabscheid Voice and Swallowing Center is internationally recognized for its advanced clinical treatments and innovative research. Our team of physicians, speech language pathologists, and researchers challenge the boundaries of voice, swallowing and upper airway care to forge new and minimally invasive treatment approaches. We collaborate not only with multiple Departments within the Mount Sinai Health System, but also with other institutions nationwide.
Groundbreaking research at the Division of Laryngology encompasses many cutting edge facets of this exciting field, such as post-COVID-19 complications, immersive virtual reality (VR) and transgender outcomes. These investigations embody the mission of the Grabscheid Voice and Swallowing Center, enhancing education and furthering clinical breakthroughs for these diverse disorders.
Chronic Cough
Outcomes of a Standardized SLP Behavioral Treatment Protocol in Patients with Neurogenic Laryngeal Hypersensitivity Chronic Cough
Neurogenic laryngeal hypersensitivity (NLH) refers to a constellation of symptoms including chronic cough, throat clearing, paradoxical vocal fold motion, globus sensation, dyspnea, perilaryngeal tension, laryngospasm and other voice and respiratory related concerns. It is thought to be caused by a disturbance in afferent and/or efferent sensory pathways leading to laryngeal hypersensitivity. This exaggerated, unproductive response is triggered by inhaled, mechanical or emotional triggers. We have been and continue to evaluate patient reported improvement in symptoms with a standardized, non-pharmacologic behavioral treatment protocol, performed by trained SLPs. If successful, the protocol would obviate the need for medical intervention in these patients. Seventy-six percent of the NLH patients treated with the protocol have reported improvement in symptoms. We have determined this treatment protocol was equally effective among three trained speech-language pathologists. We are continuing to train SLPs and assess the outcomes of their NLH patients.
COVID-19 Voice and Swallowing Therapy and Complications
Telemedicine Outcomes in Speech Language Pathology during COVID-19
This study entails a review of patient satisfaction of speech therapy conducted via telemedicine/video visits during COVID-19. We are seeking feedback from a cohort of 200 patients. Early data is reflecting that patients are overall very satisfied with speech therapy via telemedicine.
Post-Intubation Complications
This study, being conducted with North American Airway Collaborative (NAAC), explores limiting the intubation tube size to mitigate post-intubation trauma and complications in both COVID-19 and non-COVID-19 patients. The Airway response team (DART), spearheaded by Dr. Benjamin Tweel, is reviewing Emergency Department intubations, as well as those performed in ICU and by anesthesiology.
Post COVID-19 Upper Airway Complications
This study aims to assess the incidence of glottic stenosis, tracheal stenosis and chronic cough post COVID-19. Collaboration with Pulmonology, CT Surgery, and Rhinology is a central focus for evaluating the post-COVID-19 effects on the unified airway. We aim to educate other providers nationally on our findings and any recommended changes in treatment protocols.
Innovation
3D Medialization Laryngoplasty
We are in the process of analyzing CT scans in order to estimate the size of the paraglottic space in the larynx and subsequently build a 3D model for the size of the implant you need for medialization laryngoplasty. Currently implants are hand carved during the surgery and we believe that removing this step will lead to shortened OR times.
Laryngeal Cancer
Chondrosarcoma Series
This is a malignancy of the cartilages of the larynx. Traditionally the treatment for this tumor was a laryngectomy. This study, being conducted in conjunction with UCSF, evaluates the efficacy of partial laryngeal surgery (removal of the affected cartilage) and laryngeal framework surgery to rebuild it with rib grafting and free flap from the thigh to vascularize the graft. We are enrolling patients nationwide and plan to publish data within the year.
Outcomes in Laryngology
Simplification of Patient Reported Outcomes Measures
There are many validated scoring systems that are used to assess a patient's laryngological complaints. These include but are not limited the voice handicap index-10 (VHI-10), the reflux symptom index (RSI) and the eating assessment tool (EAT-10). These are time intensive for a patient to complete and thus in order to simplify this we are working on way to combine these patient reported outcomes measures into a streamlined validated scoring system.
The Effects of Situational Variability on Patient Reported Outcomes Measures
With the aforementioned validated scoring systems we are uncertain as to whether a patient response changes depending on the time of the day and/or situation they are in. Thus we have created a smart phone app to assess the voice handicap index-10 (VHI-10) at different time points throughout the day. This will assess whether there is any effect of situational variability on the patient reported outcomes measures that we use.
The Role of Behavioral Therapy in Prevention of Laryngeal Lesion Reformation
At the Grabscheid Voice and Swallowing Center we believe that behavioral therapy is integral to the prevention of the reformation of a laryngeal lesion/vocal cord polyp. In reviewing data, there was no difference in surgery, voice therapy or a combination of surgery and voice therapy. This study proves the role of voice therapy in the management of these lesions, versus having patients undergo surgery as a first line of treatment.
Transgender Studies
Long-Term Voice Outcomes
A new study has launched at the Grabscheid Voice and Swallowing Center to compare the long-term effects seen in voice therapy versus voice therapy and surgery. We aim to determine if patient satisfaction and pitch elevation are maintained between treatment groups post 12 months treatment.

Effect of Wendler Glottoplasty on Acoustic Measures of Voice
Throughout the treatment process for voice feminization, we obtain a variety of acoustic measures including pitch and cepstral parameters of dysphonia. Our quantitative study demonstrated that patients who underwent voice therapy and surgery did not have a worsening in their vocal quality as measured by cepstral peak prominence and cepstral spectral index of dysphonia. This suggests patients' vocal quality is not negatively impacted by surgery.

Addition of Wendler Glottoplasty on Voice Therapy Improves Trans Female Voice Outcomes
At the Grabscheid Voice and Swallowing Center we offer laryngeal surgery for the transgender community. We believe the key to a successful outcome for our patients is the use of both behavioral therapy and surgery. In our retrospective study, we discovered that while patients do improve with voice therapy, they are more satisfied and achieve a higher average pitch when combining voice therapy and surgery.
Virtual Reality in Voice Science and Laryngology
The Influence of Multisensory Input on Voice Perception and Production using Immersive VR
The purpose of this study was to examine the influence of auditory vs. visual vs. combined audiovisual input on perception and production of one's voice, using immersive virtual reality technology. Thirty-one vocally healthy individuals were studied with 18 sensory input conditions using immersive VR technology. These conditions were auditory only, visual only and audiovisual with and without background noise. Results showed that not only auditory but also visual input significantly influenced individuals' own voice perception and production. This study set the foundation for future studies on visual and audiovisual inputs on clinical approaches and treatments going forward.

Enhancing the Patient Experience in Office-Based Laryngology Procedures with Passive VR as a Pain Distraction
Researchers at the Grabsheid Voice and Swallowing Center have published the results of their recent study regarding the efficacy of VR sensory distraction and calm environment on the overall level of patients' comfort, while undergoing office-based surgery on their throat with only local anesthesia. Patients were divided into two similar groups. One group received standard local anesthesia and the other group had local anesthesia with VR distraction. In direct comparison, the group that had the procedure with the addition of VR distraction reported significantly less distress during the procedure than those who had local anesthesia alone.