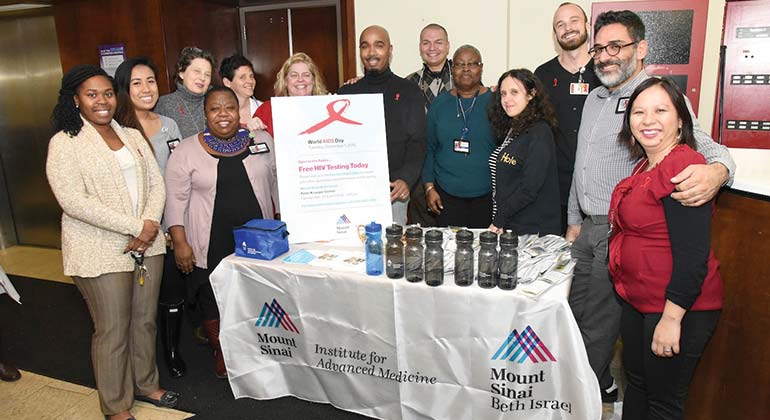 Mount Sinai Beth Israel-Institute for Advanced Medicine, Peter Krueger Clinic
The Peter Krueger Clinic provides compassionate care for patients in need of primary care and infectious disease treatment and management. Since its establishment in 1989, the clinic has been a leader in treating patients affected by HIV with comprehensive programs that include physical, mental, and social care and clinical trials of the newest and most advanced treatments.
Services offered:
Primary Care
HIV/STD Testing and Treatment
HIV/Infectious Disease Care
HIV Pre-Exposure Prophylaxis (PrEP)
HIV Post-Exposure Prophylaxis (PEP)
HIV Immediate Antiretroviral Therapy (iART)
Hepatitis C Testing and Treatment
Specialty Care—Psychiatry, Psychology, Nutrition, Acupuncture
Addiction Treatment Program
Peter Krueger History
In the early '80s at the height of the HIV/AIDS epidemic, Beth Israel Medical Center (now Mount Sinai Beth Israel) was one of the first hospitals to identify the symptoms of, and provide specialized care for, patients affected by HIV. Beth Israel also had a strong clinical trials program for testing HIV treatments and medications. The HIV program initially started as part of the Adult Medical Services clinic and in the mid-'80s it became its own clinic with HIV care and services for adult and adolescent patients.
At that time, Stanley Yancovitz, MD, was the family physician who provided care to the Krueger family here at Beth Israel. With the passing of their son, Peter, due to complications of HIV/AIDS, Harvey and Constance Krueger wanted to honor Peter by providing support for others affected with HIV/AIDS. In 1989, Beth Israel established the Peter Krueger Clinic through the philanthropy of the Krueger family. Since its inception, the Peter Krueger Clinic has been a critical component of Mount Sinai Beth Israel's commitment to patient-centered care, training for HIV specialists and Infectious disease fellows, and a clinical trial site that has contributed to the development of lifesaving HIV therapies.