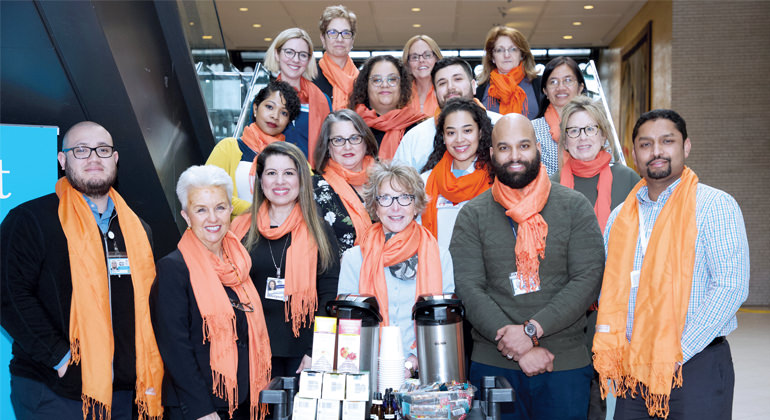 Volunteer Opportunities with Spiritual Care
People of all religions and faith traditions are invited to volunteer at Mount Sinai Hospital. Mount Sinai's Spiritual Care volunteers help patients feel less lonely, experience a sense of community and can cheer patients through difficult times. Volunteers make a huge impact in providing care, support and encouragement for patients and their family members.
Volunteers also provide administrative support for the Department of Spiritual Care as well as essential services to our community through their efforts.
Eucharistic Ministers
We are fortunate to have volunteer Eucharistic Ministers who serve Mount Sinai Hospital's Catholic patients by offering communion. If you are interested in learning more about this ministry of care, please contact us at infospiritualcare@mountsinai.org.
Take10 Volunteers
The Chi Time™ program is now "Take10," the same experience for staff as before but with a new name. The new name reinforces that well-being can take many different forms and be captured in many different moments. As we expand this program, we will continue our efforts to make sure those moments are accessible and easy to embrace.
We continue to look for additional ways to proactively engage and support staff with well-being activities. Following in the creative path that the Center for Spirituality and Health started through its curated annual art shows, the program launched the Percussion Project earlier this year.
The Percussion Project helps staff members let off steam and access joy by participating in wellness breaks involving percussion instruments or simply using their bodies for slapping, clapping, or stomping. Participant feedback from the summer pilot has been encouraging: "I feel so much more grounded." "I feel connected." "I feel like the stress melted away."
As the Take10 program expands we are training volunteers to be on Maggie's Team.
We are looking for volunteers who have:
Experience working with groups
A deep respect for our hospital workers
Experience leading drumming or percussion groups
We want you to feel comfortable:
Approaching new people and interacting with a diverse group
Remaining non-denominational in your efforts to connect with people.
Serving tea and providing aromatherapy in a group setting without doing "group therapy."
Time commitment:
Become a Mount Sinai Hospital System volunteer
1 hours of Take10 orientation and a shadowing experience
2.0 hours at least twice per month for a period of at least 6 months
Please contact Maggie Keogh or 212-241-5280
Volunteer Opportunities at The Mount Sinai Hospital
All volunteers of the Department of Spiritual Care and Education are registered with the Department of Volunteer Services. In addition, Mount Sinai Hospital has many other volunteer opportunities to explore. To learn more, please contact Volunteer Services at:
Phone: 212-241-0478
Email: VolunteerDept@mountsinai.org