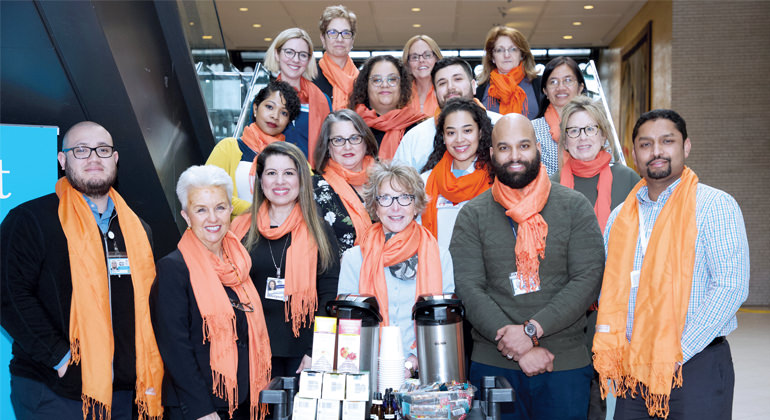 Volunteer Opportunities with Spiritual Care
People of all religions and faith traditions are invited to volunteer at Mount Sinai Hospital. Mount Sinai's Spiritual Care volunteers help patients feel less lonely, experience a sense of community and can cheer patients through difficult times. Volunteers make a huge impact in providing care, support and encouragement for patients and their family members.
Volunteers also provide administrative support for the Department of Spiritual Care as well as essential services to our community through their efforts.
Eucharistic Ministers
We are fortunate to have volunteer Eucharistic Ministers who serve Mount Sinai Hospital's Catholic patients by offering communion. If you are interested in learning more about this ministry of care, please contact us at infospiritualcare@mountsinai.org.
Chi Time Volunteers
As the Chi Time™ program expands we are training volunteers to be on Maggie's Team.
We are looking for volunteers who have:
Experience working with groups
A meditation or yoga practice
A deep respect for our hospital workers
Physical stamina to retrieve the Chi Cart™ from the kitchen and bring to a work unit
We want you to feel comfortable:
Approaching new people and interacting with a diverse group
Remaining non-denominational in your efforts to connect with people.
Working with the Spiritual Care team to eventually take the cart to assigned units and serve hospital staff tea, snacks, and aromatherapy on your own.
Providing a safe and calm space for staff to unwind, de-stress, and feel a sense of community.
Serving tea and providing aromatherapy in a group setting without doing "group therapy."
Time commitment:
Become a Mount Sinai Hospital System volunteer
2 hours of Chi Time training
2.0 hours at least twice per month for a period of at least 6 months
Please contact Maggie Keogh or 212-241-5280
Volunteer Opportunities at The Mount Sinai Hospital
All volunteers of the Department of Spiritual Care and Education are registered with the Department of Volunteer Services. In addition, Mount Sinai Hospital has many other volunteer opportunities to explore. To learn more, please contact Volunteer Services at:
Phone: 212-241-0478
Email: VolunteerDept@mountsinai.org