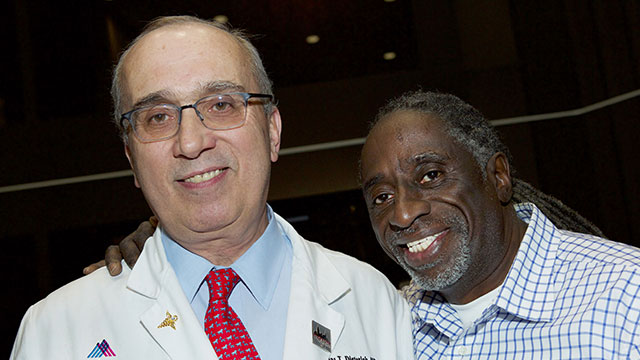 The Division of Liver Diseases at The Mount Sinai Hospital has been at the forefront of groundbreaking advances in the detection and treatment of liver diseases for more than half a century. We provide personalized care for all types of acute and chronic liver diseases including hepatitis B and C, liver cancer and cirrhosis. Our liver disease specialists comprehensively evaluate patients, providing expert diagnosis and treatment plans that will help arrest or reverse their disease. And our tradition of excellence helps us achieve our goal of providing compassionate, innovative care.
About Us
All of our work as clinicians, researchers, and educators has one goal: to diagnose and treat patients with liver disease quickly and accurately, and to preserve their health so they can live full, active lives.
Like many chronic diseases, chronic liver disease does not always "go away." Through patient education and counseling, we assist our patients in managing chronic liver disease so that they can maximize their quality of life.
However, medical therapy for many liver diseases is rapidly becoming more effective. For some conditions such as hepatitis C, we now talk in terms of a true 'cure' in a growing number of cases. Our Hepatitis C Virus Progam provides innovative treatment for hepatitis C.
For other conditions, such as hepatitis B, the disease can be completely suppressed with appropriate medication. Regardless of a patient's age, gender, or level of activity, early diagnosis and aggressive treatment, where available, is critical to preserving liver function and preventing liver failure.
Our Comprehensive Approach
Our approach is to comprehensively evaluate our patients to develop a treatment plan that helps arrest or reverse disease. Studies, including many of our own groundbreaking investigations, show that early, expert treatment can help limit complications and prevent end-stage liver disease. Our aim is to keep patients active and healthy. Timely treatment helps avoid potential complications, including the need for surgery or transplantation. Whenever necessary, we consult with colleagues to provide the most advanced interdisciplinary care. To do so, we work closely with key Mount Sinai specialists in surgery, radiology, and pathology -- all of whom are equally well regarded in their specialties.
Patients with liver diseases requiring hospitalization are admitted to The Mount Sinai Hospital, where physicians from the Liver Diseases faculty work with multidisciplinary treatment teams to ensure that our patients' medical, nutritional, and psychological needs are met during their hospital stay as well as after their discharge.
Milestones
Ever since Hans Popper, MD, regarded as the Father of Hepatology, joined the Icahn School of Medicine at Mount Sinai faculty in 1957, we have been a leader in the detection and treatment of liver disease.
Our physicians and researchers were:
First to uncover the cells responsible for liver fibrosis, which can lead to cirrhosis
First to perform a liver transplant in New York State
Leaders of the clinical trial that led to the first FDA-approved treatment for patients with hepatitis C and HIV
First to perform adult and a pediatric living-donor liver transplants in New York State
Led the clinical trial in the United States that generated the first effective oral therapy for liver cancer
First to perform a multivisceral (stomach, small intestine, pancreas and liver) transplant in New York State
Leaders of the clinical trial that led to FDA approval for a new class of drugs for hepatitis C that has an 80 percent cure rate
We Can Help
Our tradition of excellence in training and patient care creates a multilayered collaboration, which helps us achieve our goal of providing the most compassionate, cutting-edge care — all fueled by the best research and education available anywhere today.