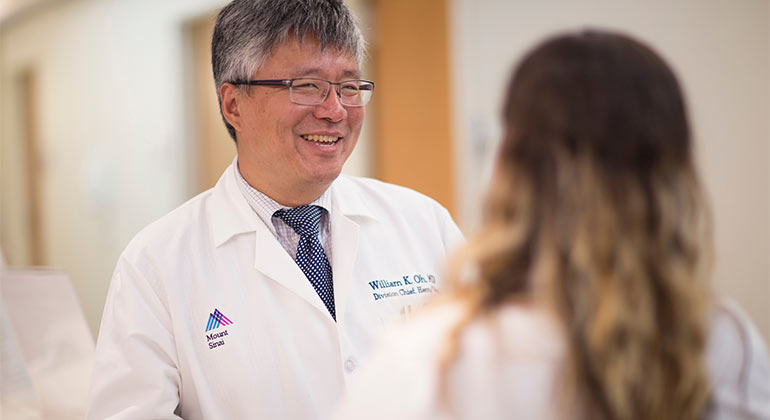 Our Services
Oncology patients treated at the Ruttenberg Treatment Center have access to a range of treatments, including chemotherapy, biological therapy, and bone marrow transplant. In addition, we can offer many of our patients the opportunity to enroll in clinical trials and thereby access the newest available therapies.
Medical Oncology
Patients with solid tumors and hematologic malignancies are seen for physician consultations and treatment at all stages of their disease from initial diagnosis through follow-up care. Our medical oncologists work hand-in-hand with Mount Sinai surgeons specializing in cancer surgery, radiation oncologists, and pain management specialists, providing our patients with the benefits of an in-house clinical team.
Solid Tumor Medical Oncology
Our solid tumor medical oncologists specialize in a range of solid tumors, including those of the prostate, colon, lung, head and neck, skin, and others. We offer consultations as well as chemotherapy, radiation, and other treatments to patients with solid tumors.
Hematologic Malignancies
Our robust program in hematologic malignancies ensures that patients receive the most advanced, multidisciplinary care. We have a long history of excellence in the research and treatment of hematologic cancers, especially in leukemia. Mount Sinai serves as the lead site for an international, multicenter study of myeloproliferative disorders, and we have experts in myelodysplastic syndrome (MDS) and multiple myeloma. Our bone marrow transplant program is the second-largest in the New York City area.
Benign Hematology
Doctors at the Ruttenberg Treatment Center diagnose and treat patients with a range of blood disorders, including hemophilia, von Willebrand disease, bleeding and clotting disorders, white and red blood cell disorders, and platelet disorders. Our hematology physicians are nationally recognized experts in the field.
Specialized Programs
Our specialized programs include
Leukemias and blood cancers (myeloproliferative disorder [MPD], myelodysplastic syndrome [MDS], leukemia, lymphoma, multiple myeloma, and other hematologic malignancies)
Head and neck cancers (larynx, oral, parathyroid, salivary gland, sinus, nasal, skull-base, throat, thyroid, and tracheal cancers)
Gastrointestinal cancers (anal, colon, esophageal, liver, pancreatic, rectal, and stomach cancers)
Genitourinary cancers (adrenal, bladder, kidney, prostate, and testicular cancers)
Skin cancers
Lung cancers and Thoracic surgery
Gynecological malignancies (and complex benign conditions)
Surgical Oncology
Endocrine Neoplasia
Supportive Oncology
Please visit Cancer Areas of Care for detailed information on these programs.