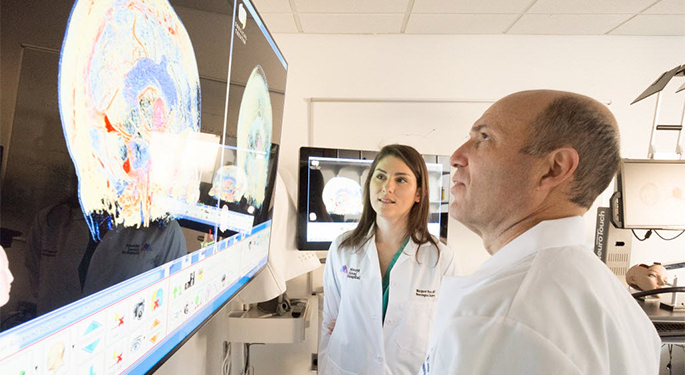 Arteriovenous Malformations of the Brain
The blood acquires oxygen in the lungs and travels through arteries to the tissues in the body where it deposits the oxygen, then returns to the heart through veins. Blood moves from arteries to capillaries to veins. When you have an arteriovenous malformation (AVM), the artery connects directly to the vein without passing through the capillaries, "short-circuiting" the normal blood flow.
Arterial blood is high pressure while veins are made for low pressure. When the artery connects abnormally to the vein, like in an AVM, there can be bleeding at the location of the abnormal connection causing headaches, seizures, memory loss, weakness, and other neurological episodes marked by stroke-like symptoms. In small children, an AVM can even cause heart failure. Arteriovenous malformations can happen anywhere in your body, but occur most often in the brain, head, or neck. AVM bleeding can occur at any age, but appears most often among children and young adults.
Simple arteriovenous malformations can have one arteriovenous fistula, or abnormal short circuit connection. In more complex malformations, this network of abnormal connections represents the "nidus." The most severe expression of all arteriovenous malformations is called a vein of Galen malformation.
People with arteriovenous malformations in the head, face, or neck can experience red skin discoloration, high temperatures, an electric sensation, or pulsing because of the increase blood flow. You may also have bleeding that can be severe.
Treatment Options
There are many options for AVM treatment. For this reason, it is important to be evaluated by a multidisciplinary cerebrovascular team capable of performing all of these possible treatments for an AVM. At Mount Sinai, we take a multidisciplinary approach to AVM treatment. Treatment options include observation, microsurgery, endovascular embolization, stereotactic radiosurgery, or a combination of these.
Embolization, is the most common treatment for AVMs and consists of injecting a substance inside the abnormal arteries to block them off and decrease blood flow to the AVM. Our surgeon skillfully selects the AVM arteries using a variety of techniques to confirm that the artery does not supply normal brain prior to blocking it off. We use a variety of embolic agents to do this depending on your individual situation. We carefully balance the risk of bleeding and stroke against the risk of treatment to provide the best possible care.
We often use liquid embolic agents to treat AVM. If you have cerebral AVMs that we cannot cure because of its size or location, we can perform palliative to improve your quality of life. Sometimes, we follow embolization with surgical resection or radiation therapy.
Microsurgery is a term for the surgical resection of an AVM. This is a common treatment option for AVMs that are surgically accessible and often provides a complete cure. Our team will determine if your AVM is surgically accessible or if it also requires endovascular embolization or stereotactic radiosurgery for treatment. Often, we perform microsurgery shortly after endovascular embolization. The embolization decreases the blood flow to the AVM as much as possible and the surgery completes the treatment by completely removing the AVM. We may perform an angiogram immediately after the surgery to confirm that we were able to remove the entire AVM.
Stereotactic radiosurgery is a noninvasive method to treat an AVM using targeted radiation in the radiation oncology department. We position a stereotactic head frame on you using lidocaine. Music therapy makes the process as comfortable and pain-free as possible. Once the head frame is in place, you undergo a computed tomography (CT) scan of the head. The painless treatment is very similar to a CT scan and often lasts about 30 minutes. You can typically go home after the procedure.