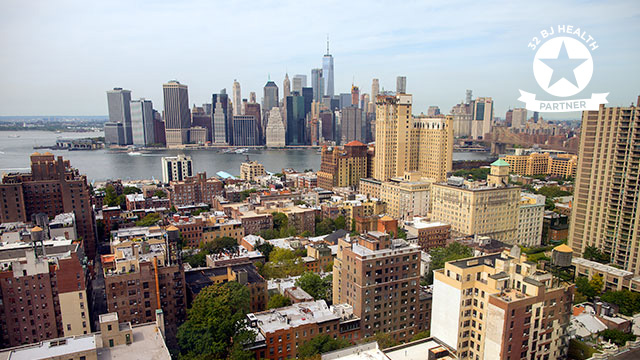 32BJ Health Care Programs
Welcome 32BJ members! The 32BJ Health Fund and the Mount Sinai Health System have partnered to offer top-quality, in-network health care for you and your family. The Mount Sinai Health System includes eight hospitals, a leading medical school, and a vast network of health centers throughout the New York region. Mount Sinai strives to offer safe, affordable, high-quality care that gives you easy access, high satisfaction, and excellent value.
Mount Sinai and 32BJ have partnered to bring you:
Preferred In-Network Care
Pregnancy and Childbirth Services
Surgery Programs at No Cost
Surgery Programs Outside of New York
Preferred Provider Program
Mount Sinai is a preferred provider system for all 32BJ members and their eligible family members. This means that when you seek medical care within the Mount Sinai Health System, you receive added benefits, including:
Lower copays for covered services from in-network providers
Convenient services close to home and work
Access to special programs and benefits only available to 32BJ members and their families
Pregnancy and Childbirth
Are you pregnant or planning to become pregnant? Through Mount Sinai West and the 32BJ Health Fund Maternity Program, 32BJ members have access to exclusive benefits to make the experience extra comfortable:
Grocery delivery credit to be used after welcoming baby
Transportation credit to be used during your third trimester
Gift packages, such as a car seat and other helpful products
No surprise bills and a $0 copay for your delivery admission
And more
Top-Ranked Specialty and Surgical Care
The Mount Sinai Hospital has once again been named the #1 hospital in specialty care in New York State and one of the top 5 medical centers in the world for gastroenterology, cardiology, and cardiac surgery.
In addition to lower copays as a preferred hospital, 32BJ members and their families also have access to expert surgical care programs at no out of pocket cost, through Mount Sinai and our regional hospital partners. Using only the most innovative and proven surgical techniques, these services address specific medical conditions and are patient-focused—designed to care for you through the pre- and post-surgery recovery. Currently, we offer the following programs:
Regional Hospital Partners
To better serve all 32BJ members, the Joint Replacement Surgery and Weight Loss Surgery programs listed above are also available to 32BJ members who reside outside of New York through the 32BJ Health Fund Centers of Excellence. Through our regional hospital partners in New Jersey, Connecticut, Florida, Massachusetts, and Pennsylvania, 32BJ members can take advantage of the same no-cost, high-quality surgery programs.
To learn more about the surgery programs exclusively for 32BJ members in New York and our hospital partners, please contact the Mount Sinai Union Services team at 914-350-3128.