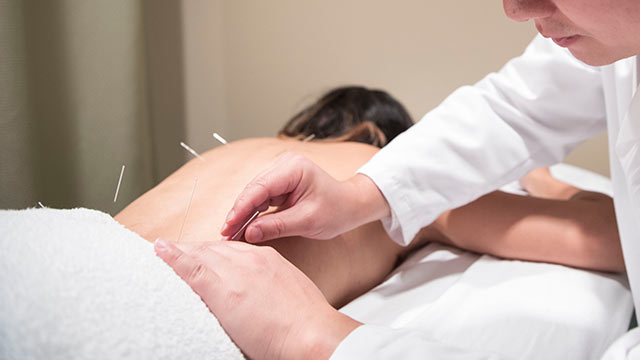 Pain Management and Integrative Medicine
Mount Sinai's Pain Management and Integrative Medicine physicians utilize both traditional and complementary therapies to decrease pain—caused by injury, cancer, or other chronic or acute ailments—and improve overall function. Our specialists provide diagnosis and treatment with a focus on minimally invasive procedures (as opposed to potentially harmful narcotic medications) to relieve discomfort so that patients can participate in physical therapies. By increasing functionality we help patients to re-engage in activities important to them, thereby improving the very quality of their lives.
About Pain Management and Integrative Medicine
Mount Sinai's Pain Management and Integrative Medicine practice provides customized care for both outpatients and inpatients suffering from acute and chronic conditions, including back and neck pain, cancer pain, sciatica, and pain resulting from injuries. We are pleased to offer a range of services that include an AAAHC accredited (full anesthesia services) in-office fluoroscopy suite in order to provide the most comprehensive care possible. By delivering a blend of traditional and complementary treatment options—from spinal cord stimulation to medical acupuncture—our pain management specialists strive to effectively manage pain in order to restore our patients' ability to function and improve quality of life.
Offering a Range of Pain Management Treatments
Our team of certified pain physicians—ranging from doctors in practice for over two decades to newly-trained specialists—offers a balance of experience and fresh medical approaches brought from the country's top medical centers. In addition to being highly skilled in core pain management therapies, each of our physicians has a different area of interest, such as kyphoplasty, integrative medicine, and cancer pain management. By combining these varied clinical backgrounds and areas of expertise under one roof, we can draw from a wide range of medical perspectives and specialties in order to provide the best possible course of treatment for each patient.
Because we believe in not just addressing pain but also treating the underlying cause, our care begins with a complete examination and diagnostic tests in order to identify the root condition and determine the optimal therapies. Because everyone's experience with pain is different, we tailor each treatment plan to the individual medical and personal needs of each patient. Should one of our outpatients be admitted to Mount Sinai, we follow them inside the hospital so they receive our continuous care throughout all treatments within our healthcare system.
Incorporating Complementary Pain Management Techniques
Mount Sinai's Integrative Pain Management Practice seeks to bring Eastern and Western medicine together within our academic institution in order to offer patients the benefits of both fields. We approach each patient as a whole by considering cultural and personal values and preferences in order to determine what therapies are most likely to be successful.
Our resulting approach could incorporate evidence-based therapies such as medical acupuncture, cupping (the use of suction to promote healing), and yoga, as well as Western treatments. We also incorporate active physical therapy as well as dietary changes; for example, instead of relying on Ibuprofen we can help patients make nutritional changes to decrease inflammation.
Our Goals for Successful Pain Management
Mount Sinai is pleased to be at the forefront of the rapidly growing fields of pain management and integrative medicine. By providing advanced therapies and research-enhanced care along with a personalized approach, we help patients minimize their pain and resume as many normal activities as possible.
There are few absolute cures in medicine, and we can't promise to make our patients pain-free, but we can provide the best chance at effectively managing pain so that it's less of a burden. Whether helping a cancer patient get a full night's sleep uninterrupted by pain or allowing a patient with arthritis to participate in more activities with their grandchildren, our goal is to successfully lessen each patient's pain so they can enjoy the fullest possible life.