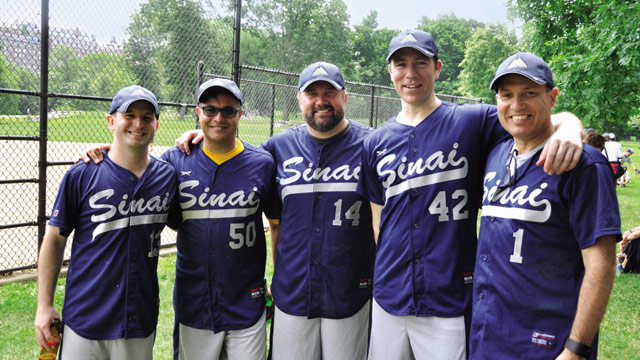 When you volunteer here at Mount Sinai Beth Israel Hospital, you contribute time, effort, and energy to help create a compassionate healing environment for our patients and their families. You become part of our experienced, caring team of health care providers.
We place volunteers at:
Milton and Carroll Petrie Division, First Avenue and 16th Street
Mount Sinai Downtown-Union Square, 10 Union Square East
Mount Sinai Downtown Chelsea Center, 325 West 15th Street
To apply, please read this page carefully and email your resume to BIvolunteer@chpnet.org.
Contact Us
Jeanette and Morris Kessel Volunteer Services Department
Milton and Carroll Petrie Division
Mount Sinai Beth Israel
First Avenue at 16th Street
New York, NY 10003
Tel: 212- 420-2974
Email: BIvolunteer@chpnet.org
Mount Sinai Downtown-Union Square
10 Union Square East
New York, NY 10003
Tel: 212-420-2974
Email: BIvolunteer@chpnet.org
Mount Sinai Downtown-Chelsea Center
325 W 15th Street
New York, NY 10011
Tel: 212-420-2974
Email: BIvolunteer@chpnet.org
What is the minimum age for volunteers?
Volunteers must be at least 15 years old.
What is the required time commitment?
Most placements require at least one three-hour shift per week. College/post-baccalaureate/graduate students and adult volunteers must commit to at least 150 hours. High school students must volunteer at least 100 hours.
I am not a United States citizen. Can I volunteer?
All volunteers must either be a U.S. citizen or have a green card, due to labor and immigration laws.
What is the application process?
Once we receive your resume, we review it. If we accept you, we will contact you for an interview and provide a volunteer application package. The application includes:
Volunteer Application Form
Confidential reference from someone who knows you well in a professional capacity, such as a paid or volunteer work supervisor, teacher, or professor, or a member of the clergy. We cannot accept references from relatives or personal friends.
Medical reference, to be completed by your physician no later than 10 days after your acceptance as a volunteer. This reference should attest that you are in good health to volunteer and must include proof of immunity to measles, mumps, and rubella. We also require a recent (no more than two months old) purified protein derivative (PPD) test for tuberculosis and a current flu vaccine (for those volunteering between September and May). We provide PPD tests and flu vaccines at no cost through the Mount Sinai Beth Israel's Employee Health Department.
Medical Consent Form (for applicants under 18 years of age)
Copy of Working Papers. Required for applicants under 18 years old. If you live outside of New York State, we will accept a copy of your birth certificate.
Then we have an interview, where we discuss a variety of roles that we feel might be of interest.
What should I do if…
I want to volunteer, but I don't have health insurance and can't afford to see a doctor who can complete your required medical reference form.
If you don't have a doctor, you can see a New York City Department of Health clinic; to find the location nearest your home, call the city's non-emergency help line: 311.
Can anyone other than a medical doctor complete my medical reference form?
The form may be completed by a medical doctor (MD), physician assistant, or nurse practitioner. It should not be completed by an RN (registered nurse).
I don't have a vaccination record--measles, mumps, rubella, and varicella--and I can't afford to get the required vaccines. Can I still volunteer?
The New York City Department of Health can provide the required vaccines at no charge. (You'll need a note from your doctor to receive the chicken pox vaccine.) Call the Immunization Hotline for NYC Department of Health: 212-676-2273 to find a convenient vaccination clinic.
I don't want to be vaccinated for the flu. May I still volunteer?
If you plan to volunteer between September and May, we require a flu vaccine. You may not volunteer without one. Our Employee Health Services has non-egg based vaccines available for those with egg allergies.
I recently had a negative PPD test for tuberculosis. Do I need to have another test?
If your PPD test was done within the past two months and you can give us the plant and read dates, size of reaction, manufacturer, and lot number of the test, that will suffice. If you don't have this information, you will need to get another PPD test.
I have had a positive PPD test for tuberculosis. Do I still need to be tested at Mount Sinai Beth Israel?
If you can provide us with the date and size of a positive PPD test reaction and a copy of a subsequent post inferior anterior and lateral chest x-ray report we will waive the PPD test requirement. (We do not accept chest X-rays done by mobile van service.) If you do not have this information, we ask that you repeat the test at our Employee Health Services department.
I haven't had a recent PPD test for tuberculosis and my doctor can't do it. Can I still volunteer?
We can arrange for you to have a PPD test done at Beth Israel's Employee Health Service. If you test negative, you can begin volunteering. If you test positive, you'll need to speak with your doctor about getting a chest X-ray or we can refer you to a New York City X-ray clinic.
What kinds of things can I do as a volunteer?
Our volunteers provide support and assistance to our patients and staff. Some volunteer opportunities are:
UnitSupport
Help on an in-patient nursing unit. You answer phones and call bells at the unit desk, visit with patients, and run in-hospital errands for staff.
Ambassadors
Offer a warm welcome to visitors and provide directions to patient rooms and departments throughout the Hospital. This is a perfect opportunity for outgoing individuals who enjoy interacting with the public. You need basic computer skills and should be willing and able to complete online training and test. Fluency in Spanish, Russian, or Mandarin is helpful though not required.
Mount Sinai Beth Israel Cares Program
Visit with patients during their hospitalization, check in with them, and assure them that we are here to help them and their families.
Surgical Advocate Program
While stationed in the surgical waiting rooms, provide non-medical information to family members as they are waiting for procedures to be finished. You also accompany family members to the Post Anesthesia Care Unit to see patients after surgery. Weekdays only.
Pet Assisted Activities Program
If you have a dog and would like to share it with our patients, you may apply to volunteer after completing and passing a training course from the Good Dog Foundation or Pet Partners
Pediatric Playroom (Petrie Division Only)
Play with and entertain children with games, arts and crafts, and other activities while under supervision of the Child Life Specialist.
Phillips Ambulatory Care Center and Mount Sinai Downtown Chelsea Center
Provide non-clinical assistance to patients and staff in our Emergency Departments. (Must be at least 18.)
Mount Sinai Downtown Chelsea Center
Visit our cancer patients, providing conversation and support to both patients and family members. (Placements are limited and volunteers must be at least 18 years of age.)
Mount Sinai Beth Israel Blanketeers
Knit or crochet baby blankets for special needs newborn patients; we provide the yarn. Application not required; call 212-420-3570.
Please note that we do not arrange for physician, nursing, or physician assistant shadowing.