Burton Drayer
Chief Executive Officer,
Mount Sinai Doctors Faculty Practice
Dean for Clinical Affairs,
Icahn School of Medicine at Mount Sinai
Dr. Charles M. and Marilyn Newman Professor and System Chairman,
Department of Radiology
Executive Vice President for Risk,
Mount Sinai Health System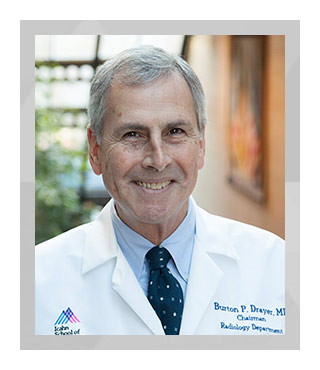 Burton Drayer, MD, is a distinguished leader in health care delivery and medical education. He has played an integral role in the growth and success of what is now the Mount Sinai Health System, since joining the institution in 1995.
He serves as Chief Executive Officer of Mount Sinai Doctors Faculty Practice; Dean for Clinical Affairs of the Icahn School of Medicine; the Dr. Charles M. and Marilyn Newman Professor and System Chairman of the Department of Radiology, and Executive Vice President for Risk at the Mount Sinai Health System.
Dr. Drayer draws upon his extensive knowledge and experience in neuroradiology and healthcare leadership to advance administrative and clinical progress, improve health outcomes, and foster patient-centered, compassionate care. He cultivates staff and faculty cooperation and collaboration throughout the entire Health System.
Dr. Drayer was recruited in 1995 as Chair of Radiology, and from 2003 to 2008, served as President of The Mount Sinai Hospital and Executive Vice President for Hospital and Clinical Affairs of the Mount Sinai Medical Center.
Working closely with Kenneth L. Davis, MD, Dr. Drayer was instrumental in the Hospital's turnaround, creating the foundation for our current fiscal and programmatic success. His accomplishments were many; he initiated the CARTS budgeting system; constructed the Kravis Center for Advanced Medicine; enhanced physician-medical center relations; facilitated improvements in purchasing and billing expertise; and implemented digitization of imaging services throughout Mount Sinai. Dr. Drayer was an early, vocal advocate for an expanded ambulatory footprint. He has also served in multiple leadership roles in the Faculty Practice.
An internationally renowned neuroradiologist, Dr. Drayer is acclaimed for his research in using anatomic, physiologic, and functional imaging of the aging brain, brain iron, neurodegenerative disorders, brain infarction, Xenon CT regional cerebral blood flow, MR angiography, and multiple sclerosis. He is also an expert in the development of outpatient imaging facilities, imaging center design, and advanced imaging equipment.
Dr. Drayer is a frequent guest lecturer for leading healthcare, educational and medical institutions. He has more than 200 publications in peer-reviewed medical journals, has contributed to multiple book chapters, and has been a reviewer for nine journals, including New England Journal of Medicine and American Journal of Neuroradiology. He is on many editorial boards and was the Editor of Neuroimaging Clinics of North America from 1990 to 2005. He serves on the Board of Hospitals Insurance Company, Mount Sinai's malpractice liability insurance captive.
After completing his internship and neurology residency at the University of Vermont, Dr. Drayer pursued a radiology residency and neuroradiology fellowship at the University of Pittsburgh Health Center. He was a faculty member and Director of Neuroradiology at Duke University from 1979 to 1986, and served as Director of Magnetic Resonance Imaging and Research at the Barrow Neurological Institute, before joining Mount Sinai Health Systems.
Throughout his career, Dr. Drayer has received many honors and awards. He has been a leader in the major national and international Radiology societies. A past President of the American Society of Neuroradiology (ASNR), he was awarded its Gold Medal in 2011, and was inaugural Chairman of the Research Foundation of the ASNR. In 2003, Dr. Drayer was elected to the Board of Directors of the Radiological Society of North America (RSNA), as Designate for Annual Meeting and Technology. He served on the RSNA Board of Directors from 2003 to 2011, and was Chairman of the Board in 2009, President-Elect in 2010, and President of the RSNA in 2011.
Dr. Drayer currently serves on the Board of Chancellors of the American College of Radiology and the Board of Directors of the Academy of Radiology Research. He was recently named Chair-Elect of the Board of Trustees of the RSNA Research and Education Foundation. He is a fellow of the American Academy of Neurology and the American College of Radiology.