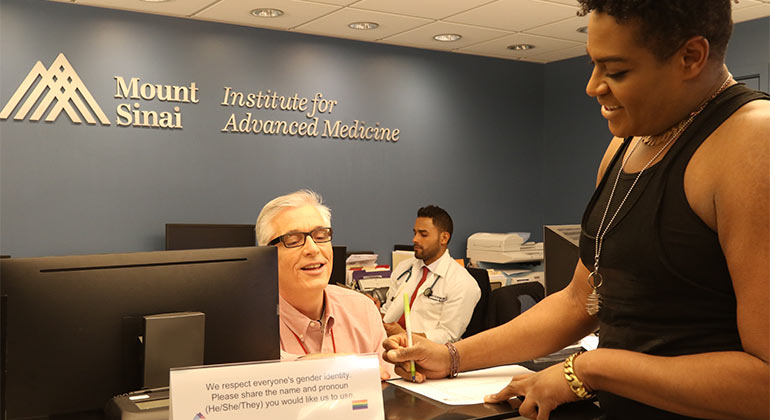 Programa de Afirmación de Género
Sabemos que las personas trans- e inconformes con su género suelen tratar de cambiar su aspecto para estar más en línea con sus identidades de género. Las intervenciones médicas pueden ser una parte importante de ese proceso. Nos enorgullece el hecho de trabajar en conjunto con Mount Sinai Health System para proporcionarle servicios médicos y quirúrgicos transgénero de última generación.
El Centro de Medicina y Cirugía Transgénero (CTMS, por su sigla en inglés) de Mount Sinai usa un abordaje de equipo para atender a las personas trans- e inconformes con su género. Trabajamos con usted para comprender sus objetivos y desarrollar un plan que satisfaga sus necesidades. Podemos ofrecer atención primaria, terapia hormonal, atención quirúrgica, servicios de ginecología, urología, trabajo social y apoyo en salud mental. Personalizamos nuestros esfuerzos para complementar su atención actual. Podemos ofrecerle la totalidad de su atención médica o tan solo servicios específicos. Realizamos todos los procedimientos quirúrgicos en nuestros quirófanos avanzados en varios de nuestros hospitales y otros centros de atención médica.
Lo apoyamos durante todo el proceso. Visite el sitio web del Centro de Medicina y Cirugía Transgénero de Mount Sinai para obtener más información acerca de nuestros servicios y procedimientos.
Los beneficios del programa incluyen:
Acceso a nuestros médicos de prestigio internacional
Evaluación individualizada y plan de atención creado por un equipo multidisciplinario
Guía de Atención Personal que responderá sus preguntas y coordinará sus visitas
Grupos de apoyo y terapia
Si tiene dudas, por favor contacte con nosotros o con Servicios de Salud de 32BJ.
En Mount Sinai, trabajamos en equipo para proporcionarle la mejor atención posible. Un Guía de Atención le brindará orientación a lo largo del proceso. Sabemos que su tiempo es valioso y tratamos de programar las citas de modo que pueda dar más de un paso en una sola visita. Si determinamos que la cirugía es apropiada, lo derivarán a un cirujano.
Comuníquese con nosotros si tiene preguntas.
Si está buscando un cambio en su cuerpo, le ofrecemos terapia hormonal y otras intervenciones. También le ofrecemos atención primaria para ayudarle a satisfacer todas sus necesidades en materia de salud en un entorno de apoyo y sensibilidad. Las opciones de atención incluyen:
Terapia hormonal feminizante y masculinizante
Necesidades endocrinas en general
Atención de rutina y específica de género (ginecología)
Atención posoperatoria (urología)
Entrenamiento vocal y otolaringológico
Además, ofrecemos diversos servicios de salud conductual, entre ellos asesoramiento, grupos de apoyo, evaluaciones psiquiátricas, tratamiento farmacológico continuo, evaluaciones prequirúrgicas, apoyo psicoterapéutico pre- y posoperatorio y educación para usted y su familia.
Utilizamos las pautas desarrolladas por la Asociación Mundial de Profesionales de la Salud Transgénero (WPATH, por su sigla en inglés) y la Sociedad de Endocrinología. También nos esforzamos por satisfacer los requisitos de su compañía de seguros, proporcionando a la vez toda la atención necesaria antes de los procedimientos.
Habitualmente, estos estándares nacionales solicitan que usted tenga una carta de recomendación de un proveedor de atención en salud mental para la cirugía facial, una carta para cirugía de pecho y dos cartas de recomendación para una cirugía genital. Las cartas deben provenir de un psicólogo o psiquiatra que trabaje en la atención de la salud transgénero. Nuestros profesionales de salud mental pueden trabajar con usted para completar este proceso.
Antes de que comencemos, usted se reunirá con varios miembros de nuestro equipo, entre ellos un trabajador social, un proveedor de atención médica primaria y un especialista en salud conductual. Después de cumplir con los requisitos iniciales, nuestro equipo programará una cita con el cirujano.
Cuando se reúna con el cirujano, analizarán sus objetivos y acordarán un plan para la cirugía. Su cirujano analizará los preparativos necesarios, los resultados esperados, los riesgos y el proceso de recuperación, y responderá las preguntas que usted pueda tener.
Dependiendo de sus objetivos, los procedimientos quirúrgicos incluyen:
Procedimientos transfemeninos (masculino a femenino)
Feminización facial
Aumento del busto
Vaginoplastia
Orquiectomía
Feminización de la voz
Procedimientos transmasculinos (femenino a masculino)
Masculinización del pecho
Metoidioplastia
Faloplastia
Histerectomía
Puede obtener más información acerca de estos procedimientos en el sitio web del Centro de Medicina y Cirugía Transgénero de Mount Sinai.
Su Hospitalización
Realizamos cirugías de afirmación de género en New York Eye and Ear Infirmary of Mount Sinai, Mount Sinai Beth Israel, Mount Sinai Union Square y Mount Sinai Chelsea, dependiendo del procedimiento. En cada uno de los centros, el personal de enfermería de Mount Sinai le ayudará a prepararse para la cirugía. Se reunirá con cada integrante de su equipo quirúrgico (el cirujano, el anestesiólogo y varios integrantes del personal de enfermería) para asegurarse de que todo esté en orden.
Después de la cirugía, pasará a la unidad de atención posanestesia (PACU, por su sigla en inglés). Si el procedimiento requiere que pase la noche internado en el hospital, le llevaremos a la sala del hospital.
Abandonar el Hospital
Después de su estadía hospitalaria, le daremos el alta al lugar que mejor se adecue a sus necesidades de recuperación. Su equipo quirúrgico, su equipo médico y el coordinador determinarán si lo más apropiado es un auxiliar de atención de la salud en el hogar o su traslado a un centro de enfermería especializada.
Mount Sinai también se comunicará con usted luego de que abandone el hospital para hacer un seguimiento de su evolución y responder cualquier pregunta adicional.