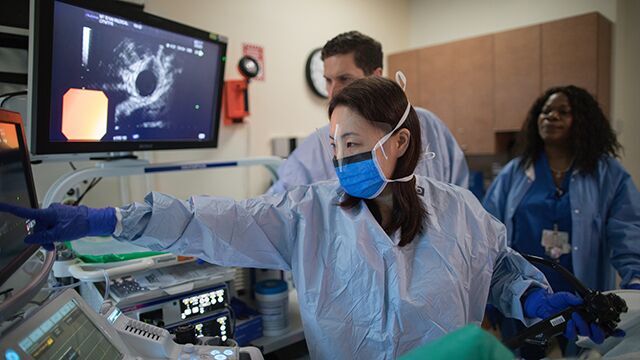 Center for Carcinoid and Neuroendocrine Tumors
Neuroendocrine tumors (NETs) are a rare form of cancer, and most physicians do not have familiarity with this disease. There are only a few centers in the United States with extensive specialized experience sufficient to be qualified as a center specializing in this field. Mount Sinai is pleased to have such a unique facility, the Center for Carcinoid and Neuroendocrine Tumors, led by world-renowned NET experts who have been treating this rare disease for decades. We care for patients from across the country and around the world.
Our goal is to provide our patients with a transdisciplinary approach comprised of experts in Surgery, Nuclear Medicine, Cardiology, Pulmonology, Oncology, Hematology, Radiology, Pathology, Gastroenterology, Endocrinology and Nutrition. All physicians in this group have extensive and unique knowledge in the diagnosis and treatment of NET disorders. Patients who come to our center will have the benefit of an expert comprehensive evaluation and treatment of this rare form of cancer. Our treatment pathways have resulted in superior outcomes and survival.
Additionally we are extremely pleased to have Edward M. Wolin, MD, an internationally-renowned authority on neuroendocrine tumors, join the Mount Sinai Health System as Director of the Center for Carcinoid and Neuroendocrine Tumors. Dr. Wolin, Professor of Medicine, Hematology and Medical Oncology, brings to Mount Sinai a robust research program that includes clinical trials aimed at finding the most effective treatments, including immunotherapy, biologic agents, targeted radiation therapy and new approaches in molecular imaging for diagnosis. Dr. Wolin serves as Co-Medical Director for the Carcinoid Cancer Foundation. He also serves on the Carcinoid Cancer Research Grants Scientific Review Committee for the American Association for Cancer Research. Dr. Wolin is a reviewer for numerous journals, including Journal of Clinical Oncology, Molecular Cancer Therapeutics, Clinical Cancer Research, and The Lancet Oncology.
For more information about Dr. Wolin and his work on NET, please view this video.