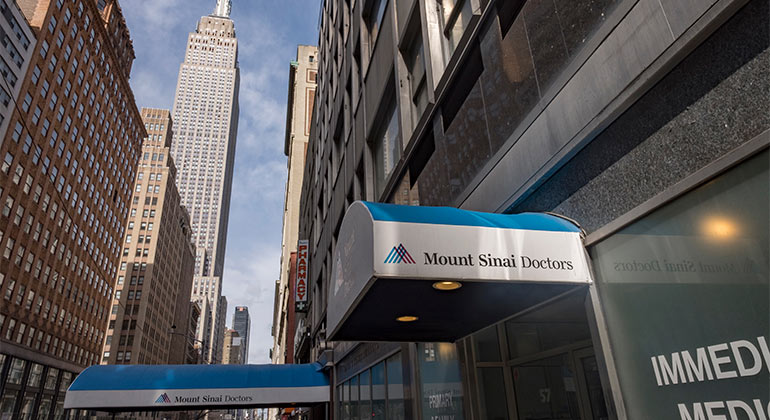 Mount Sinai Doctors 55 East 34th Street
Mount Sinai Doctors - East 34th Street is a six- floor, multi-specialty practice located in midtown Manhattan, near the Empire State and Chrysler buildings. Our practice offers you a convenient location for patient care with extended office hours that fit your busy schedule. Our staff is dedicated to quality care and look forward to serving your medical needs.
We schedule appointments in advance and accept walk-ins. For scheduling appointments by phone, you can either call our office or send a text message. To schedule by text message, text "Hello" to 474-624 on weekdays between the hours of 8:00 am and 8:00 pm; on weekends between the hours of 9:00 am and 5:00 pm. You will be redirected to a secure chat portal to easily book an appointment without a phone call.
We offer the following patient care services:
Cardiology
Dermatology
Diabetes education
Ear, nose, and throat
Gastroenterology
Gynecology
Internal Medicine
Ophthalmology
Orthopedics
Otolaryngology
Pain management
Podiatry
Radiology
Urology
Our location is easily accessible by train, bus, Grand Central, Port Authority, and Penn Station. We are here to service people living and working on 34th street and in midtown as well as visitors.
Please bring your photo ID and insurance card and be prepared to pay for a co-pay if applicable. New patients should arrive 15 minutes prior to appointments to fill-out paperwork. We welcome walk-ins and offer same day appointments.
COVID-19 Testing Available
We are pleased to offer COVID-19 testing at our location. You can make an appointment online for you and your family.