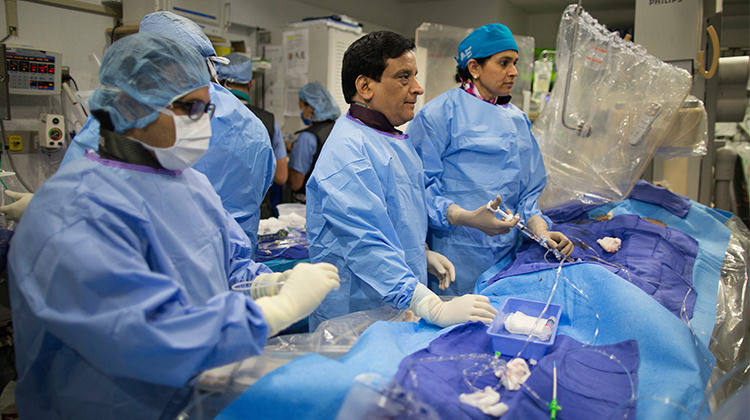 Education and Training Programs
MSI offers customized training programs and formal degree programs, including the Master of Public Health (MPH) and the Master of Science in Health Care Delivery Leadership, along with continuing medical education (CME) classes.
Customized Training Programs
MSI has the unique ability to offer customized training programs for all members of the health care enterprise. Through our extensive health care delivery system, which includes seven hospital campuses, over 300 ambulatory sites, and our extensive graduate medical education and management platforms, we have the ability and resources to train individuals and large cohorts alike. Physicians, nurses, management, and non-clinical staff members all have the opportunity to participate in these programs, which may include, but are not limited to, leadership development, fellowships, and observerships. This important offering enables partners to hone their skills in real time with our expert clinical and administrative teams, and to more effectively use the expertise and best practices of Mount Sinai at their home institutions.
Examples of programs that we have hosted for our partners include:
A one and one half-day intensive course for 30 Spanish hospital pharmacy executives, which included clinical and non-clinical topics and facility tours
A two-week intensive global nursing leadership program for 8 nurses from Hong Kong
A three-day intensive transcatheter aortic valve replacement (TAVR) observership and training program for a multi-disciplinary "heart team" from a health system in Colombia
A two-day intensive course for 30 Italian hospital leaders, which included clinical and non-clinical topics and facility tours
Clinical observerships for a physician, nurse, and pharmacist from health system in Singapore
Master of Public Health (MPH)
The MPH program at the Icahn School of Medicine at Mount Sinai educates in order to prevent disease, protect the environment, and promote good health in partnership with the populations at the local, national, and global level. Graduates serve in a variety of diverse roles including public health practice, government agencies, industry, academia, the non-profit sector, and private practice.
Learn more about the MPH program
Master of Science in Health Care Delivery Leadership
This 21-month degree program prepares health care professionals to attain and expand leadership roles in health care delivery organizations, drive change, solve complex problems, and create dynamic new approaches that will improve the quality, value, and cost of patient care. Leveraging the vast resources of the Mount Sinai Health System, students have direct access to faculty experts and receive extensive training in areas such as operations management, health policy, strategic planning and communications, efficient application of data and technology, and clinical innovations, health care economics, and finance.
Learn more about the Master of Science program
Other Master Degree Programs
MSI also has programs conferring a Master of Science in Bioethics, Master of Science in Biomedical Sciences, Master of Science in Biomedical Informatics, Master of Science in Biostatistics, Master of Science in Clinical Research, and Master of Science in Genetic Counseling.
Learn more about these programs
Continuing Medical Education (CME)
CME courses are available for physicians, nurses, and other health professionals. CME activities include annual meetings, symposia, conferences, seminars, grand rounds, board review courses, and live webcasts.