James C. Tsai
President, New York Eye and Ear Infirmary of Mount Sinai
Chair, Department of Ophthalmology, Icahn School of Medicine at Mount Sinai and the Mount Sinai Health System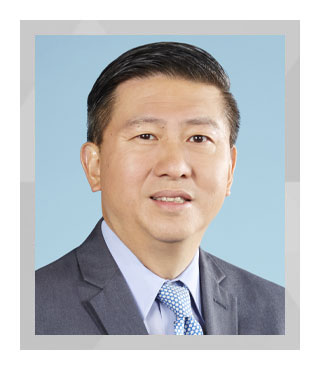 James C. Tsai, MD, MBA, is a widely recognized physician-scientist and experienced administrator. Dr. Tsai is an expert in the diagnosis and management of challenging glaucoma cases. He specializes in glaucoma implant surgery, trabeculectomy with antimetabolite surgery, combined glaucoma and cataract surgery and sutureless cataract surgery in patients with glaucoma. His research interests include the identification of neuroprotective molecules that can shield the optic nerve from damage without lowering intraocular pressure, evaluation of surgical outcomes in glaucoma patients and development of advanced vision testing techniques.
Dr. Tsai is a fellow of the American Academy of Ophthalmology and the American College of Surgeons. He is an elected member of the American Ophthalmological Society, the American Eye Study Club, the New York Ophthalmological Society and the Manhattan Ophthalmological Society. Dr. Tsai currently serves as Chair of the Glaucoma Subcommittee of the National Eye Health Education Program Planning Committee of the National Institute of Health, Chair of the American Academy of Ophthalmology's Global Ophthalmic News & Education Network Advisory Board, Chair of the Medical Advisory Board of the Glaucoma Foundation and Secretary for the English Language Region of the Pan-American Association of Ophthalmology.

Prior to joining Mount Sinai, Dr. Tsai served as Chair of the Department of Ophthalmology and Visual Science in the School of Medicine at Yale University and as Chief of Ophthalmology at Yale-New Haven Hospital. He previously directed the glaucoma division at the Edward S. Harkness Eye Institute, Columbia University College of Physicians and Surgeons.

Dr. Tsai earned his Medical Degree from Stanford University School of Medicine, and his MBA from Vanderbilt University, followed by residency training in ophthalmology at the Doheny Eye Institute, which at the time was affiliated with the University of Southern California, Los Angeles. He conducted his glaucoma fellowship training at the Bascom Palmer Eye Institute, University of Miami Health System, and at Moorfields Eye Hospital, London, and University College London's Institute of Ophthalmology.