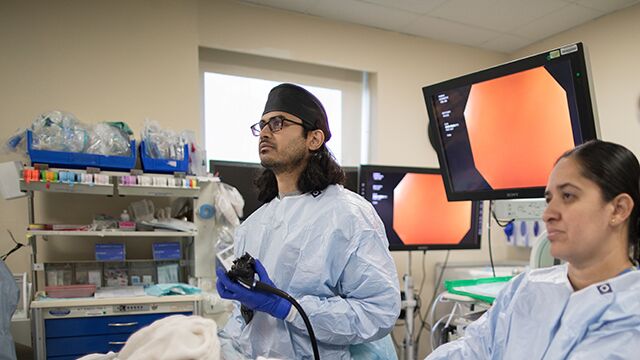 Advance Therapeutic Endoscopy
At Mount Sinai, not only do we perform routine colonoscopies and endoscopies, but we are also leaders in Advanced Therapeutic Endoscopy which allows for the simultaneous diagnosis and treatment of complex, hard-to-find problems in the gastrointestinal tract.
Advanced therapeutic endoscopic procedures are of a higher complexity, and typically "interventional" endoscopic procedures that require additional training and specialized expertise. These are not the typical diagnostic endoscopies performed in office based settings.
These procedures often involve advanced diagnostic modalities such as confocal endomicroscopy and multispectral imaging as well as complex therapeutic modalities such as:
EUS-guided pancreatic necrosectomy for pancreatic necrosis


Tumor removals by endoscopic mucosal resection or endoscopic submucosal dissection


Palliation of malignant obstruction by endoscopic stent placement


Ablation of precancerous areas or cancer by cryoablation or radiofrequency ablation