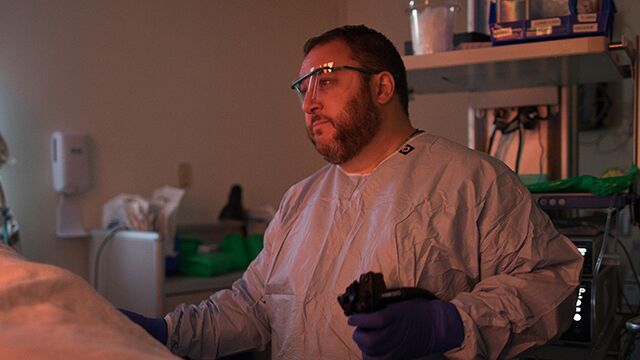 Pancreas and Bile Duct Disorders
Mount Sinai's digestive disease team specializes in advanced procedures that help diagnose and treat disorders of the bile ducts or pancreatic ducts.
These disorders include:
Gallstones
Gastrointestinal tumors and cancer
Inflammatory strictures (scars)
Leaks (from trauma or surgery)
Lymph nodes
Pancreatic cysts
Advanced Procedures are Routine at Mount Sinai
To diagnose and treat complex biliary and pancreatic diseases, our digestive disease team performs the following advanced procedures:
Endoscopic retrograde cholangiopancreatography (ERCP). ERCP combines the use of X-rays, contrast dyes, and an endoscope.
Cholangioscopy ("Spyglass"). In cholangioscopy, your doctor uses a fiberoptic endoscope to examine your bile ducts from inside your body.
Endoscopic ultrasound with fine needle aspiration (EUS). EUS uses painless, nonradioactive sound waves to examine your stomach and intestines as well as the structures surrounding them, allowing your doctor to look inside and outside your digestive tract. This approach enables your doctor to take tissue samples of your stomach, surrounding tissues, lymph nodes, and intestine for pathologic examination (biopsy).
Enteral stents (esophageal, gastroduodenal, colonic). Stents may be placed within your stomach, small bowel, and/or colon to treat an obstruction within your gastrointestinal tract.
Endoscopic cystogastrostomy. This procedure creates an opening between your stomach and a nearby cyst for drainage purposes.
Endoscopy mucosal resection (EMR). EMR refers to removing the tumor with an endoscope. EMR is performed using a long, narrow tube equipped with light and a video camera to reach any abnormalities in the esophagus, stomach, or upper part of the small intestine. EMR is generally performed in the early stages of disease.
Meet Our Team
Our specialist in pancreas and bile duct disorders is:
Christopher J. DiMaio, MD
Susana Gonzalez, MD
We Can Help
Please call us to learn how we can help you or a loved one. We are conveniently located in the Upper East Side of New York City.