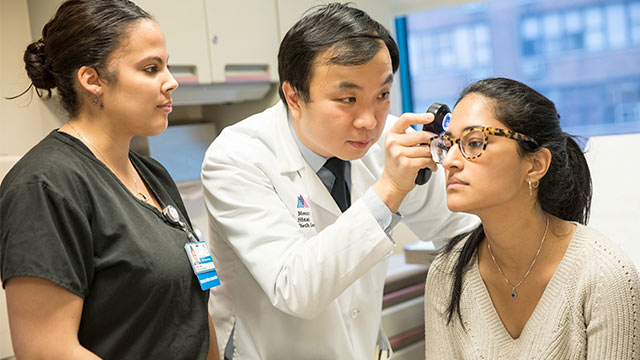 The dermatologists at The Mount Sinai Hospital offer the most advanced dermatological care available. Our dermatologists are trained in the treatment of common and rare skin conditions, whether these are acute, chronic, or even life threatening. Several of our physicians offer general dermatology care, while others subspecialize in various areas, and so we are able to provide a wide range of treatment and cosmetic services for all ages.

About the Department of Dermatology at The Mount Sinai Hospital
The mission of the Department of Dermatology at The Mount Sinai Hospital is to provide superior comprehensive dermatologic care to our patients, exceed our patients' expectations in service and satisfaction, and advance the science of dermatology through research and education.
Expertise Spanning the Wide Range of Dermatologic Conditions
Under the guidance of our Chair, Mark Lebwohl, MD, our team of board certified dermatologists, residents, fellows, and medical assistants dedicate themselves to the skillful diagnosis and treatment of the wide range of dermatologic conditions. Our team is comprised of both general dermatologists and sub-specialists, offering the latest treatments for psoriasis, eczema, acne, and skin cancer. Our skilled team members have expertise in treating some of the most complicated and rare dermatologic conditions. Our pediatric dermatologists care for children and adolescents with all aspects of skin care in the young. In addition to the treatment of dermatologic disease, we provide routine screening for skin cancer and moles, comprehensive dermatologic surgery, and cosmetic dermatologic care. Our cosmetic dermatology group created and contributed to the development of some of the most advanced techniques used by cosmetic dermatologists. We are at the forefront of procedures like laser therapy, fillers, botulinum toxin and many others. Dermatologists from around the world train in cosmetic procedures in our Department every month. We are committed to the skillful diagnosis and treatment of all aspects of dermatology, often working together as a team to find solutions for our patients.
Advancing Research and Training
In addition to our focus on the clinical care of dermatologic conditions, we are aware that the future of dermatology lies in research and education of the next generation of dermatologists. Our Department leads the way in pioneering clinical and basic science research. Our clinical research division has contributed to the development of most of the recent advances in the treatment of psoriasis, eczema, acne, vitiligo, precancerous lesions, and skin cancers. In our basic science laboratories, our researchers work to understand the cause and molecular pathways of both disease and health, so that future clinical treatments can be developed.
Looking to the future, beyond excellent clinical care and probing research, we are committed to teaching the next generation of dermatologists. Our rigorously selected residents learn the art and science of dermatology in a 3-year residency training program under the guidance of both our full-time faculty members and more than 200 voluntary faculty members. We also train fellows and dermatologists from around the world as part of our International Fellowship Program. This innovative program allows for the sharing of dermatologic knowledge and cultural exchange between colleagues from around the globe.