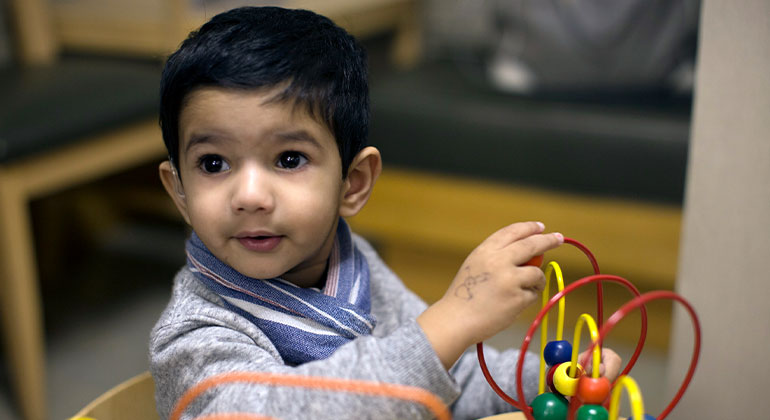 Mount Sinai School Health Program
The Mount Sinai School Health Program helps the children and youth of East Harlem to get the care they need to prevent and treat illness. The Mount Sinai Hospital is conveniently located on the border of the East Harlem community. As health care providers, we know how hard it can be for busy parents to keep up with all of their children's health care needs. We also know that healthier kids are better learners. We strive to make it easier for parents by bringing first-class health care services to the schools, where kids spend most of their day.
Since 1983, the Mount Sinai School Health Program has partnered with the East Harlem public schools to deliver comprehensive primary care, mental health care, and preventative services to students in pre-kindergarten through 12th grade. We bring together a caring team of licensed doctors, nurse practitioners, physician's assistants, social workers, health educators, medical assistants, and health coordinators.
Locations
Our pediatric school-based health center program is available at five East Harlem school locations:
Public School 38
232 East 103rd Street
New York, NY 10029
Phone: 212-987-9295
Fax: 212-722-4572
Public School 83 and Bilingual Bicultural Mini-School/Public School 182
219 East 109th Street
New York, NY 10029
Phone: 212-860-6395
Fax: 212-722-1355
Public School/Middle School 108
1615 Madison Avenue
New York, NY 10029
Phone: 212-860-5962
Fax: 212-410-7688
Tito Puente Education Complex
240 East 109th Street
New York, NY 10029
Phone: 212-996-1246
Fax: 212-722-2731
M045
2351 First Avenue
New York, NY 10035
Phone: 212-241-9997
Fax: 646-861-2791
Students can be referred to The Mount Sinai Hospital, one of the nation's top teaching and research hospitals, for specialty care and other services not provided at their school-based health center.
We offer the following services:
Complete physical exams
Completion of forms for summer camp, after-school programs, and working papers
First aid
General medical care (comprehensive and acute care)
Health education and counseling services
HIV testing and pre/post test counseling
Immunizations
Laboratory testing
Pregnancy testing
Prescriptions and dispensing of medications

Referrals for subspecialty medical and dental services

Reproductive health care
Screening and referrals for health insurance (if you do not have insurance)
STI testing, counseling and treatment
24-hour access to care at The Mount Sinai Hospital by calling the physician on call seven days a week
Registration
All students are seen regardless of insurance or ability to pay. However, students must register to receive services. Students who are not registered can still receive first aid and emergency care.