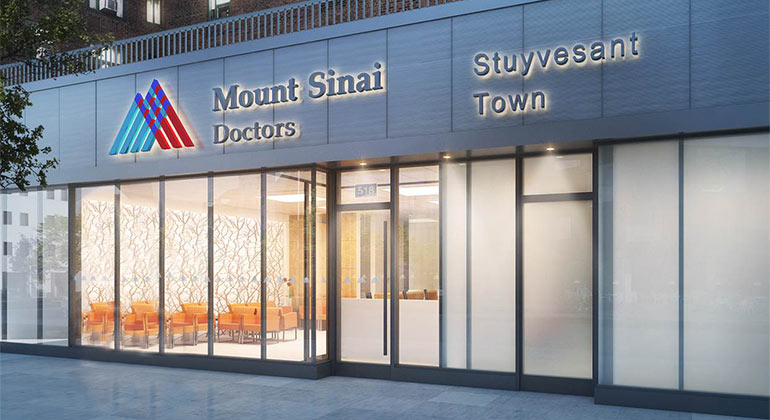 Mount Sinai Doctors-Stuytown, 518 East 20th Street
If you are seeking high quality health care for the entire family right in your neighborhood, Mount Sinai Doctors Stuyvesant Town offers personalized treatment for temporary and chronic medical conditions in Manhattan's East Village neighborhood, located near the Union Square subway stop.
Featuring state-of-the-art exam rooms along with imaging facilities, Mount Sinai Doctors Stuyvesant Town is staffed by experienced Mount Sinai physicians who are able to provide you and your family with medical care for a variety of illnesses and injuries. In addition, our electronic medical records system is fully integrated with the Mount Sinai Health System, providing our staff with secure access to each patient's complete medical history.
We schedule appointments in advance and accept walk-ins. For scheduling appointments by phone, you can either call our office or send a text message. To schedule by text message, text "Hello" to 474-624 on weekdays between the hours of 8:00 am and 8:00 pm; on weekends between the hours of 9:00 am and 5:00 pm. You will be redirected to a secure chat portal to easily book an appointment without a phone call.
We offer primary care to both adults and children of all ages, the services are as follows:
Primary Care for Adults

Immunizations, including flu shots
Check-ups and preventive care
Pap smears and breast exams
Diagnostic testing and on-site X-ray services

Primary Care for Babies and Children

Routine health care and check ups
Immunizations and boosters
Developmental assessments
Nutritional screening
School entry physicals
Sports clearance physicals

Orthopedics

Adhesive capsulitis arthroscopic
Carpal tunnel release
Fracture reduction
Rotator cuff and tendon repair
Meniscectomy
Anterior cruciate reconstruction

Podiatry

Treatment for conditions such as bunions and plantar fasciitis
Biopsies
Foot and ankle reconstruction
Injection therapy
Laceration repair
Musculoskeletal sports injury treatments
Open reduction and internal fixation, stem cell, and toe surgery
Infection treatment for conditions such as plantar warts and nail fungus

Cardiology

Consultative - Treat a full spectrum of heart-related conditions, including angina, arrhythmia, heart failure, hypertension, hypertrophic cardiomyopathy, and vascular and venous disease
Diagnostic - Provide patients with accurate heart disease assessments including Echocardiography, stress testing, arrhythmia monitors, sleep monitors, and vascular and venous testing
Preventive - Committed to helping patients safely reduce their cardiac risk, and live longer, healthier lives
We offer same day appointments.
For existing patients, you are able to book a Video Visit for certain conditions through your My Chart account or by calling the office directly.