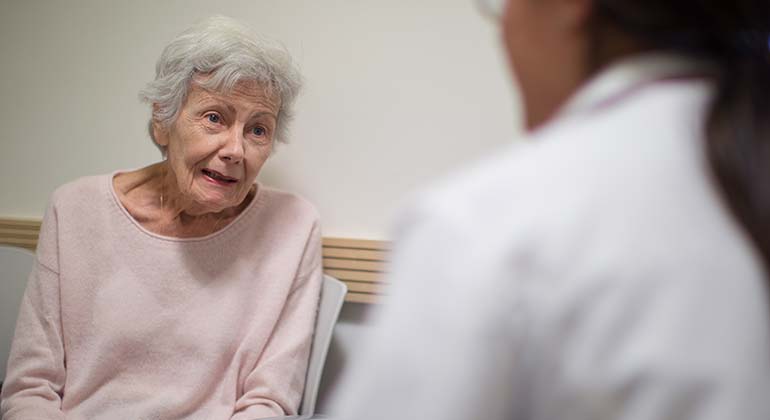 Mount Sinai Doctors
Senior Health
As of June 10, 2019, Senior Health will be permanently relocating to our new, state-of-the-art facility located at 10 Union Square East, Suite 3G - part of Mount Sinai-Union Square.
At Mount Sinai Doctors Senior Health, our primary care doctors, nurse practitioners and social workers specializing in geriatrics are here to help adults age 75 and older achieve independence and a healthier, better quality of life. Our new location will offer the most advanced equipment, enhanced services, and specialties, and offer new and expanded exam rooms as well as comfortable and spacious waiting areas. We design our support services to meet the needs of you and your caregivers.
As you get older, your vision and hearing often decline and you may have an emotional response to these physical changes. Other issues, such as the loss of a spouse, friends, or financial security can also affect you emotionally. You are probably taking one or more medications regularly and there may be side effects or interactions that disrupt your health or quality of life and we may be able to make changes to help. In addition, our health care providers have expertise in addressing issues that may be more common in older adults such as:
Memory loss and dementia
Falls and mobility problems
Incontinence
Multiple medication use
We spend time with you as well as your family and caregivers to develop a health care plan that will meet your unique needs. We can also help you access community services that can help.
In addition to our current services, at Union Square, you will also have access to onsite specialists from more than 20 disciplines, including physicians who specialize in cardiology, gastroenterology, cancer, dermatology, orthopedics, and rheumatology – all without having to leave the building. The Union Square location also has onsite radiology services – meaning you can get your X-rays in the same building as you see your doctor. In addition, should you ever need it, there is a new state-of-the-art urgent care center on site. Finally, beyond the physical specialties, we also plan to offer unique services to enhance and improve the body and mind by featuring Tai Chi, music therapy, and an educational lecture series on ways to improve your health.
We Are Here to Help
We are here to help meet all of your evolving health care needs. Our services include:
Primary care medicine – You will receive expert geriatric medical care.
Preventive medicine – We evaluate your health history and make recommendations for tests, vaccinations, and other ways to keep you healthy.
Consultation services – We work with your primary care physician to provide important geriatric expertise for issues outside of your primary care physician's expertise.
Social workers – We can connect you with food stamps, accessible transportation, Medicaid and Medicare, and other social services.
Palliative care – We evaluate your situation and make recommendations and referrals for palliative or hospice care.
Caregiver Support Program – We offer caregivers support such as stress reduction techniques and crisis intervention.