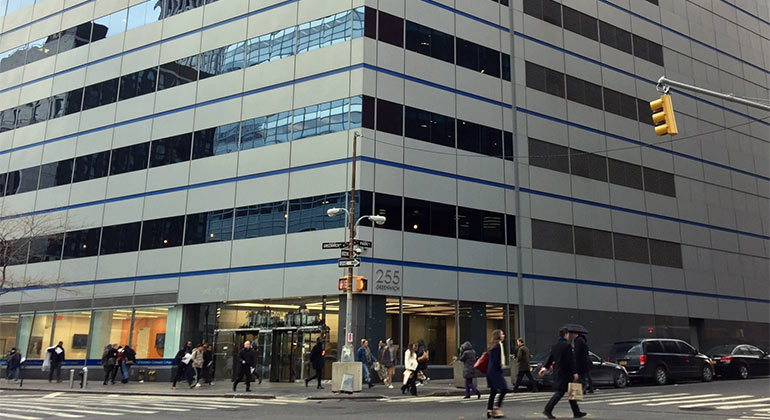 Mount Sinai Doctors
255 Greenwich Street
Mount Sinai Doctors - Greenwich Street is a multi-specialty practice located in the heart of Tribeca, in lower Manhattan. Situated just two blocks from the World Trade Center Oculus Transportation Hub, our office is easily accessible by subway, the PATH trains, and the NY Waterway Ferry.
Services provided:
Internal medicine

Primary Care for adults, including annual physical exams, wellness and preventive care
Same day appointments for sick visits, based on availability
Ongoing care for medical conditions such as high blood pressure, high cholesterol, and diabetes

Cardiology

Consultative

Treat a full spectrum of heart-related conditions, including angina, arrhythmia, heart failure, hypertension, hypertrophic cardiomyopathy, and vascular and venous disease

Diagnostic

Provide patients with accurate heart disease assessments including Echocardiography, stress testing, arrhythmia monitors, sleep monitors, and vascular and venous testing

Preventive

Committed to helping patients safely reduce their cardiac risk, and live longer, healthier lives

Dermatology

Medical and cosmetic dermatological services

Gynecology

Minimally invasive gynecological surgery
Comprehensive well woman/gynecology care
Family planning and contraceptives
HPV testing and sexual health

Orthopedics

Orthopedic consultation and follow-up
Treatment of musculoskeletal injuries
Ultrasound guided corticosteroid injections
(PRP) Platelet rich plasma injections and stem cell treatment

Urology:

General urology, voiding and sexual dysfunction
Urinary frequency/urgency in males and females
Benign prostatic hyperplasia (BPH)
Kidney stones
Erectile dysfunction, arousal and orgasm disorders
Please bring a photo ID, insurance card and referral (if necessary) to your appointment. If you are coming for a physical exam, please fast for eight hours prior to your appointment.