Leg amputation - discharge
Amputation - leg - discharge; Below knee amputation - discharge; BK amputation - discharge; Above knee - discharge; AK - discharge; Trans-femoral amputation - discharge; Trans-tibial amputation - discharge
You were in the hospital because all or part of your leg was removed. Your recovery time may vary depending on your overall health and any complications that may have occurred. This article gives you information on what to expect and how to care for yourself during your recovery.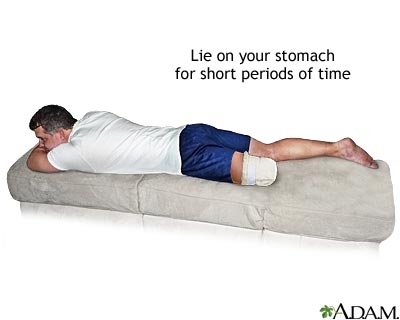 When You're in the Hospital
You have had all or part of your leg amputated. You may have had an accident, or your leg may have had a blood clot, infection, or disease, and doctors could not save it.
What to Expect at Home
You may feel sad, angry, frustrated, and depressed. All of these feelings are normal and may arise in the hospital or when you get home. Make sure you talk with your health care providers about your feelings and ways to get help managing them if needed.
It will take time for you to learn to use a walker, and a wheelchair. It will also take time to learn to get in and out of the wheelchair.
You may be getting a prosthesis, a man-made limb to replace your limb that was removed. It will take time for your prosthesis to be made. When you have it, getting used to it will also take time.
You may have pain in your limb for several days or weeks after your surgery. You may also have a feeling that your limb is still there. This is called phantom sensation.
Self-care
Family and friends can help. Talking with them about your feelings may make you feel better. They can also help you do things around your house and when you go out.
If you feel sad or depressed, ask your provider about seeing a mental health counselor for help with your feelings about your amputation.
If you have diabetes, keep your blood sugar in good control.
If you have poor blood flow, follow your provider's instructions for diet and medicines. Your provider may give you medicines for your pain.
You may eat your normal foods when you get home.
If you smoke, stop before your surgery if you can. Smoking can affect blood flow and slow down healing. Ask your provider for help on how to quit.
Activity
Do things that will help you get stronger and do your daily activities, such as bathing and cooking. You should try to do as much as possible on your own.
When you are sitting, keep your stump straight and level. You can put your stump on a padded board to keep it straight when you are sitting. You can also lie on your belly to make sure your leg is straight. This can help keep your joints from getting stiff.
Try not to turn your stump in or out when you are lying in bed or sitting in a chair. You can use rolled up towels or blankets next to your legs to keep them in line with your body.
Do not cross your legs when you are sitting. It can stop the blood flow to your stump.
You may raise up the foot of your bed to keep your stump from swelling and to help ease pain. Do not place a pillow under your stump.
Wound and Stump Care
Keep your wound clean and dry unless your provider tells you it is OK to get it wet. Clean the area around the wound gently with mild soap and water. Do not rub the incision. Allow water to flow gently over it. Do not take a bath or swim.
After your wound is healed, keep it open to the air unless a provider or nurse tells you something different. After dressings have been removed, wash your stump daily with mild soap and water. Do not soak it. Dry it well.
Inspect your stump every day. Use a mirror if it is hard for you to see all around it. Look for any red areas or dirt.
Wear your elastic bandage all the time. Rewrap it every 2 to 4 hours. Make sure there are no creases in it. Wear your stump protector whenever you are out of bed.
Ask your provider for help with pain. Two things that may help are:
Tapping along the scar and in small circles along the stump, if that is not painful
Rubbing the scar and stump gently with linen or soft cotton
Lie on your stomach 3 or 4 times a day for about 20 minutes. This will stretch out your hip muscle. If you had a below-the-knee amputation, you may put a pillow behind your calf to help straighten your knee. Don't do this for above-the-knee amputations.
Practice transfers at home.
Go from your bed to your wheelchair, a chair, or the toilet.
Go from a chair to your wheelchair.
Go from your wheelchair to the toilet.
Stay as active with your walker as you can.
Ask your provider for advice about how to avoid constipation.
When to Call the Doctor
Contact your provider if:
Your stump looks redder or there are red streaks on your skin going up your leg
Your skin feels warmer to touch
There is swelling or bulging around the wound
There is new drainage or bleeding from the wound
There are new openings in the wound, or the skin around the wound is pulling away
Your temperature is above 101.5°F (38.6°C) more than once
Your skin around the stump or wound is dark or it is turning black
Your pain is worse and your pain medicines are not controlling it
Your wound has gotten larger
A foul smell is coming from the wound
Ford MC. Amputations of the lower extremity. In: Azar FM, Beaty JH, eds. Campbell's Operative Orthopaedics. 14th ed. Philadelphia, PA: Elsevier; 2021:chap 16.
Rose E. Management of amputations. In: Roberts JR, Custalow CB, Thomsen TW, eds. Roberts and Hedges' Clinical Procedures in Emergency Medicine and Acute Care. 7th ed. Philadelphia, PA: Elsevier; 2019:chap 47.
US Department of Veterans Affairs website. VA/DoD clinical practice guideline: Rehabilitation of lower limb amputation (2017). www.healthquality.va.gov/guidelines/Rehab/amp. Updated July 30, 2020. Accessed July 11, 2022.
Version Info
Last reviewed on: 6/8/2022
Reviewed by: C. Benjamin Ma, MD, Professor, Chief, Sports Medicine and Shoulder Service, UCSF Department of Orthopaedic Surgery, San Francisco, CA. Also reviewed by David C. Dugdale, MD, Medical Director, Brenda Conaway, Editorial Director, and the A.D.A.M. Editorial team.