Preventing falls
Home safety; Safety in the home; Fall prevention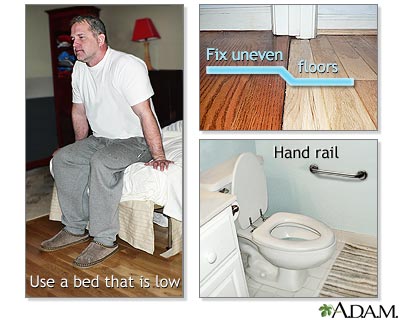 What to Expect at Home
Falls can happen anywhere. This includes inside and outside the home. Take action to prevent falls, such as setting up a safe home, avoiding things that can cause falls, and exercising to build strength and balance.
Home Setup
Have a bed that is low, so that your feet touch the floor when you sit on the edge of the bed.
Keep tripping hazards out of your home.
Remove loose wires or cords from areas you walk through to get from one room to another.
Remove loose throw rugs.
Do not keep small pets that you could trip over in your home.
Fix any uneven flooring in doorways.
Have good lighting, especially for the path from the bedroom to the bathroom and in the bathroom.
Put hand rails in the bathtub or shower and next to the toilet.
Place a slip-proof mat in the bathtub or shower.
Reorganize the home so things are easier to reach. Keep a cordless or cell phone with you so you have it when you need to make or receive calls.
Set up your home so that you do not have to climb steps.
Put your bed or bedroom on the first floor.
Have a bathroom or a portable commode on the same floor where you spend most of your day.
If you do not have a caregiver, ask your health care provider about having someone come to your home to check for safety problems.
Home Care
Weak muscles that make it more difficult to stand up or keep your balance are a common cause of falls. Balance problems can also cause falls.
When you walk, avoid sudden movements or changes in position. Wear shoes with low heels that fit well. Rubber soles can help keep you from slipping. Stay away from water or ice on sidewalks.
Do not stand on step ladders or chairs to reach things.
Ask your provider about medicines you may be taking that can make you dizzy. Your provider may be able to make some medicine changes that could reduce falls.
Ask your provider about a cane or walker. If you use a walker, attach a small basket to it to keep your phone and other important items in it. A walker with an inbuilt seat will allow you to sit to rest while walking if you need to.
Exercise to Help Build Your Strength
When you stand up from a sitting position, go slowly. Hold on to something stable. If you are having problems getting up, ask your provider about seeing a physical therapist. The therapist can show you how to build your strength and balance to make getting up and walking easier.
When to Call the Doctor
Call your provider if you have fallen, or if you almost fall. Also call if your eyesight has worsened. Improving your vision will help reduce falls.
Centers for Disease Control and Prevention website. Older adult fall prevention. www.cdc.gov/falls/index.html. Updated April 12, 2023. Accessed April 26, 2023.
Studenski S, Van Swearingen J. Falls. In: Fillit HM, Rockwood K, Young J, eds. Brocklehurst's Textbook of Geriatric Medicine and Gerontology. 8th ed. Philadelphia, PA: Elsevier; 2017:chap 103.
US Preventive Services Task Force website. Falls prevention in older adults: interventions. www.uspreventiveservicestaskforce.org/uspstf/draft-update-summary/falls-prevention-in-older-adults-interventions. Updated April 17, 2018. Accessed August 8, 2022.
Version Info
Last reviewed on: 4/17/2022
Reviewed by: David C. Dugdale, III, MD, Professor of Medicine, Division of General Medicine, Department of Medicine, University of Washington School of Medicine, Seattle, WA. Also reviewed by David Zieve, MD, MHA, Medical Director, Brenda Conaway, Editorial Director, and the A.D.A.M. Editorial team.