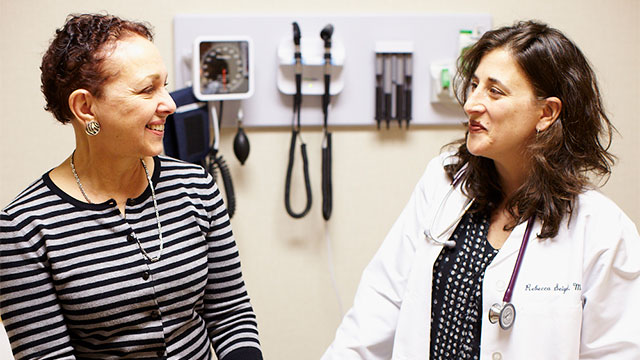 Patient Referral Services: We Make Access Easy
The Patient Referral Service provides concierge service to help you get the best care…fast.
We know how valuable your time is and that is why Patient Referral Services is your personal point of entry to Mount Sinai doctors. We are always on hand, ready to connect you with highly trained specialists, coordinate appointments, and help you navigate resources and options, so that you and your family members get the care you need, when you need it.
Mount Sinai Doctors is a network of physicians within the Mount Sinai Health System. We offer primary and multispecialty care throughout the Greater New York City area. These practices are staffed by board certified physicians, who work collaboratively to provide you with exceptional, targeted medical care, in conjunction with highly trained and dedicated staff members. With locations throughout the city and its suburbs, we provide you with convenient, local access to a variety of health care services. Each practice is supported by one of our seven Health System hospitals, should additional intervention be necessary.
We formed Patient Referral Services to reinforce our commitment to collaborative and compassionate patient care. We are dedicated to establishing seamless coordination between you and the expert providers you need.
Service Highlights:
Cardiology
Dermatology
Endocrinology
Geriatrics
Neurology
OB/GYN
Oncology
Primary Care
Pulmonary
Urology
Patient Referral Services is Here to Help
As patients, you and your family are our top priority. Our team of registered nurses and patient coordinators is here for you. Our primary goal is to help you identify and access everything you need to receive optimal care within the Mount Sinai Health System.
We are here to:
Help you identify the right primary care physician or specialist for your needs
Coordinate outpatient appointments for you
Guide you to the many services and programs available within the Mount Sinai Health System
We are patient focused and highly responsive. With Patient Referral Services, you don't have to go it alone. Contact us today for fast, personalized assistance and support.
800-MD-SINAI/800-637-4624
We can also refer you to a specialist within the Health System using our new referral software.
We can register you for Mount Sinai Queens Events.
We will ensure your needs are met.