Mount Sinai Doctors-Urgent Care & Primary Care, Upper West Side
Don't delay your health care over concerns about safety. We're protecting patients with rigorous protocols, including continuous cleaning and disinfection, screening of patients for COVID-19, mandatory masking, and more. Learn more at the Mount Sinai Safety Hub.
Mount Sinai Doctors-Urgent Care & Primary Care, Upper West Side offers a wide range of health care options on Manhattan's Upper West Side (Columbus Avenue at 91st Street).
Urgent Care
Mount Sinai Doctors-Urgent Care features board-certified emergency medicine physicians right in your neighborhood on the Upper West Side. These physicians are members of both the Emergency Department at The Mount Sinai Hospital and the Mount Sinai Health System team, which includes world-class experts in services ranging from primary care to sophisticated disease management and complex surgeries.
We offer a wide array of point-of-lab tests allowing our doctors to quickly review the results during your visit. If more involved lab tests are needed, we will send those tests to the laboratory for processing and contact you and your primary doctor when we receive the results. Additionally, we feature state-of-the-art digital X-ray equipment for faster processing.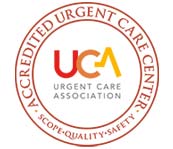 Our center has achieved accreditation and certification from the Urgent Care Association, an industry authority for ensuring the safe delivery of high-quality, patient-centered care for a broad spectrum of illness, injury and disease.
Medical conditions treated include but are not limited to:
Annual physical
Allergies and asthma
Broken fingers and toes
Bronchitis
Cuts that need stitches
Earaches and eye infections
Fevers and flu
Headaches
Moderate back problems
Pre-employment physical
Sexually transmitted infection testing
Sinus infections
Skin rashes and infections
Sore throats and coughs
Sprains and strains
Stomach ailments
Urinary tract infections
Vomiting, diarrhea, or dehydration
And most other minor injuries and illnesses
Primary Care and Dermatology
Our practice on the Upper West Side delivers high-quality primary care and dermatology care right in your neighborhood. Our renowned board certified medical doctors, drawn from diverse backgrounds, provide a broad range of health care services to meet the community's needs. We can connect you to all resources available throughout the Mount Sinai Health System, including referrals to world-renowned specialists, ensuring you receive the best possible care.
Services
We offer a wide variety of medical services to our patients, including:
Primary Care

check-ups, annual health assessment, preventive care, urgent care, non-emergency care, and immunizations for adults including influenza vaccines
Disease prevention and health maintenance
Evaluation and treatment of acute and chronic illnesses
Screening for high-risk conditions such as heart disease and diabetes
Chronic care management
Healthy living guidance to assist with the prevention, treatment, or reversal of certain diseases
Electronic coordination of care including scheduling, medication refills, and practice communication
Preoperative consultations
Referrals for specialty services
Geriatric consultations and assessments
Education and support for caregivers
Community health outreach

Dermatology

Acne
Cosmetic treatments
Eczema
Hair loss
Moles
Skin cancer

Melanoma
Non-melanoma skin cancers
Additional skin cancers

Pigment Conditions (e.g., melasma, vitiligo, etc.)