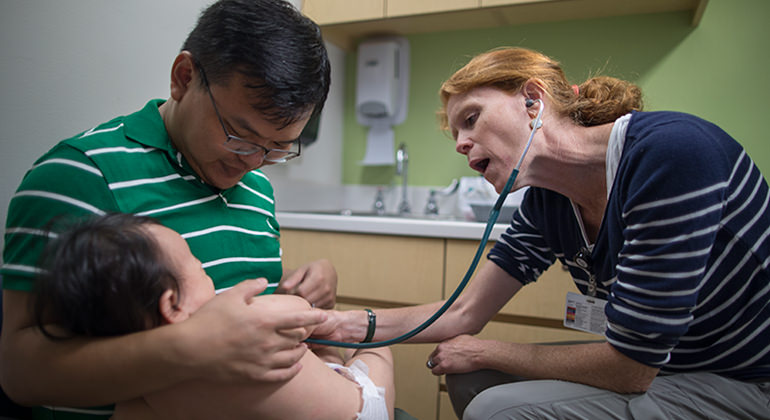 Pediatrics at Mount Sinai Doctors Faculty Practice Associates
General Pediatrics
We offer comprehensive pediatric care including well child preventive visits, sick care, guidance on development and nutrition, and parenting tips and resources.
Prenatal Consultations enable you to meet with us and visit the practice prior to your child's birth. Please call 212-241-4242 to schedule an appointment.
Well-Child Visits occur often in the first few years of life and annually thereafter. We follow the standard Center for Disease Control and Prevention Advisory Committee for Immunization Practices immunization schedule. You can expect the following well preventive visit schedule:
3 to 5 days
2 weeks (if necessary)
1 month
2 months
4 months
6 months
9 months
12 months
15 months
18 months
2 years
2.5 years
Annual visits from age 3 to 21
Sick-Child Visits are accommodated throughout the day each day, and we make every effort to offer same-day appointments for sick children. You can call as early as 8 am Monday through Friday to schedule same-day sick appointments. It is easiest to get a same-day appointment if you call before 12 noon. We cannot accommodate walk-ins. Please call if you need an appointment.
After-Hours Care. One of our doctors is on call, 24 hours a day/7 days a week on weeknights, weekends, and holidays for urgent or emergency situations only. If you need to talk to a physician for an urgent matter, call the office number (212-241-4242) and we will get a message to the on-call doctor to call you back. If your child is having an emergency, please call 911 first and then us. For all other routine and non-urgent matters, please call during normal working hours.
New Patients. If you and your child are coming in for an initial visit, please bring your hospital discharge paperwork and the baby's immunization card. If your child is transferring from another pediatrician's practice, please ask the doctor to send your child's medical records to us before your appointment so we can review the records and get to know your child. It is very important that we have your child's immunization record at this first visit.
We schedule appointments for specific times. Please arrive within 15 minutes of your scheduled appointment time. After this time, we consider you a "no show" and your doctor may not be able to see you at all, or not until we have seen all other patients.
If you need to cancel an appointment, please do so at least 24 hours in advance. You may incur a charge if you cancel an appointment less than 24 hours before it is scheduled.
Communication
For routine and non-urgent questions or issues, you can call the office (212-241-4242) between 8 am and 5 pm, Monday through Friday. We will relay your message to your doctor, who will call you back by the end of the day. If your child is sick, it is best to schedule an urgent appointment instead of waiting to speak to the doctor first, as you may not hear from the doctor until after our office is closed.
If your child is admitted to the newborn nursery or one of the pediatric floors at a Mount Sinai hospital, one of the doctors in our practice will visit your child each day in the hospital and will be in charge of your child's medical care. If your child is admitted to the Neonatal Intensive Care Unit or Pediatric Intensive Care Unit, the neonatologists or pediatric intensive care physicians is in charge of your child's medical care, but we will work closely with the specialist to ensure that all of your child's needs are met. If your child is admitted to a hospital that is not part of the Mount Sinai Health System, we are not able to see your child at that facility or take part directly in your child's medical care during that hospital stay, but we will follow up on your child's care when you return to our practice.
School/Camp Forms
We are happy to help you with school and camp forms. We can complete the forms only if your child has had a complete physical within the last 12 months. If it has been more than 12 months, please call our office to schedule an appointment for a physical.
Since we receive many requests to complete school and camp forms, please allow seven to ten business days for us to complete the form. We charge a $10 fee per form. We can expedite this process for a $20 fee.
You can submit the form to us in person, by emailing it to pedsfpaforms@mssm.edu, or by mailing it us at:
Mount Sinai FPA - General Pediatrics
5 East 98th Street - Box #1205
New York, NY 10029
When you submit the form, do not forget to include your child's name, date of birth, and health history, as well as any allergies that your child has or medications that your child takes on a regular basis.
We will call to let you know when we have completed the form. We will send you the completed form by email or U.S. mail, or you can pick it up at our office. Please include a self-addressed stamped envelope if you would like us to mail you the form.
Pediatric Specialties & Surgical Subspecialties