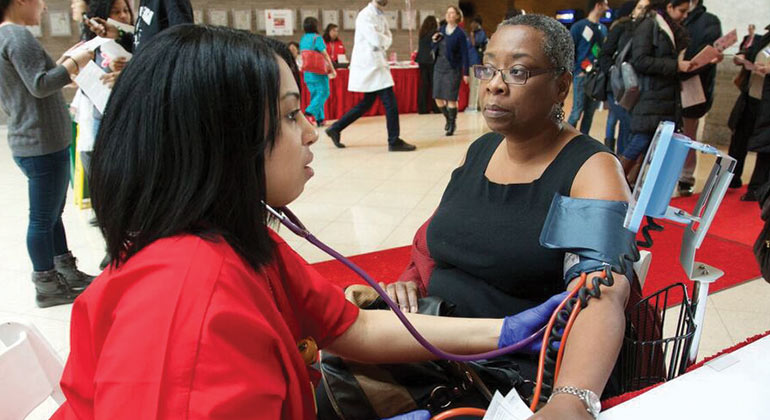 The Frida and Milton Rosenthal Coronary Care Unit (CCU) at Mount Sinai Hospital is a 24-hour, inpatient 14-bed tertiary care unit located on the fifth floor of the Guggenheim Pavilion.The unit consists of 14 private rooms with built-in commodes. Two rooms are equipped for negative pressure.
The unit is staffed by a team of board-certified cardiology specialists, physicians in training, and a skilled and veteran nursing staff. This dedicated staff provides state-of-the-art care to critically ill patients suffering from a wide range of life-threatening cardiac conditions. The CCU cares for over 1500 patients annually.
The division has a 24 hour a day, 7 day a week cardiac catheterization lab for cardiac emergencies such as acute myocardial infarction as well as a comprehensive consultative Electrophysiology service. As a cardiac transplant center, the Mount Sinai CCU provides care for patients with advanced heart failure. Advanced cardiac imaging such as cardiac MRI and cardiac CT are available for diagnostic imaging for patients. In addition, the CCU has an intensive care unit procedure room with a fully equipped fluoroscopy suite as well as a dedicated intensive care unit echocardiogram machine.
A team of 6 medical residents and one cardiology fellow staffs the CCU. There are at least 2 physicians present at all times. Teaching rounds occur daily with 2 senior cardiology faculty. Our critical care trained nursing staff cares for either 1 or 2 patients in order to deliver personalized nursing care. There are monthly educational lectures for the nursing staff ensuring the most up-to-date care available.
The scope of practice for nursing care of critically ill patients encompasses the dynamic interaction of the critically ill patient and his or her family, the critical care nurses, and of these elements, resulting in optimal patient outcomes. The nurse patient ratio averages 1:2, all nurses are ACLS certified and 60% are certified critical care nurses.
The framework within which critical care nursing is practiced is based on a scientific body of specialized knowledge, an ethical model for decision making and commitment to interdisciplinary collaboration in the care of patients.
Patients can be admitted to the CCU from any area of the hospital, as a transfer from another facility, or directly from a doctor's office.
Treatment
Services in the Coronary Care Unit include:
Management of patients with acute myocardial infarction, unstable angina, congestive heart failure, and life threatening arrhythmias
Hemodynamic monitoring
Intra-aortic balloon pumping (IABP)
Swan-Ganz / PA Catheter
Titration of intravenous therapy
Insertion of temporary pacemakers
Ultrafiltration for Congestive Heart Failure
Continuous renal replacement therapy (CRRT)
Ventricular assist devise (VAD )