Inguinal hernia repair
Herniorrhaphy; Hernioplasty - inguinal
Inguinal hernia repair is surgery to repair a hernia in your groin. A hernia is tissue that bulges out of a weak spot in the abdominal wall. Your intestine may bulge out through this weakened area.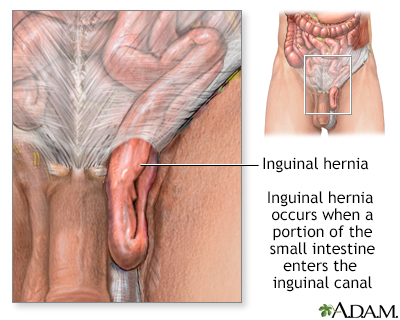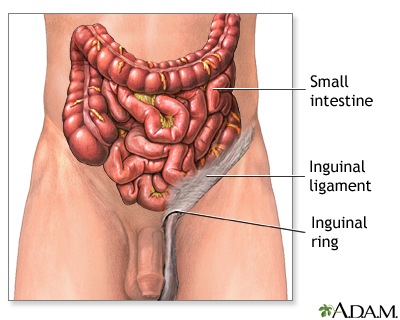 You're lifting a heavy box, when suddenly, you feel a strain in your stomach or groin. If you also feel a bulge there, you might have a hernia. The bump that you feel is a part of what's in your abdomen bulging out through a weak spot in the muscle or tissue that surrounds it. A hernia is kind of like pushing your finger against the side of a balloon. What type of hernia you have depends on where the bulge is located. A femoral hernia is a bulge in the upper part of your thigh. A hiatal hernia is located in the top part of your stomach. An umbilical hernia bulges around your belly button. Inguinal hernias are in the groin area. And incisional hernias usually form around a scar from a past surgery in your abdomen. You can get a hernia if you lift something that's too heavy, or strain too hard while coughing, urinating, or having a bowel movement. Sometimes babies are born with a hernia. That happens when the lining that is supposed to hold the abdominal organs doesn't totally close before birth. Some hernias don't cause any symptoms. You might live with a hernia for a while without even noticing that you have it. Or, you may see an actual bulge in your leg, stomach, or groin. Hernias can sometimes be painful, especially when you strain or lift something heavy. Your doctor should be able to locate the hernia during an exam. If your hernia is small and doesn't bother you, you may not need to do anything but keep in touch with your doctor to make sure it isn't growing. If the hernia is big or painful, your doctor may recommend surgery to plug the opening. The one big risk to having a hernia is that with some types the tissue can get caught inside the hole. This is called strangulation. It can be very dangerous, because blood is cut off to the part of the organ that's trapped. Eventually that tissue will die. If you have a strangulated hernia, you'll need to have emergency surgery. Surgery is the only way to reverse a hernia, although in young children umbilical hernias will often go away on their own. If you have a small hernia and decide not to have surgery, be on the lookout for any changes. Call the doctor right away if you have pain, nausea, vomiting, or a fever, or if your hernia turns red, purple, or another color. These could be signs of strangulation. To avoid a hernia in the first place, be careful when lifting heavy objects. Drink plenty of fluids and add fiber to your diet so you won't have to push too hard on the toilet. And see a urologist if you're straining while urinating.
Description
During surgery to repair the hernia, the bulging tissue is pushed back into your abdomen. Your abdominal wall is strengthened and supported with sutures (stitches), and sometimes mesh. This repair can be done with open or laparoscopic surgery. You and your surgeon can discuss which type of surgery is right for you.
Your surgeon will decide which kind of anesthesia you will receive:
In open surgery:
Your surgeon makes a cut near the hernia.
The hernia is located and separated from the tissues around it. The hernia sac is removed or the hernia is gently pushed back into your abdomen.
The surgeon then closes your weakened abdominal muscles with stitches.
Often a piece of mesh is also sewn into place to strengthen your abdominal wall. This repairs the weakness in the wall of your abdomen.
At the end of the repair, the cut is stitched closed.
In laparoscopic surgery:
The surgeon makes three to five small cuts in your lower belly.
A medical device called a laparoscope is inserted through one of the cuts. The scope is a thin, lighted tube with a camera on the end. It lets the surgeon see inside your belly.
A harmless gas is pumped into your belly to expand the space. This gives the surgeon more room to see and work.
Other tools are inserted through the other cuts. The surgeon uses these tools to repair the hernia.
The same repair will be done as the repair in open surgery.
At the end of the repair, the scope and other tools are removed. The cuts are stitched closed.
Why the Procedure Is Performed
Your health care provider may suggest hernia surgery if you have pain or your hernia bothers you during your everyday activities. If the hernia is not causing you problems, you may not need surgery. However, these hernias most often do not go away on their own, and they may get larger.
Sometimes the intestine can be trapped inside the hernia. This is called an incarcerated or strangulated hernia. It can cut off blood supply to the intestines. This can be life threatening. If this happens, you would need emergency surgery.
Risks
Risks for anesthesia and surgery in general are:
Reactions to medicines
Bleeding, blood clots, or infection
Risks for this surgery are:
Damage to other blood vessels or organs
Damage to the nerves
Damage to the testicles if a blood vessel connected to them is harmed
Long-term pain in the cut area
Return of the hernia
Before the Procedure
Tell your surgeon or nurse if:
You are or could be pregnant
You are taking any medicines, including medicines, supplements, or herbs you bought without a prescription
During the week before your surgery:
You may be asked to stop taking blood thinning medicines. These include aspirin, ibuprofen (Advil, Motrin), clopidogrel (Plavix), warfarin (Coumadin), naproxen (Aleve, Naprosyn), and others.
Ask your surgeon which medicines you should still take on the day of surgery.
On the day of surgery:
Follow instructions about when to stop eating and drinking.
Take the medicines your surgeon told you to take with a small sip of water.
Arrive at the hospital on time.
After the Procedure
Most people are able to get out of bed an hour or so after this surgery. Most can go home the same day, but some may need to stay in the hospital overnight.
Some men may have problems passing urine after hernia surgery. If you have problems urinating, you may need a catheter. This is a thin flexible tube that is inserted into your bladder for a short time to drain urine.
Following instructions about how active you can be while recovering. This may include:
Returning to light activities soon after going home, but avoiding strenuous activities and heavy lifting for a few weeks.
Avoiding activities that can increase pressure in the groin and belly. Move slowly from a lying to a seated position.
Drinking plenty of fluids and eating lots of fiber to prevent constipation.
Follow any other self-care instructions to help speed your recovery.
Outlook (Prognosis)
Outcome of this surgery is usually very good. In some people, the hernia returns.
Cameron J. Hernia. In: Cameron J, ed. Current Surgical Therapy. 14th ed. Philadelphia, PA: Elsevier; 2023:663-716.
Poulose BK, Carbonell AM, Rosen MJ. Hernias. In: Townsend CM Jr, Beauchamp RD, Evers BM, Mattox KL, eds. Sabiston Textbook of Surgery. 21st ed. St Louis, MO: Elsevier; 2022:chap 45.
Version Info
Last reviewed on: 3/11/2023
Reviewed by: Debra G. Wechter, MD, FACS, General Surgery Practice Specializing in Breast Cancer, Virginia Mason Medical Center, Seattle, WA. Also reviewed by David C. Dugdale, MD, Medical Director, Brenda Conaway, Editorial Director, and the A.D.A.M. Editorial team.