Dementia - keeping safe in the home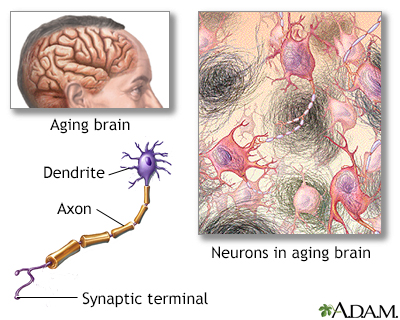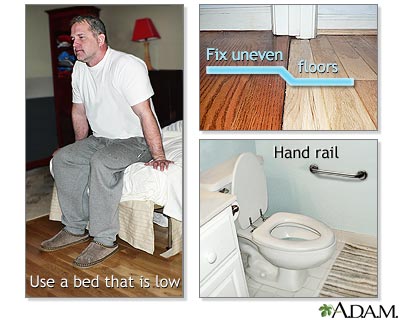 Safety Tips for the Home
Wandering can be a serious problem for people who have more advanced dementia. These tips may help prevent wandering:
Place alarms on all doors and windows that will sound if the doors are opened.
Place a "Stop" sign on doors to the outside.
Keep car keys out of sight.
To prevent harm when someone with dementia does wander:
Have the person wear an ID bracelet or necklace with their name, address, and phone number on it.
Tell neighbors and others in the area that the person who has dementia may wander. Ask them to call you or to help them get home if this happens.
Fence and close off any areas that may be dangerous, such as a stairwell, deck, a hot tub, or a swimming pool.
Consider giving the person a GPS device or a cell phone with a GPS locator embedded in it.
Inspect the person's house and remove or reduce hazards for tripping and falling.
Do not leave a person who has advanced dementia alone at home.
Lower the temperature of the hot water tank. Remove or lock up cleaning products and other items that may be poisonous.
Make sure the kitchen is safe.
Remove knobs on the stove when it is not in use.
Lock up sharp objects.
Remove, or store the following in locked areas:
All medicines, including the person's medicines and any over-the-counter drugs and supplements.
All alcohol and drugs.
All guns. Separate ammunition from the weapons.
Alzheimer's Association website. Alzheimer's Association 2018 Dementia Care Practice Recommendations. alz.org/professionals/professional-providers/dementia_care_practice_recommendations. Accessed August 8, 2022.
Budson AE, Solomon PR. Life adjustments for memory loss, Alzheimer's disease, and dementia. In: Budson AE, Solomon PR, eds. Memory Loss, Alzheimer's Disease, and Dementia. 3rd ed. Philadelphia, PA: Elsevier; 2022:chap 28.
National Institute on Aging website. Home safety and Alzheimer's disease. www.nia.nih.gov/health/home-safety-and-alzheimers-disease. Updated May 18, 2017. Accessed August 8, 2022.
Version Info
Last reviewed on: 4/17/2022
Reviewed by: David C. Dugdale, III, MD, Professor of Medicine, Division of General Medicine, Department of Medicine, University of Washington School of Medicine, Seattle, WA. Also reviewed by David Zieve, MD, MHA, Medical Director, Brenda Conaway, Editorial Director, and the A.D.A.M. Editorial team.